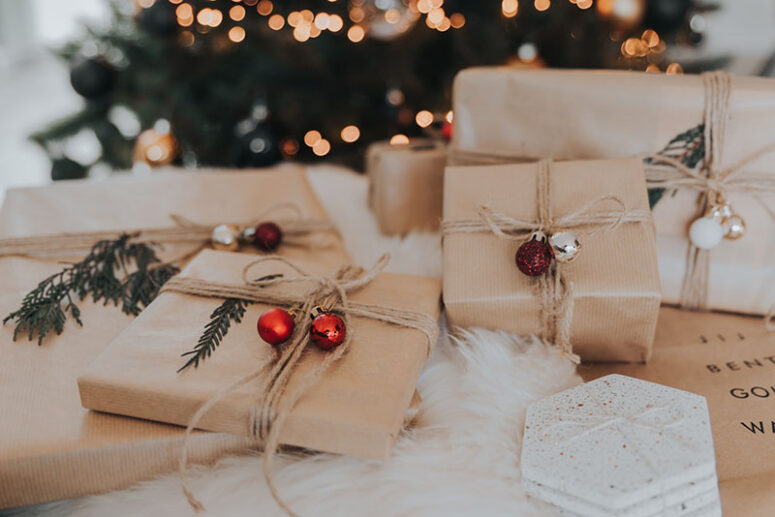 Christmas brings magic to our homes. It fulfils our dreams and makes miracles happen. Gift-giving is our way to keep its magic and miracles alive for ourselves and others. With our gifts, we make each Christmas truly unforgettable for everyone we care about.
What would it take to give someone a wonderful Christmas? We all have our desires. Children will share them with Santa in their letters. Adults will be less outspoken. Yet, underlying all our wishes is the understanding that Christmas is an outpouring of love, warmth, companionship, and appreciation of another. Our best Christmas gift should bring this idea alive to everyone. If you still have not decided what you will give this Christmas, here are some helpful gift suggestions from our catalogue.
Christmas Nativity scenes, a fun way to visualise the Nativity of Christ with your family and Children
In our part of the world, Nativity scenes are a ubiquitous detail in the Christmas decoration of almost every home. The whole family enjoys them. Wooden take-apart nativity sets are popular among our patrons this season. You might also be interested in our collections of carved wooden figures and hand-made candle trays.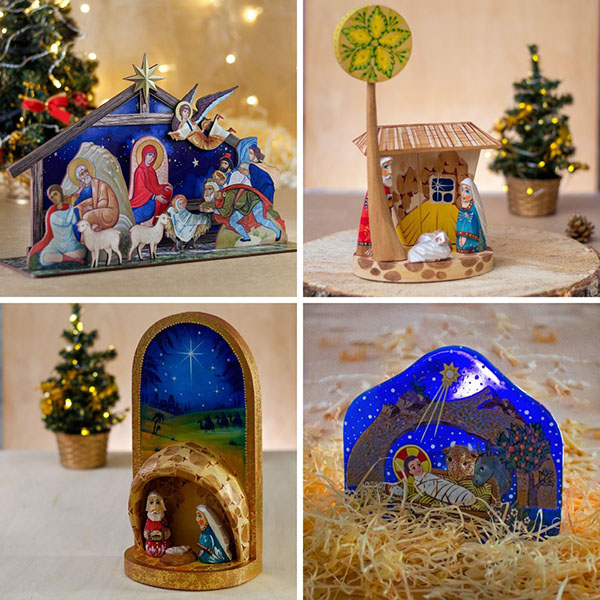 Icons of the Nativity of Christ: may our prayer last
The Nativity Scene is a fun way to remind ourselves that Christ is at the centre of the Christmas holiday. Yet we must always keep our conversation with Him ongoing through prayer. We have a gift to help you with that — the Nativity Icon. We offer a variety of choices, for all budgets and tastes, from high-end hand-painted icons to medium-priced icons from ground minerals, to lacquered icons at the lower end.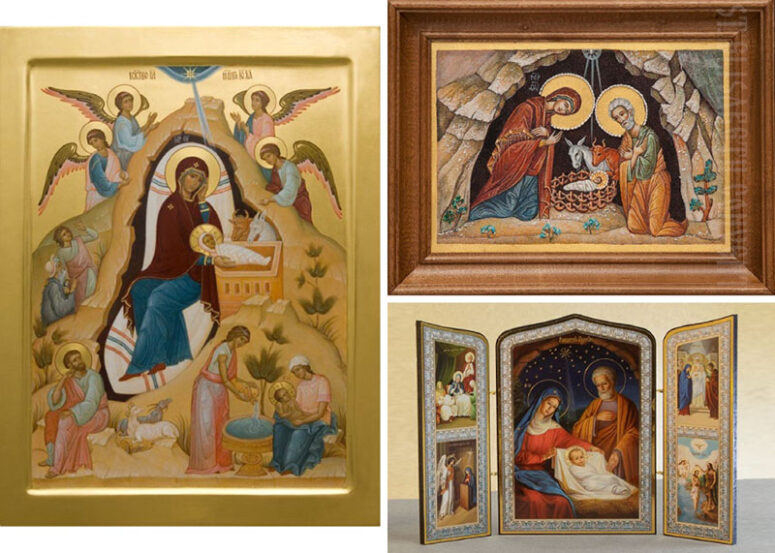 Looking for something more extraordinary? Try this icon from plaster and resin. It was made by the participants of our assisted employment programme for recovering mental patients.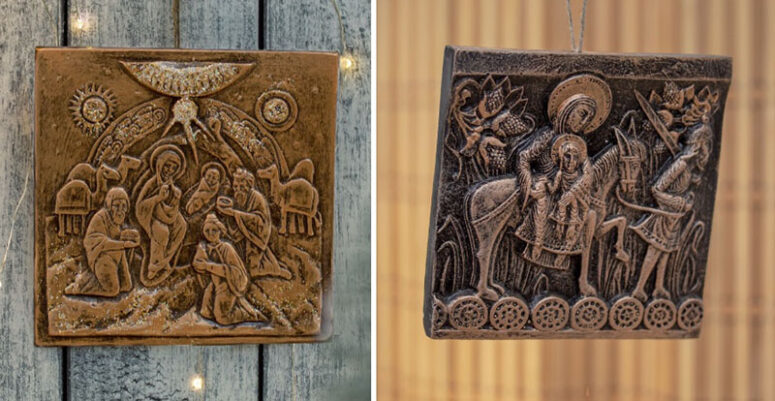 Stone angel: a gift from a loving godparent
Here is an angel painted in crushed stones, a most unusual and wondrous technique. Every image consists of millions of tiny particles. A stone angel will make a fine gift for you and your loved ones. It will add beauty and warmth to your Christmas and originality to the decoration of your home.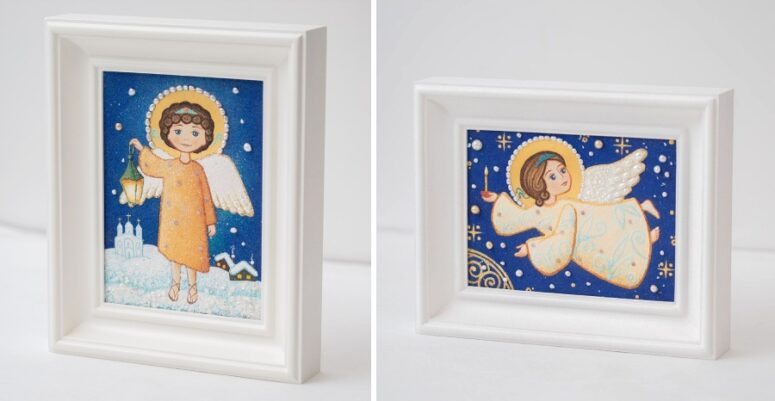 Christmas nesting dolls, a gift for every generation
The nesting Matryoshka doll is a traditional Russian wooden toy. We use modern technology to make them in a variety of shapes. Along with the more traditional forms, we offer Christmas-themed Matryoshkas, and also Matryoshka-styled wooden figures of Santas and Christmas trees. Choose any nesting doll: your children will love playing with it, while you and the other adults will admire how well it fits into the home décor. They are also useful gifts, perfect for keeping small items like needles or jewellery.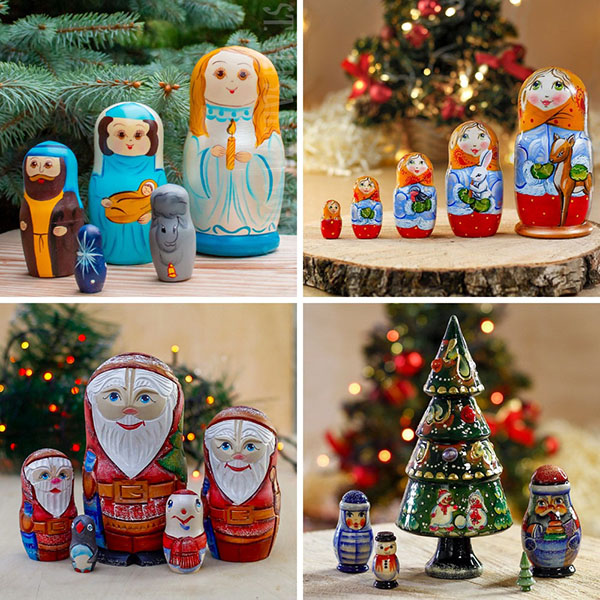 Carved wooden Santas, elegant and tasteful
Here is another eye-pleasing Christmas decoration for your home and plaything for your children. These carved wooden Santas are a more natural, eco-friendly and aesthetic alternative to the all-ubiquitous plastic. Each will bring joy to your homes and smiles to your faces.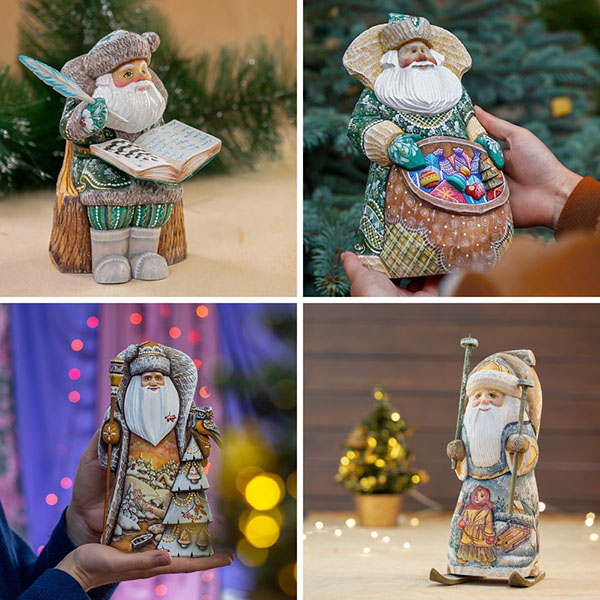 Vintage decoration sets for your Christmas tree and home
Everybody loves this part of Christmas preparation – decorating the Christmas tree. Do you? If so, here is a gift idea for your relatives and friends: a set of vintage tree ornaments. Share the sweet anticipation of Christmas with those you love, and spend these exciting moments together. Send your children into raptures. Explore our extensive offering of wooden tree ornament sets. Each piece was made and painted by hand, and no two are alike.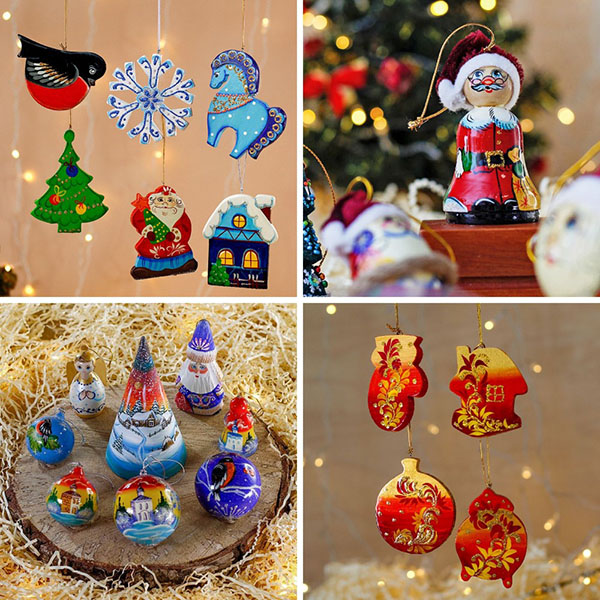 A wooden music box: enjoyed by the older children
Wooden music boxes may be past their heyday, but people have not stopped enjoying them, and they are still popular among older children. Choose from our rich selection of painted music boxes shaped like Russian churches and Christmas trees.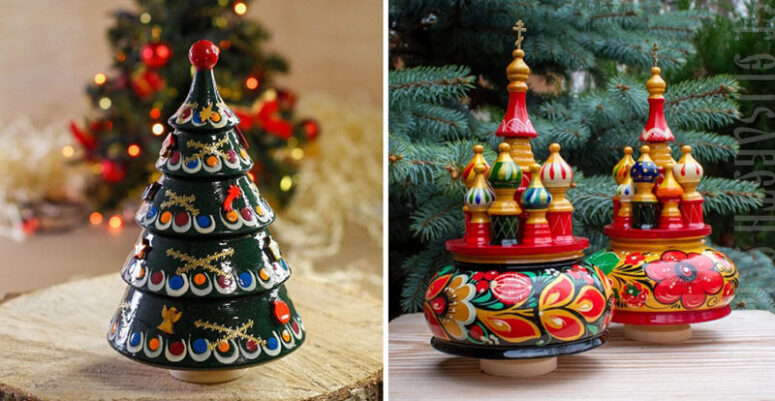 Stained glass gifts: add fun to your visit
Visiting someone this Christmas? Bring one of these with you as a gift.
Choose any item from our catalogue, and your hosts will be pleased. Children will be excited to play with it, and its pleasant look will leave no one unmoved. We offer stained glass angels in a variety of shapes and sizes, a wide choice of Santas and snow maidens, mosaics and even watches. The choice is yours.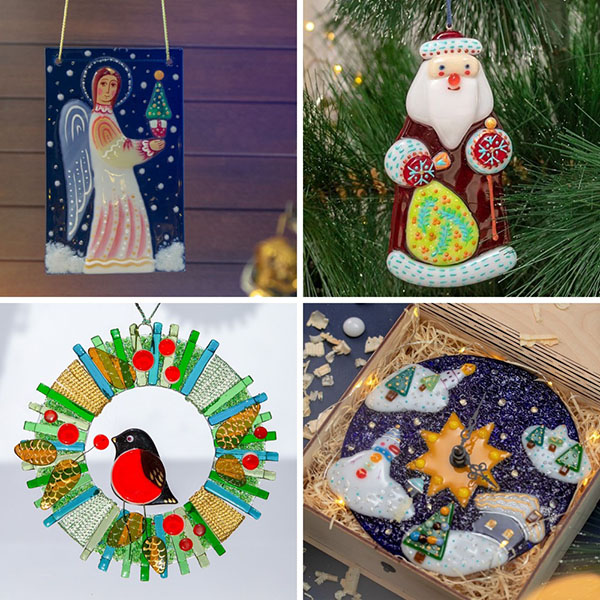 Christmas ceramics, a blend of practicality and warmth
If you wish to give with warmth, but remain practical, consider one of these sets of Christmas or winter-themed ceramics. Every item is decorated in a variety of techniques. In the more basic one, we apply a layer of decal. A more exclusive technique – known as relief painting – creates a raised surface of lines and shapes created by hand. Whatever the technique, every set was made with great love and prayer, and each will add warmth to your tea party and make it even more fun.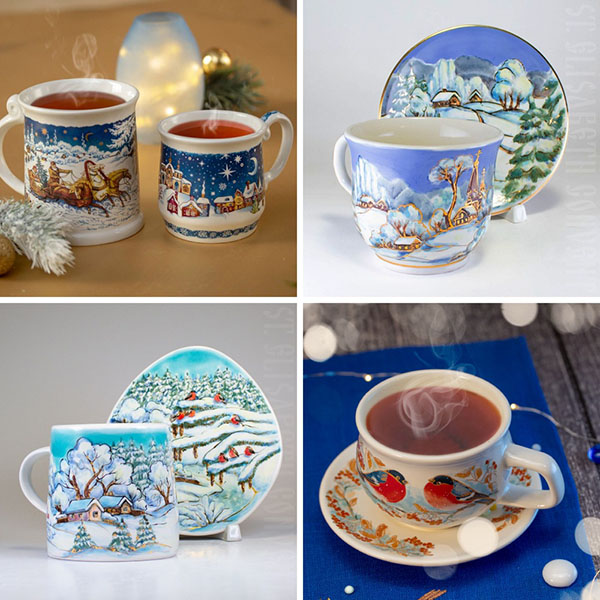 Knit woollen items for a warm and cosy Christmas
Winter is beautiful, but it is also cold. Give your loved ones something to keep them warm, like a knit woollen mantle, or a pair of socks or mittens from goat's hair, complete with your wishes of a warm and cosy Christmas.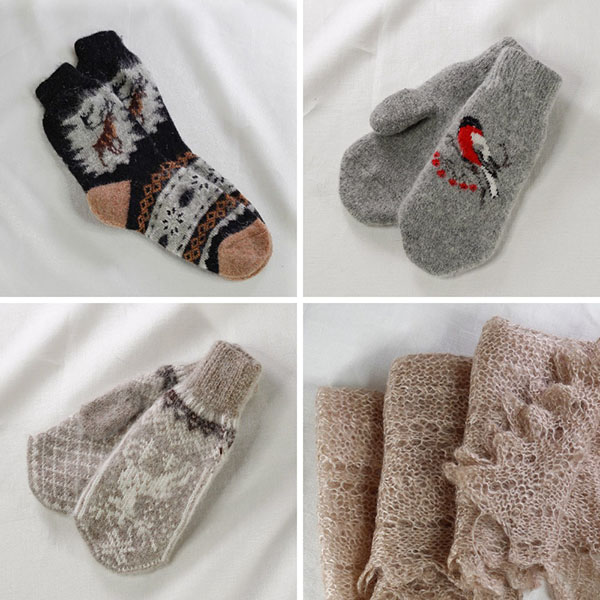 We hope that you find our gift ideas useful. We all put our hearts into our every product to make your Christmas special. Here is more good news. Any item ordered from our catalogue brings the joy of Christmas to you and your loved ones and also to the less fortunate people in Belarus for whom we conduct our works of charity and our ministries.
You have a chance to become a secret giver to disabled children and adults in long-term institutional care, many of whom have no relatives or have been abandoned by their families. Order your personal gift from our catalogue and become their secret angel. Your recipient will not know your identity, but God will know all His children who give to others in His name. Merry Christmas!