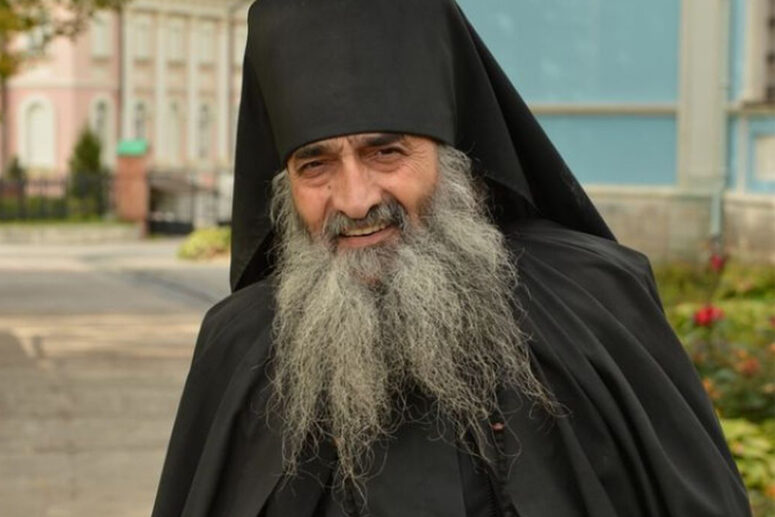 It was on the feast day of the Iberian Icon of the Mother of God that we received the sad news that in the 74th year of his ascetic life the soul of the well-known and beloved Hierodeacon Heliodorus departed from this mortal world. For exactly 31 years, Father Heliodorus has been carrying out his monastic labours in Optina Hermitage. Here's what we know from his own words about how he came to this glorious abode:
 "When I first chose the monastic path, I entered the Holy Trinity Lavra of St. Sergius, and for almost four years, from 1985 to 1989, I was in obedience to Father Kirill (Pavlov). I thought that I would stay there for good, but Father Kirill said:
– You wait…
Soon the year 1989 came, and he blessed me to go to Optina hermitage. Just like that he called me and said:
– Georgy, (that was my name before the tonsure) you have to go to Optina tomorrow.
I was confused.
– Which Optina?!
He said:
– The Optina Monastery, which is being opened in the Kaluga region near the city of Kozelsk.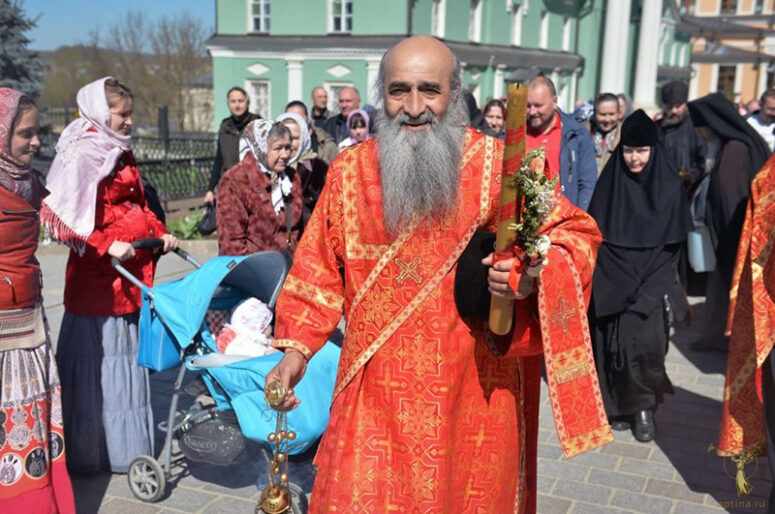 "What is Kozelsk?" I am thinking, "Is there a goat* there, or, maybe, it's a place where many goats live? I have never heard of it!"
I said:
– Father! The Lord is with you! What Kozelsk?! What am I going to do there? I'm not going anywhere!
Father Kirill smiled.
– Just go there, that's all. It's a monastery… Why don't you want to go?
– First of all, because you will not be there!
Elder Kirill replied:
– Father Eli will be there.
At that time, I still thought unwittingly, "How can some Eli compare with Elder Kirill?"
Father Kirill became my first confessor, so I told him everything that I was thinking at that moment. He smiled in response.
– No, no, just go there.
I fell on my knees in front of him.
– Father! If you want, expel me, but I will not go there!
I looked at him as he fell silent and bowed his head. I think he even got angry. After a pause, he said:
– All right, since you are not listening to me, go to the Venerable Sergius in the Trinity Cathedral.  Ask the Reverend and see what he tells you…
I was in doubt, "What kind of a blessing will I get by going to the reliquary? Will the relics of the saint tell me something, or what?"
I said out loud:
– Father, what do you mean?
He said:
– That's it. Go!
After that he got up and went out.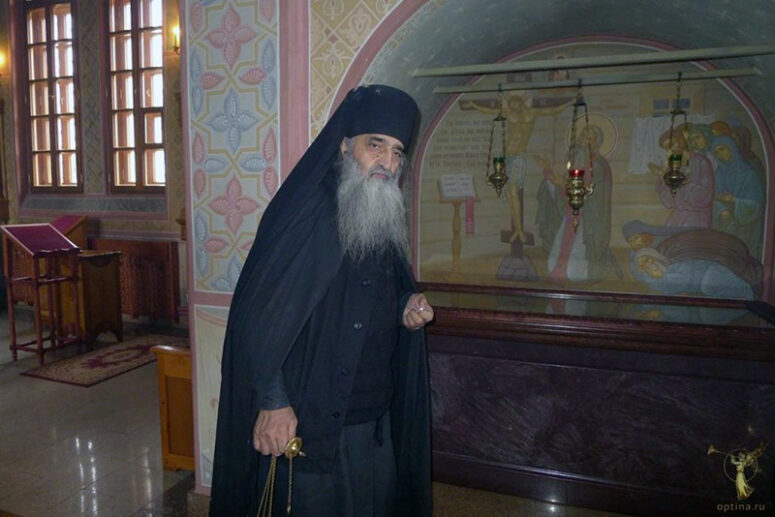 Our conversation took place downstairs, in the parcel post, where the elder usually received people. And then he went up to his cell on the second floor. I was taken aback. I turned pale, and my knees were shaking… I didn't know what to do. But I went to the Reverend, since the father had blessed me.
I was walking and dripping like a faucet and thinking, "This is too bad. How am I going to part with Father Kirill? For four years he has been guiding me, and now I have to go to some Optina, to some Kozelsk and to some Eli!" With those thoughts I dragged myself to the Venerable Sergius. That was the day when the Akathist to the Mother of God was read there. Either Friday or Sunday, I don't remember now.
What matters is that the people there have gathered to praise the Mother of God. I squeezed sideways through the crowd to get closer to the shrine with the relics of the Reverend, fell to my knees, rested my head on the shrine and wept bitterly thinking, "What do I do now? What can I do?" And so I repeated over and over. Nothing came to mind, except, "Kozelsk! Optina!" For the first time I heard these names from Elder Cyril. But I had no idea what that Optina was.
While the akathist continued for about 30 minutes, I kept crying, as I was kneeling on the floor. But then the akathist ended, and the people began to kiss the icon and slowly disperse. The cleaning ladies were soon to arrive, and I would also be asked to leave the temple. Meanwhile I didn't understand anything. Elder Kirill's words sounded in my ears admonishing, "The reverend will tell you everything." Again I wept and called up my last strength to prayer asking, "Lord! What should I do? Reverend, what should I do?!"
Suddenly the crowd veered away, and I heard a voice:
– Go to Optina!
I thought to myself, "Wow! Am I hallucinating already?" I realized that no one could know about my case except for myself. I was still on my knees, with the temple full of people; whose yell could it be? "I might as well go on listening…" I thought and I cried some more. Five or ten more minutes passed, and suddenly I heard the same voice again:
– Go to Optina!
That time it was louder and more insistent. I jumped on the spot, as my tears dried up. That was not a hallucination, but someone shouting. I rose from my knees and saw the monks escorting out some space cadet who had climbed onto the Solea. As they were pushing him out, I stretched out to my full height and realized that these words came from that man. I rushed to him:
– What? What did you say?
Father Kirill was the only one who had spoken to me about Optina. But the man answered to me:
– I told you to go to Optina!
And then they dragged him away.
I stood rooted to the spot, thinking, "Okay…" At that I trudged back to Father Kirill. He asked me:
– Well, what did the Reverend say to you?
And he smiled, narrowing his eyes slightly.
I answered:
– Well, he told me to go to Optina. Some blessed man was there to tell me that…
Father Kirill said to me:
– Well, all right then. Let's go.
And we went to the cell, where he read to us in the evenings.
And so I ended up in Optina."
That is how the God-wise and spirit-bearing elders, Fr. Cyril and Fr. Eli, like the ancient Optina elders, Leo and Makary, delegated this "elder Ambrose's spiritual grandson" over to each other hand-to-hand.
The spiritual fervour of this "non-worldly" man, who was still a novice back in the day, was necessary for the reviving Optina monastery like coal is needed for a censer.
Father Heliodorus despised no "dirty" jobs. Dishwashing, cleaning, construction work, etc., etc., etc. — he would do it all.
The monastic tonsure increased his prayer zeal even more, and ordination to the hierodeacon presented Optina Monastery with a new "Romanos the Melodist" for many years. His magnificent voice, his musical talent, and, most importantly, his truly angelic zeal for the Divine Liturgy became a heavenly decoration for the worship service at Optina.
Sincere and filial devotion to Elder Eli, the spiritual father of the Optina Hermitage, compelled Father Heliodorus to accompany and help the elder everywhere. Continuous interaction and frequent concelebration with Father Eli helped Fr. Heliodorus adopt and, ultimately, reflect in himself the best traits of that God-wise elder. These are, first of all, love and prayer with a capital letter; or, more exactly, incessant prayer vigils, mercy to the poor, the Abrahamic virtue of hospitality and love of children  as well as care for every person in general . All those who found themselves "in the father's arms" of Fr Heliodorus saw extraordinary comfort and relief in their sorrows. Trying to enumerate all his good deeds is much like trying to cross a sea without a boat.
Everyone knows that veneration of the Mother of God and chanting of the "Agni Parfene" hymn was his favorite prayer activity. It is not surprising therefore that the day of his repose fell on the feast of the icon of the Iberian Mother of God, revered and beloved by him, while the Optina Intercessor, the Grower of Crops icon herself took his burial under her omophorion. It is also no longer surprising that the fortieth day of Father Heliodorus' death coincides with the monastery's most important patronal feast, the Presentation of the Most Holy Theotokos.
We all believe that Father Heliodorus, although has physically parted from us, stands in his spirit at the Throne of the Mother of God with his never-extinguishing censer and sings the sweet hymn: "Rejoice, o unmarried Bride"…
Translated by The Catalogue of Good Deeds
Source: https://www.optina.ru/20_v_poslednij_put/
---
*The town name "Kozelsk" is assonant with the Russian translation for "Goat" (Козел)