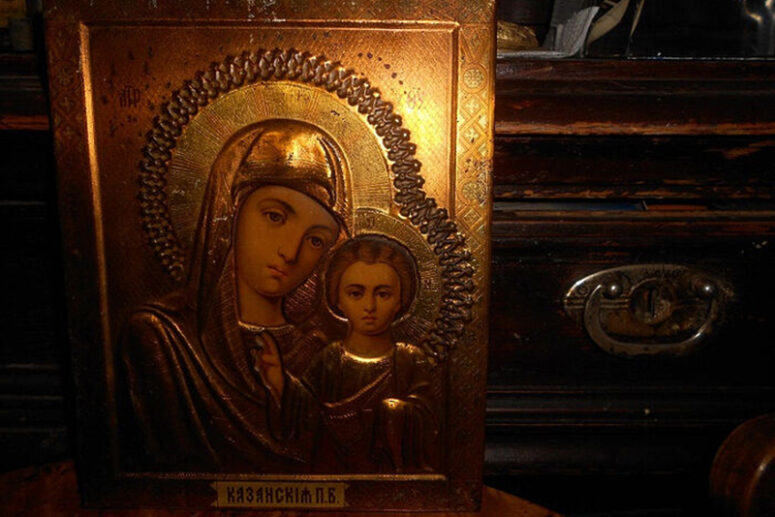 My grandmother gave me a small icon of the Most Holy Theotokos for graduation. She said that this old icon had saved her loved ones many times: For example, my mother, when she was very sick with the measles in childhood; or my grandfather, when they tried to put him in jail on false charges of grand larceny (he was the director of a restaurant).
I loved my grandmother and I didn't want to offend her with my disbelief or doubts about the faith, but I couldn't help it:
"Grandma, what do I need an icon for? I was class representative in school, a Komsomol member; I've been published in newspapers since I was thirteen, interviewing leaders of production and party secretaries from district and regional committees. Thanks to one of my articles, three high school girls were paid for their work in a factory over the summer, though they had been refused before that. They should count it as a school internship, they said. And you want me to have an icon, so my classmates and friends can laugh at me?"
I took the icon and put it in my jewelry box.
When I was still in high school, I was preparing to go to Moscow State University to study journalism. However, I didn't manage to get in on my first try, but the second try was successful. Getting in turned out to be difficult that year. To be a full-time student, you had to get a 14 out of 15 on the exam, and there were eight people tying for each spot. I got one less point than necessary. But the admissions office told me not to be in any hurry to gather my documents or fill out an application for the evening or correspondence courses. It turns out that 13 points was declared semi-passable. One member of the committee looked at my applications, my work record (I worked as a courier in an editorial office and as a freelance correspondent), my publications, and decided that I had a chance to become a first-year full-time student. Of course, what she shared with me was a secret, but she violated this secrecy because we had the same name.
There were only a few, nervous and difficult, days left until enrollment. I remember how I completely randomly reached for the jewelry box and took the icon out of it. I began to pray in my own words and to ask the Mother of God to help me become a student, thereby making my parents happy. I can bear it myself if I have to. I'll prepare and start in a year or two. But I asked for a miracle because I was worried about my elderly parents, and they were afraid that I would be stuck forever as an applicant. My mother was crying and saying that my friends were already in their second year and I was still taking the entrance exams, and that I would never get married. My parents could take my next failure with the school to heart and get sick.
The Mother of God heard my naïve prayers. I laughed and cried and hugged my mama and papa and my younger brother at the congratulatory ceremony. I went up to the list of accepted students that was hanging there several times to check again and again that my last name was still there, that it hadn't gone anywhere.
Unfortunately, good things and God's help are often quickly forgotten. Instead of reexamining my life, I stuck my grandmother's icon in the box again. When my friends and classmates would ask how I managed to get into such a prestigious university, I would say: "I studied a lot, I was published in newspapers and journals, I was on the radio, and I was even involved in a youth program on Central TV. You see, work is never wasted." I didn't say a single word about the help of the Most Holy Theotokos! Not out of modesty, not because my friends weren't believers yet and could have laughed at the help of the Lord, His Most Pure Mother, and His saints, but because at some point I believed that I myself was strong and that everything was in my hands.
The icon lay in my box again for a long time.
I turned to her three years after my miraculous admission. By that time, I was married and had a daughter. She was born healthy and peaceful, she slept at night, and bothered no one. Even my neighbors joked: "Does she ever even cry? Does she ever wake up? It's so quiet in your apartment, it's atypical for families with babies."
When the baby was two months old, she had convulsions, and she stopped breathing. It's a good thing my mother was there and she called the ambulance. I tried CPR, but nothing helped. I pressed my baby to myself and suddenly remembered grandma's icon. Tears fell onto the icon. Stammering and shaking, I asked the Theotokos to save and take pity upon my daughter. My mangled words were suddenly cut short by my daughter's shrill cry. She was alive and breathing!
The ambulance arrived just then. They advised us to go to the hospital, as the doctor feared more seizures, and they also needed to check her eyegrounds. The child had stopped breathing for a time, and this could have a bad effect on the brain.
I stood there distraught: An icon in one hand, a weeping child in the other.
The doctors were very understanding:
"We'll help you pack your things for the hospital, otherwise you won't come out of this shock. You don't look well, you're so scared."
In the ambulance, I asked how they managed to arrive so quickly. No more than two or three minutes had passed from the time of the seizures to the medics' arrival. (This incident happened in the 1990s, when you could wait hours for an ambulance, if it came at all). It turns out they had received a fake call near our building, so when the dispatcher's signal came in about the seizures, the ambulance only had to go a few yards. I realized immediately that this was no coincidence, not just technical details, but that the Lord and His Mother had not abandoned my child in danger.
Glory to God, we had cause to rejoice at the hospital. All the tests and analyses were in order, and we were quickly discharged.
When we were leaving, I asked the doctor what happened to my daughter and how to avoid it happening again. The woman doctor answered without hesitation:
"Anything can happen with young children. Do you know why they brought you to the hospital right away? Because several babies wound up in the hospital with the same symptoms in one day. I won't go into detail—I don't want to scare a young mother—but I'll just say: You're lucky. Everything is fine here. But so that it doesn't happen again—have her baptized. Our life and health are in the hands of God.
We wasted no time, and baptized our daughter in the Elokhov Cathedral in Moscow. The Kazan Icon of the Most Holy Theotokos no longer lies in the jewelry box, but stands on a shelf. But unfortunately, I wasn't able to ask my grandmother more about the story of the icon. I wish I had managed to thank her and tell her that she was right.