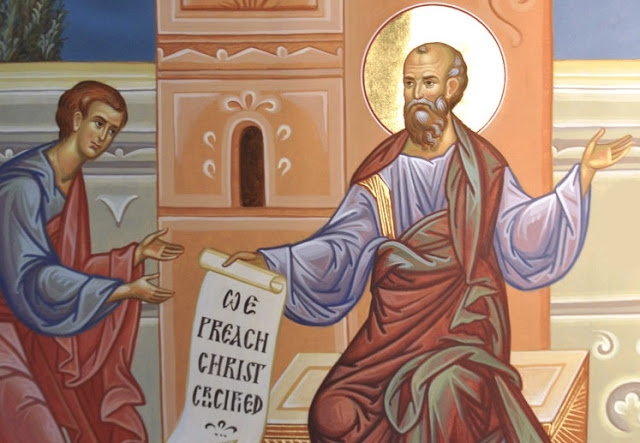 "But the manifestation of the Spirit is given to each one for the profit of all" (1 Corinthians 12:7).
Many different miracles were performed through the apostles, and Apostle Paul was not an exception, although he said about himself that he was "the least of the apostles, who am not worthy to be called an apostle, because I persecuted the church of God" (1 Corinthians 15:9). In his Book of Acts, Apostle Luke, who was one of Paul's companions and the witness of many important events of the Supreme Apostle's life, describes numerous miracles that the Lord performed by the prayers of Apostle Paul.
So, during the time of his first missionary journey, Apostle Paul visited Cyprus, where he converted proconsul called Sergius Paul to the Christian faith. There is a tradition saying that Apostle Paul chose his own name in memory of the very first conversion in his apostolic ministry. The proconsul turned to Christ after Apostle Paul had struck Elymas, the magician who tried to turn the proconsul from Christ, with blindness.
Apostle Paul in one of his journeys
In the city of Lystra, Apostle Paul appealed to the name of Jesus Christ and thus healed a crippled man, who could never walk before. We should point out one more time that there is an important ontological connection between faith and the healings described in the Holy Scripture. Apostle Paul healed that man when he saw that he "had faith to be healed" (Acts 14:9). That miracle was so great and amazed the locals so much that they even wanted to make a sacrifice to Paul and Barnabas, taking them as Zeus and Hermes: "The gods have come down to us in the likeness of men!" (Acts 14:11). It was really hard for the apostles to reassure them after that.
In Philippi, Apostle Paul casted a spirit out of a woman, who earned a lot of money for her masters with the spirit's prophecies. In Troad, the apostle brought a young man to life, who got so tired during the Eucharist and apostle's long homily that he fell asleep. Since he sat near the open window, he lost his balance and fell three stories to his death. "But Paul went down, fell on him, and embracing him said, "Do not trouble yourselves, for his life is in him"" (Acts 20:10). Later people brought him alive and the whole Church took solace in it. "God worked unusual miracles by the hands of Paul, so that even handkerchiefs or aprons were brought from his body to the sick, and the diseases left them and the evil spirits went out of them" (Acts 19:11-12).
Paul and the young man
The miracles of Apostle Paul were great and numerous. However, St. Paul wrote like nobody else that it is not miracles and healings what is important in Christian life, but love. Apostle Paul wrote in his first letter to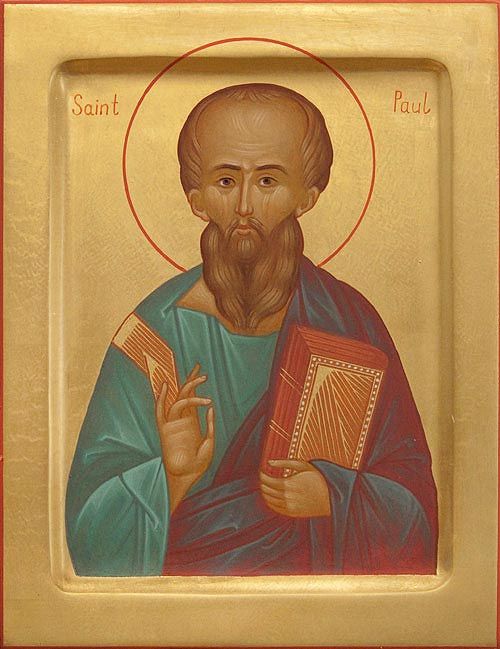 Corinthians that the Spirit is one but it can work in different ways just as the Lord is one but we can serve Him in different ways. In the Sacrament of Holy Baptism, every person receives his own gift and is called upon to use this gift to the benefit of the whole Church. But the greatest gift is love. And we all must strive to attain Christ's love, which is the ultimate display of the work of the Holy Spirit.
"Do all have gifts of healings? Do all speak with tongues? Do all interpret? But earnestly desire the best gifts. And yet I show you a more excellent way. Though I speak with the tongues of men and of angels, but have not love, I have become sounding brass or a clanging cymbal. And though I have the gift of prophecy, and understand all mysteries and all knowledge, and though I have all faith, so that I could remove mountains, but have not love, I am nothing. And though I bestow all my goods to feed the poor, and though I give my body to be burned, but have not love, it profits me nothing. Love suffers long and is kind; love does not envy; love does not parade itself, is not puffed up; does not behave rudely, does not seek its own, is not provoked, thinks no evil; does not rejoice in iniquity, but rejoices in the truth; bears all things, believes all things, hopes all things, endures all things. Love never fails. But whether there are prophecies, they will fail; whether there are tongues, they will cease; whether there is knowledge, it will vanish away. And now abide faith, hope, love, these three; but the greatest of these is love" (1 Corinthians 12:30-31, 13:1-8, 13).


What St. John Chrysostom says in his works:
But observe, I pray you, the theatre, how crowded it was: and the miracle, what it was. He was sitting in a window, at dead of night. Such was their eagerness to hear him! Let us take shame to ourselves! "Aye, but a Paul," say you, "was discoursing then." Yes, and Paul discourses now, or rather not Paul, either then or now, but Christ, and yet none cares to hear. No window in the case now, no importunity of hunger, or sleep, and yet we do not care to hear: no crowding in a narrow space here, nor any other such discomfort. And the wonderful circumstance is, that though he was a youth, he was not listless and indifferent; and though (he felt himself) weighed down by sleep, he did not go away nor yet fear the danger of falling down. It was not from listlessness that he slumbered, but from necessity of nature. I beseech you, so fervent was their zeal, that tliey even assembled in a third loft: for they had not a Church yet. Trouble not yourselves, he says. He said not, "He shall come to life again, for I will raise him up:" but mark the unassuming way in which he comforts them for his life, says he, is in him. When he was come up again, and had broken bread, and eaten. This thing cut short the discourse ; it did no harm, however. When he had eaten, it says, and discoursed a long while, even till break of day, so he departed. Do you mai'k the frugality of the supper? Do you observe how they passed the whole night? Such were their meals, that the hearers came away sober, and fit for hearing. But we, in what do we differ from dogs? Do you mark what a difference (between us and those men)? And they brought the young man alive, and, it says, were not a little comforted, both because they received him back alive, and because a miracle liad been wrought.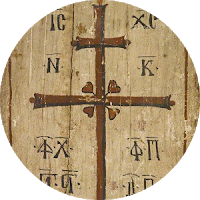 Reflections in the Holy Church tradition:
Paul, the spokesman of Christ and founder of His teachings, who earlier had persecuted Jesus the Savior, now you fill the first throne of the Apostles, O blessed one. Thus you saw things that cannot be spoken, and ascending to the third heaven you cried: "Come with me, and be filled with good things!" (Sticheron on the Litya. Tone 2)