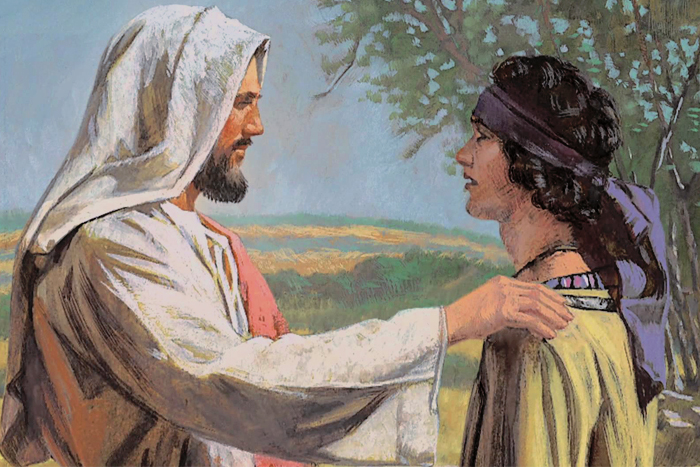 "What shall I do to inherit eternal life?" – one asked Christ. And the Lord answered him: "If thou wilt" eternal life, "keep the commandments". The Lord does not save anyone by force, therefore, he says: "if thou wilt", and He did not say: "fulfill", since a person with his damaged nature is not able to fulfill everything, but said: "keep", which means – do not lose out of your sight, always have them in your mind and coordinate your thoughts and deeds with them. "Which?" – one asks Christ and hears the answer: "Thou shalt not steal, do not bear false witness, do not commit adultery, honour thy father and thy mother: and, thou shalt love thy neighbour as thyself".
Are we all, dear brothers and sisters in Christ, we Christians, interested in the question: what shall be done to inherit eternal life? The path to eternal life begins with the keeping God's commandments. And a distinctive feature of a man who keeps the commandments is devotion to God and simplicity of heart. And where there is simplicity of heart, there is humility, there is awareness of one's insufficiency and a desire for spiritual growth. A meek person never admires himself nor keeps accounts of his good deeds.
The young man who questions Christ does not think so, therefore he boldly says to Him: "All these things have I kept from my youth up". A self-righteous young man told a lie about himself. Without checking the depths of his heart, he did not notice that he did not fulfill the main commandment – the commandment of love for his neighbor, for if he loved his neighbor as himself, he would have easily used his wealth to serve the unfortunate.
The omniscient Lord knew that the young man was rich, therefore, to the question: "what lack I yet?" He said: "if thou wilt be perfect", – take a chance of heroic deed – "go and sell that thou hast, and give to the poor". "If thou wilt", – says the Lord, – I do not demand this heroic deed from everyone, because not everyone can bear it, but you are looking for perfection – so, do it and "follow Me". And the young man, who seemed ready to fulfill the command of the great Master, silently "went away sorrowful", for "he had great possessions".
Zealous for salvation, he overestimated himself, did not know himself, did not notice what power passion of covetousness had over his poor heart. "All things are lawful unto me, but all things are not expedient: all things are lawful for me, but I will not be brought under the power of any", – the Apostle Paul says. But the good young man turned out to be a slave to the passion of covetousness.
Well, everyone, look at yourself: if there is this sin within you? Passion for covetousness is "the root of all evil" (1 Tim. 6:10), my dear brothers and sisters. There is no sin in being wealthy or rich, but look: do not be addicted to wealth, for addiction to profit, to money turns into a disease of the soul. Covetousness blinds a person, makes him presumptuous, restless, insensitive to cruelty and incapable of spiritual life. Covetous person – remains capable only of keeping external traditions, i.e. capable of preserving the pattern, but faith and religion are not a pattern, not a rite or tradition, but life. "Christ is our Life". "We have seen new Life", – the Apostles say bearing witness to Jesus Christ.
"If riches increase, set not your heart upon them", – King and Prophet David says. The present Gospel tells us how to begin our ascent to Heavenly Jerusalem, what we should avoid on this path, and it calls us, lazy and stumbling, to a new life, to life in Christ. Amen.
Translated by The Catalogue of Good Deeds
Source: https://azbyka.ru/otechnik/Mitrofan_Znosko_Borovskij/slova-i-propovedi/#0_68