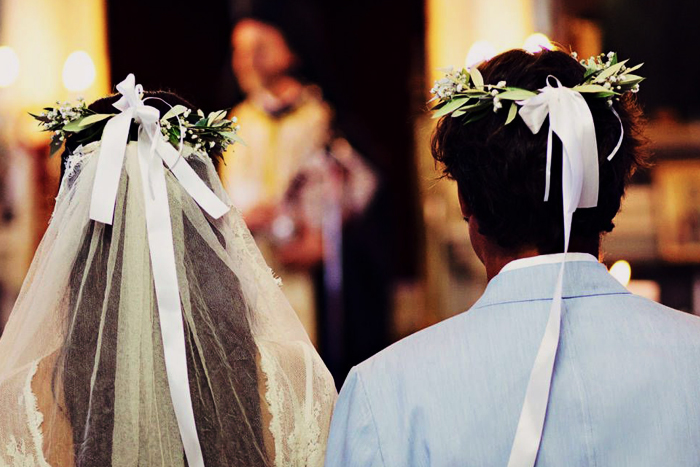 "O holy Martyrs, who have contested well and have been crowned, intercede with the Lord, that mercy be granted to our souls."
The Orthodox wedding service makes many references to the Holy Martyrs. The central prayer of crowning, which sets out how God "ordained physical marriage" to be between a man and a woman, then proceeds to ask God to bless and remember the newly wedded couple in the same manner as God blessed the well known couples from the Old Testament such as Abraham and Sarah, Isaac and Rebekah and so forth. Then, having traversed the Old Testament, special mention is made of the Holy Forty Martyrs of Sebaste: "remember them, Lord our God, as you remembered your Forty holy Martyrs and sent down upon them crowns from heaven."
Indeed, the theme of crowns is a major theme of the service. The hymn of the actual crowning ceremony calls on God to "crown them with glory and honour."
Why so much emphasis on royalty? Does the Orthodox Church do this to make a couple feel special on their wedding day? It is of much deeper significance.
The Mystery of the Wedding is a calling to both husband and wife to sacrifice themselves to one another in Christ. In body and in spirit. And lest one think that this is only a spiritual metaphor, a mere symbol, the actual prayer of the crowning banishes any such thought: "crown them to one flesh."
The witnessing to one another, this sense of self-less sacrifice is a psychosomatic act, both body and soul. This is why the memory of the martyrs is so ingrained into the fabric of the Wedding service. Even the dismissal prayer of the service mentions the Holy Great-Martyr St Procopius.
The Martyrs did not just pay lip service to their belief in Christ. For them it was not just about thoughts, or words easily spun off their tongues. They put their bodies on the line for their faith, their very lives. And in doing so they were rewarded with 'crowns from heaven', as the hymn of the Wedding procession reminds us.
As Paul Evdokimov so aptly explains in his book on Marriage, the Sacrament of Love, "perfect love is love crucified. This is why the crowns refer to the Lord's crown of thorns, the only one that can give meaning to all others. Throughout their entire life, the spouses will hear echoes, strong or dim, of the Troparion of the Holy Martyrs."
Source: https://www.lychnos.org/wp-content/uploads/2019/11/Lychnos1911s.pdf