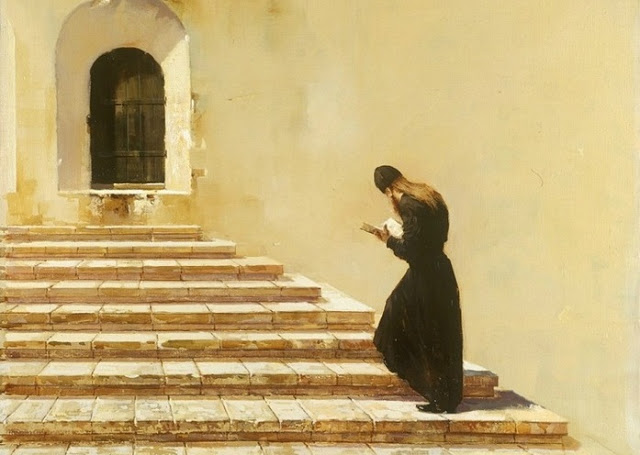 The Dispassion of a Stone
Abba Ammon went to Abba Anthony one day. They had a conversation aboutsoul-nurturing things. Abba Anthony predicted to Abba Ammon after the conversation that the latter will succeed in the fear of God. Upon uttering that prophecy, Anthony led Ammon out of his cell and pointed at a rock, saying:
– Insult this rock and hit it hard. Ammon did it.
Abba Anthony asked him:
– Did the rock react in any way? Did it fight back?
Ammon replied:
– No, it didn't.
– You will achieve the same level of dispassion, too, – Abba Anthony said.
Abba Anthony's prophecy was made true eventually.
Put on therefore, as the elect of God, holy
and beloved, bowels of mercies, kindness, humbleness of mind, meekness,
longsuffering (Col.3:12)

God Knows What Is Good
A brother asked his elder:
– Is there a specific good action that I can keep doing for a lifetime?
The elder replied:
– God knows what is good. I heard an elder ask Abba Nestorius, "What good shall I do?" The abba responded, "Aren't all good actions equal? The Scripture says, "Abraham was hospitable, and God was with him; Elijah loved silence, and God was with him; David was meek, and God was with him." Therefore, learn what your soul desires to do for God's sake, and do it, paying attention to your heart."
And he that searcheth the hearts knoweth what [is] the mind of the Spirit, because he maketh intercession for the saints according to [the will of] God.
 And we
know that all things work together for good to them that love God, to them who
are the called according to [his] purpose (Romans 8:27–28).

Clay Pots
A monk came to his spiritual counselor and complained:
– Father, I come to you time and time again. I repent of my sins, and I seek your advice. In spite of that, I cannot improve. What's the reason for me to come to you then? I keep falling in the same sins after talking with you.
The abba replied:
– My son, take two pots, fill one of them with honey and leave the other empty.
The disciple did as his master requested.
– Now, – the master continued, – pour the honey from the first pot into the second pot several times.
The disciple obeyed.
– Now look at the empty pot and smell it, sonny.
The disciple looked at the pot and smelled it. He concluded:
– Father, the empty pot smells honey, and there's some honey left inside.
– That's precisely how, – the elder said, – my teachings remain in your soul. If you gain at least some virtue for Christ's sake, the Lord in his mercy will add up to it and save your soul for the paradise. A cook doesn't put pepper inside the pot that smells honey. Similarly, God will not reject you if you preserve at least some righteousness inside your heart.
But to him that worketh not, but believeth on
him that justifieth the ungodly, his faith is counted for righteousness (Romans
4:5)

Repentance: How Long Should It Take?
A brother asked Abba Poemen, "I committed a terrible sin and I would like to spend three years in repentance for it."
"It's too long," Abba Poemen said. "What about one year?" the brother inquired. "That's too long," the elder repeated. The elder's disciples who witnessed their dialog, asked, "Will a forty days long repentance be enough?" The elder answered, "It's too much. If a person repents wholeheartedly and stops sinning from then on, God will accept him in just three days."
Repent, and turn yourselves from all your
transgressions; so iniquity shall not be your ruin (Ezekiel 18:30)

A Greater Challenge
There was a hermit who achieved such holiness that he could easily live with wild beasts, and they did not attack him. He would feed their cubs, and the wild animals did not harm him. One of the monks who lived in a monastery saw him and said:
– If you want to be even more perfect, come to our monastery and try to avoid conflicts with the holy brethren.
O all ye beasts and cattle, bless the Lord:
praise and exalt him above all for ever (Daniel 3:81)

Who Are You, a Gentleman or a Pauper?
There were some monks who were discussing humility. A noble man from Gaza heard them say that the closer one gets to God, the more sinful he considers himself to be. He was amazed:
— How can that be?
He was eager to know what these words meant.
One of the monks replied:
— Sir, who do you think you are in your town?
The noble man answered:
— I think I am the greatest and the most important man in my town.
— What if you go to Caesarea, what would you think of yourself?
— I would consider myself to be the last of the gentry.
— Who would you be in Antioch then?
— I'd be counted among the commoners.
— What if you go to Constantinople to the Emperor's Court, who would you be?
— I'd consider myself a tramp.
— This is how saints look at it. — the monk said, — the closer they get to God, the more sinful they feel. When Abraham saw the Lord, he called himself dirt and ashes.
. . . Behold now, I have taken upon me to
speak unto the Lord, which am but dust and ashes (Genesis 18:27)

Use It Right Now!
– Father! – a newly-tonsured monk addressed the abbot. – My heart is filled with love and free from temptations. What do I do next?
The abbot invited the disciple to visit a terminally ill man who had requested a confession. Upon comforting the grieving family, the abbot pointed at a box
which stood in a corner of the room.
– What is there in that box? – he asked.
– It is full of clothes that my uncle never wore, – the dying man's niece replied. – He was always thinking that he would wear those clothes on a special occasion. As a result, they are rotting in that box.
– Remember the box, – the abbot taught his disciple after they left the house. – If there are treasures in your heart, use them right now, or else they willperish.
Take therefore no thought for the morrow: for
the morrow shall take thought for the things of itself. Sufficient unto the day
is the evil thereof (Matthew 6:34)