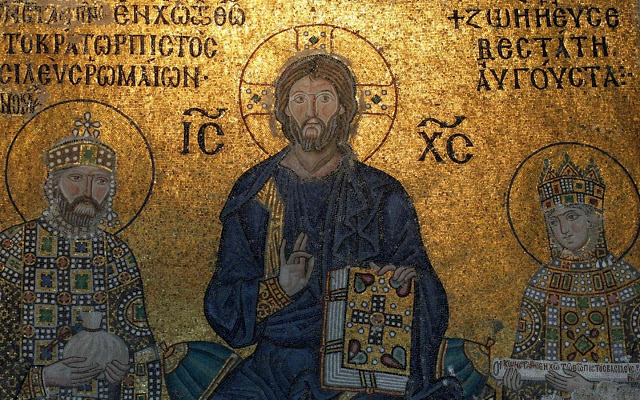 Icon inscriptions are symbols and acronyms accepted in the Russian Orthodox icon-painting tradition. Inscriptions can be made both in Church Slavonic and in Greek language. In these inscriptions, contracture is widely used (from lat.  "shrinking"), which is writing a reduced form of a word with the help of its first and last letters. Above such words, a special symbol called titlo ( ҃ ) is written.  The reduced form of the name Jesus Christ, consisting of two pairs of letters is IC XC. The cruciform halo reminds us about the Savior's death on the Cross, the redemptive effect of which covered the whole world – "it is crosswise, for with the Cross He saved the world". Number "four" is the symbol of spatial fullness. Four "ends", which make a cross, connect four cardinal points.
In three visible sides of the cross within the halo, the Greek word O Ѡ N is written, which means "I AM". That manner appeared in the 11th century. This inscription highlights the Divine nature of Jesus Christ in accordance with the revelation Moses got from the bush: "I am Who I am" (Exodus 3:14).
In Russian icon-painting tradition, Greek letter Ѡ (omega) is replaced by Ѿ (ot).
On Greek and Bulgarian icons, letter O (omicron) is placed on the left, Ѡ (omega) – in the top, N (nu) – on the right. The whole inscription is read in a circle from left to right.
For Russian icons a different order is more common: Ѡ (o) or Ѿ (ot) is on the left, Ѻ (on) in in the top, Н (nash) is on the right. The inscription is read by lines beginning from the top and then from left to right in the second line.
It must be noted that the biblical explanation of the words was not the only one in ancient Rus. From the old-rite literature, we can learn that there was another explanation. Perhaps, it was naïve to some extent, but still it did not violate any dogmatic rules of the Church. According to it, three letters expressed first of all three natures of God. Secondly, the Divine nature of Jesus Christ: Ѿ (ot) – "fatherly". Ѻ (on) – "oum", Н (nash) – "inconceivable Son". Thirdly, the incarnation of the Son of God and His sufferings: Ѿ (ot) – "from Heaven He came", Ѻ (on) – "they who did not conceive Me", Н (nash) – "crucified on the Cross".
As can be seen from these explanations, the order of reading the symbols was also not unified and could be changed, tearing apart any connections with the Greek tradition and replacing the words "I AM" with the word Ѿ Ѻ Н .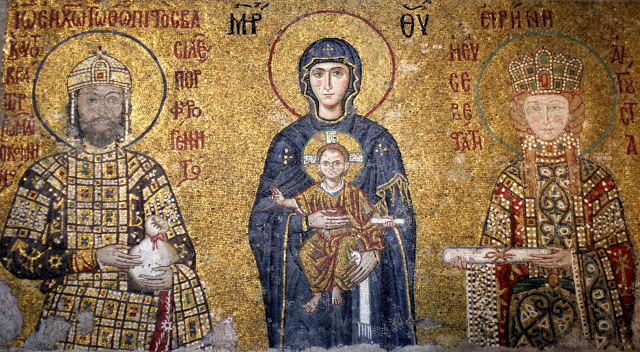 Inscriptions on icons
The inscriptions on ancient icons were quite simple. Some widely-known words were reduced. Apart from Ιησους Χρηστος, such words as Αρχαγγελος, ο Δικαιος, ο Προφητης, ο Αγιος и η Αγια could also be written in their short forms.
The names were supposed to be legible. However, if we speak about St. Johns (Forerunner, Chrysostom). We should point out that often both their names and titles (ο Προδρομος, ο Χρυσοστομος) were shortened.  
Greek

Church Slavonic

Translation

Θεος

Бгъ

God

–

Гдъ

The Lord

ΙΣ ΧΣ

IС
ХС, IИС ХС, IСЪ ХСЪ

Ιησουσ
Χριστος, Jesus Christ

ΙΧΘYΣ

–

Literally "fish", an ancient acronym
for Jesus Christ, the Son of God, the Savior

–

Црь слвы

The King of Glory

ΜΠ ΘY

МН БЖН

Greek: short for Μητερ Θεου

Church Slavonic: the Mother of God

–

1. Б. М.

2. БЦА

3. П. Б.

1. Mother of God

2. Theotokos

3. Holy Theotokos

–

I. Н. Ц. I

Jesus of Nazareth King of the Jews

ΤΚΠΓ

МЛ РБ

Greek: short for Τουτο Κρανιον
Παραδεισος Γεγονε

Church Slavonic: short for Calvary, the place of execution

–

ГГ

Mount Golgotha, the inscription at
the bottom of the Cross

–

ГА

Adam's head, the inscription near
the skull of Adam at the bottom of the Cross

–

К

Lance – one of the weapons of
passions, depicted near the Cross

–

Т

Cane – one of the weapons of
passions, depicted near the Cross

–             

КТ

Short for Lance and Cane – the weapons
of passions

ΑΓΙΟΣ,αγιος

АГИOС, СВЯТЫЙ,
СТЫ, СТН,СТИ, СТ, СВ

Saint

ΑΓΙΑ, αγια

АГИА, СТАЯ

Saint (women)

ΟΚΑ, ΟΑΚ

–

Righteous

–

ПРO

Prophet

–

АПЛЪ

Apostle

–

СТЛЬ

Hierarch (bishop saint)

–

МЧ, МЧНК

Martyr

–

ПР

Venerable
Examples and types of inscriptions

Jesus Christ, Pskov, 15th century

Jesus Christ, Greece, 16th century

Jesus Christ, Rus, 16th century

Mother of God, Byzantium, 14th century

Mother of God, Rus, 16th century

Mother of God, Serbia, 14th century

Archangel, Byzantium, 12th century

Archangel, Greece, 16th century

Archangel, Greece, 16th century

Prophet, Greece, 16th century

Prophet, Rus, 15th century

Saint, Bulgaria, 14th century

Saint, Serbia, 14th century

Saint, Rus, 17th century

Saint, Rus, 12th-13th centuries

Saint, Greece, 16th century

Apostle, Rus, 16th century
Apostle, Rus, 17th century

Martyr, Rus, 16th century

Martyr, Rus, 17th century

John, Rus, 15th century

John, Greece, 16th century

John, Rus, 16th century
Forerunner, Greece, 16th century

Forerunner, Rus, 16th century

Chrysostom, Byzantium, 11th century

Chrysostom, Greece, 16th century
Translated by The Catalog of Good Deeds