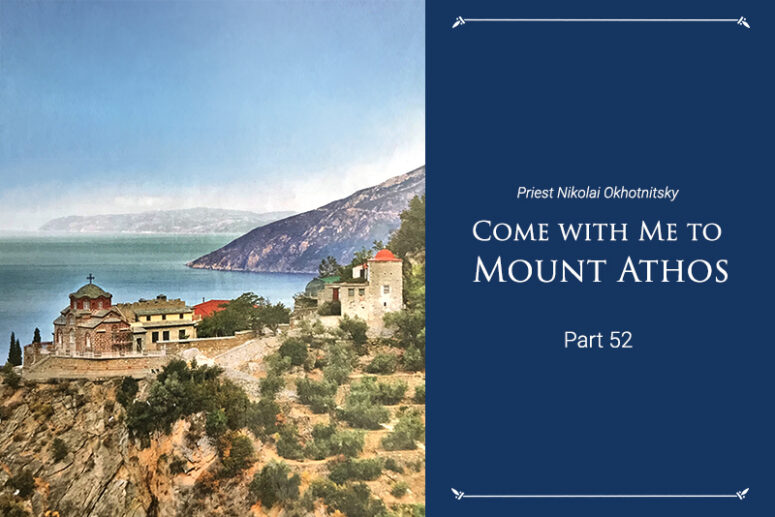 Our Father
I woke up. It was dark in our room. The closeness of the sea with its measured noise created an illusion that we were on a ship. "My goodness, it is so good here!" My "old wounds" stopped hurting; all my old fears and worries subsided, as if they had never existed. It must have been the air, but I felt completely rested although I slept for only a couple of hours. Reading people's impressions of this amazing place, I found many mentions of the unusual and indescribable phenomenon of the complete physical revival experienced by visitors of the Holy Mountain.
 My companions were sleeping quietly, like children; quite unlike they did on the night before we arrived on Athos.
 "I'd better try to fall asleep before the semantron knocks." I knew that I could use a little more sleep and "recharge" a bit more.
 Surprisingly, despite my efforts, I was not falling asleep. I was ready to start counting sheep. "Let's see what time it is." I reached for my Military watch with a glowing dial. What?! Cold sweat broke through instantly.
 – Brethren, feet in socks! We overslept! Aw, shucks!!
I do not remember getting up like that since my test combat alerts in the army. It turned out that I was not the only one awake. That was why it was quiet in the room. Everyone was waiting for the "monastic alarm clock", but the semantron was simply not heard there. My scream threw everyone out of bed. While Igor was trying to find a switch on the wall, I was already fastening my cassock. The bliss that I was experiencing a minute ago had disappeared. The thought of flying two thousand kilometers, reaching the inheritance of the Most Holy Theotokos and then shamelessly oversleeping the service at the Gregoriou Monastery was painful.
St Nicholas looked at us reprovingly as we rushed (or rather hobbled quickly) along the paved path leading to the monastery gates. My heart was ready to jump out of my chest. I was so upset I just wanted to cry.
 The church door was wide open. I took a deep breath and dived into the darkness of the narthex, as if into an ice-hole. Crossing myself, I stood quietly in my stasidia next to the readers. They were already reading the canon.
 – Lord Jesus Christ, Son of God, have mercy on me, a sinner!
I pronounced every word of this prayer with a special feeling of awareness of my guilt and worthlessness.
 Some time after returning from Athos, we were recalling this service and agreed that if we had not overslept then, perhaps our prayer would not have been so fervent and meaningful. Vladimir Georgievich compared it to an incident that happened to him in the army, when he suddenly fell asleep on sentry duty. After waking up, he began to carry out his guard duty more attentively and vigilantly, looking around and listening to the slightest rustle. He shared that he had never had a warmer and more attentive prayer in his life. I agree with him.
 Prayer is a very intimate process. A person is one on one with God. In this state, everything extraneous, including noise or someone's presence, is very disturbing. It is like talking to someone you love with an unfamiliar babushka sitting next to you and listening to your conversation. I found myself in a similar situation when Igor's head suddenly appeared next to my face during the service. I almost groaned in annoyance. His stasidia was near mine. To face the altar, Igor had to turn and enter what I thought was my "personal space". Although the feeling was not pleasant, I understood that it was not Igor's fault. The irritation in my heart was so alien that I knew right away that it was nothing more than a temptation. God showed me another vulnerable point in my spirituality, which was certain to get worse if neglected. At first, I fidgeted, hanging on the armrests; then I coughed, hoping that this would сause my friend to take some other position and move his head. None of that helped. Only after I completely accepted the situation and explained Igor's behavior to myself, his head disappeared into the darkness and did not appear again.
 The service then continued without incident. The Matins were followed by the Hours and finally the Liturgy. That would probably be it for my description of the service, if not for one circumstance.
 Silently repeating the deacon's petitions in Russian, I suddenly felt that someone approached me. I opened my eyes and saw an unfamiliar monk in front of me.
 – Our Father. Church Slavonic. Hegumen blessed. Let's go!
 I was taken aback. My inner voice was just about to say, "And vouchsafe us, O Master, with boldness and without condemnation to dare to call upon Thee, the heavenly God, as Father, and to say…" And here it was. I could tell that he was not joking. The reader went silent. "Who am I to be reading this prayer usually said by the abbot!?" The pause lasted fractions of a second, during which I changed my mind and finally proceeded with the prayer in a loud breaking voice (maybe even louder than necessary because of my excitement). "Our Father, who art in heaven…" The words bounced in the cramped space of the church and hit me on the head. It sounded like I was hearing someone else's voice. When the serving hieromonk uttered his exclamation following this prayer, I was still shaking within. What a powerful surprise! Of course, I was pleased and honored. Today I am still sure that it was a consolation from above. I felt like it was my name day. Then we venerated the relics, ate some antidoron and drank some holy water. The service was over. With special reverence, I venerated the icon of St Nicholas the Wonderworker. Pressing my forehead against the image of the saint, I quietly thanked my heavenly patron for the amazing welcome in his monastery.
 Soon the monastery refectory opened its hospitable arms. Hieromonk Panaretos invited me to his table once again. I already knew that he was the vicar and the spiritual father of the monastery. Technically, that meant that in the absence of the abbot he performed his duties. Looking at his kind appearance and his smiling eyes, I knew that my experience with the Lord's Prayer was his doing. The meal did not leave any trace in my memory. Most likely, it was eclipsed by the more powerful impressions of that morning.
 Stepping out into the fresh air, we stopped in indecision. I watched the manciples bowing to the waist and asking the passing brethren for forgiveness. It was not a rehearsed performance, but a real, sincere expression of humility. Father Panaretos blessed those exiting the refectory. When there was no one left inside, he came up to me and said very gently in Russian, "Thank you". He said it not like a father to a son, but like a brother to a brother. I almost cried as I bowed in the same way as the manciples and said in Greek, "Ευχαριστώ!" I did not know how else I could express my gratitude to him. Today, among the many names that I commemorate at the proskomedia, there is a wonderful name of the hieromonk Panaretos. May the Lord keep him.
Translated by The Catalogue of Good Deeds
Part 1
Part 2
Part 3
Part 4
Part 5
Part 6
Part 7
Part 8
Part 9
Part 10
Part 11
Part 12
Part 13
Part 14
Part 15
Part 16
Part 17
Part 18
Part 19
Part 20
Part 21
Part 22
Part 23
Part 24
Part 25
Part 26
Part 27
Part 28
Part 29
Part 30
Part 31
Part 32
Part 33
Part 34
Part 35
Part 36
Part 37
Part 38
Part 39
Part 40
Part 41
Part 42
Part 43
Part 44
Part 45
Part 46
Part 47
Part 48
Part 49
Part 50
Part 51
Part 52