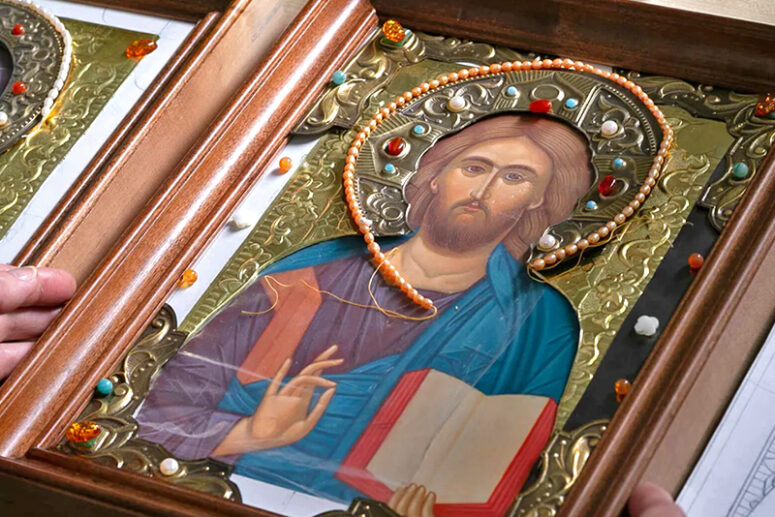 "The love that you put in your work is the most important thing that cannot go unnoticed by its future owner. To me, this is a way of fulfilling the commandment to love my neighbor". 
Valentina Grigorievna Kondalova, founder of the St Elisabeth Convent's icon-plating workshop

Traditions of the Past
The tradition of adorning icons with precious platings stems from the times of Byzantium and Ancient Rus, where such covers, made of fabrics and metals, were signs of deep veneration. An icon plating is always a sign of thanksgiving. In church there are often chains with rings, earrings and other jewellery hanging near icons. People bring these items as a sign of their gratitude for the help granted to them through their prayers. These offerings are melted and used to make icon platings. The tradition of using gold, silver, pearls and precious stones to decorate churches has deep roots and is associated with people's desire to give the best of their possessions to God. Cases are known when merchants and boyars spent fortunes making offerings to churches.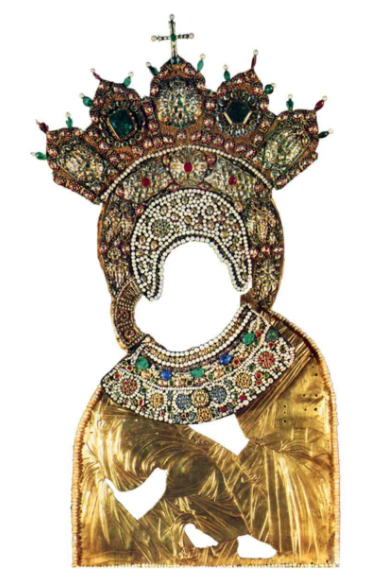 For example, one of Russia's most revered icons of the Theotokos Vladimirskaya had several precious platings (rizas), including festive and ordinary ones. The famous Kazan Icon of the Mother of God, found in the 16th century and kept for a long time at St Mary's Convent in Kazan, was decorated with a gold cover, pearls and a crown of diamonds. This icon, revered by all the Russian people and considered the patron of the Romanov House and all Russia, was tragically lost in 1904, right before the revolution.
From Past to Present. Modern Icon Platings
In the modern sense, an icon plating is an ornament made of fabric or metal and applied on an icon. Typically, an icon plating covers the icon completely, leaving open some details of the image, such as the face, hands and feet.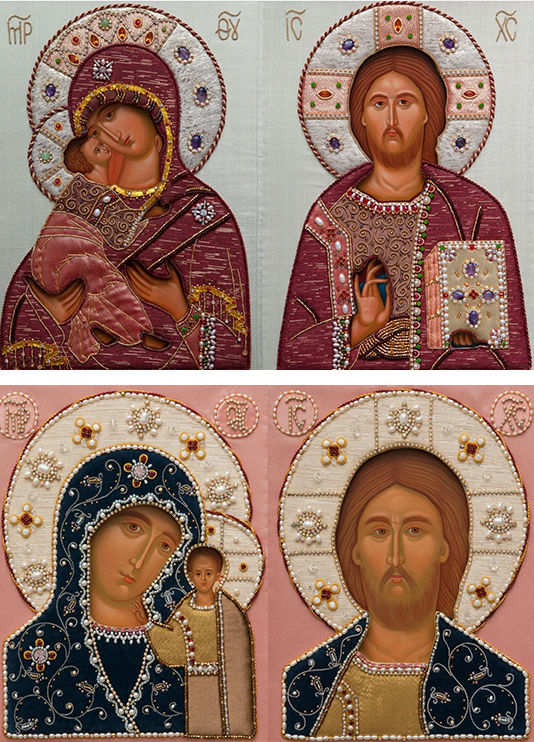 Such covers serve both to decorate and protect icons from various damages, but, most importantly, to express gratitude to God and the saints. The main elements of icon covers are the halo, the mounting, the frame and the background. Precious metals used to decorate icons acquire a special symbolism and are identified with ethereality and the uncreated light. Similarly, all other materials used in the process of making an icon cover also have a symbolic meaning. For example, gold signifies eternity and incorruption, silver symbolizes holiness, purity, and stones point to spiritual virtues.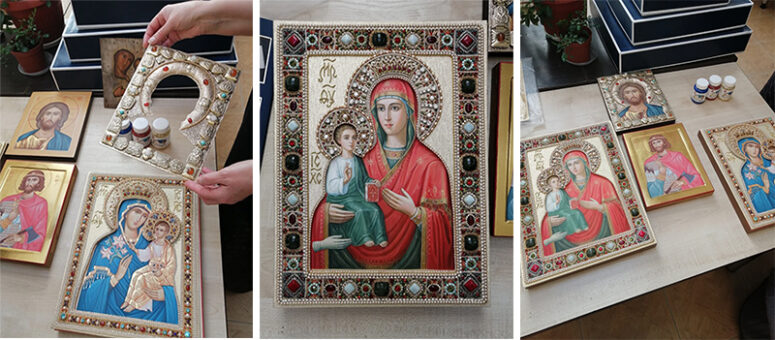 The unique icon-plating workshop of St Elisabeth Convent has been operating and reviving ancient traditions for over two decades now. The main work of its craftsmen is making covers for icons and shrouds. Each such cover is the result of elaborate manual work, requiring a creative approach and prayerful concentration. It can take several weeks to embroider one cover.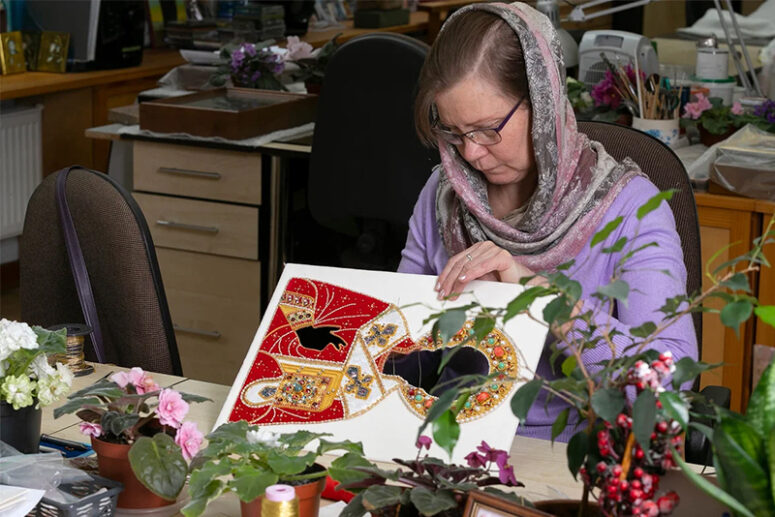 The workshop creates different types of covers, for example, covers from expensive fabrics such as brocade and velvet. These fabrics are embroidered with pearls, beads, precious and semi-precious stones. Covers are also embossed using brass or the more yielding aluminium. A high-quality cover prolongs an icon's life, allowing it to preserve its original appearance for a long time.
Creating the Image
Besides creating covers for existing icons, our icon-plating workshop's icon painters also write their own. These custom icons are written using acrylic or tempera paints. If necessary, they are also gilded, using gold leaf.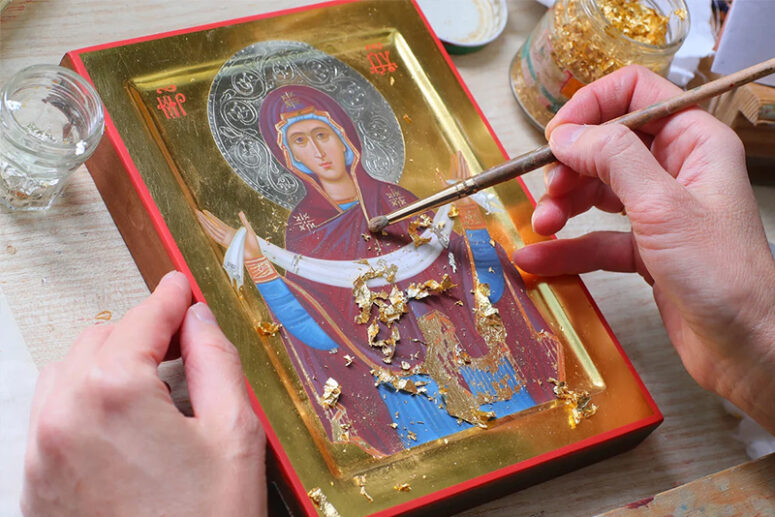 The 19th and early 20th centuries witnessed the mass production of icons, designed to be placed under covers. Artists painted them quickly, using a kind of a belt method and only writing the open, visible parts of the image (face, hands and feet). In contrast to this style, the icon-plating workshop of St Elisabeth Convent creates full images for their icons, giving not only their covers, but also the actual icons a full-fledged finished look.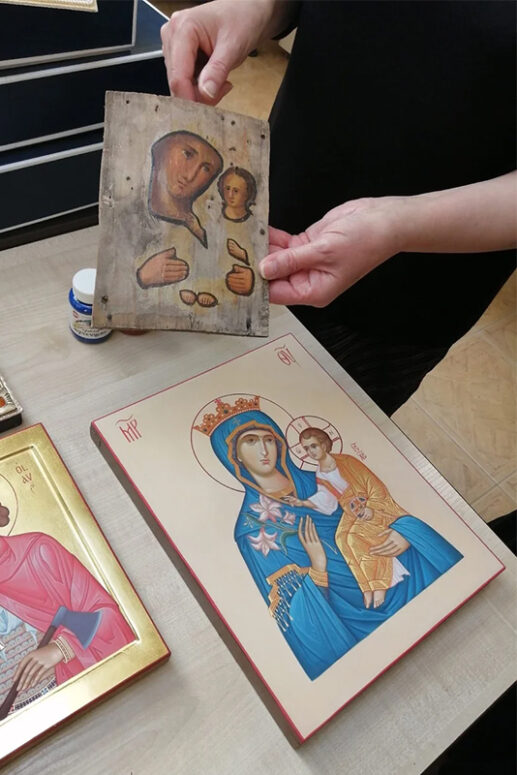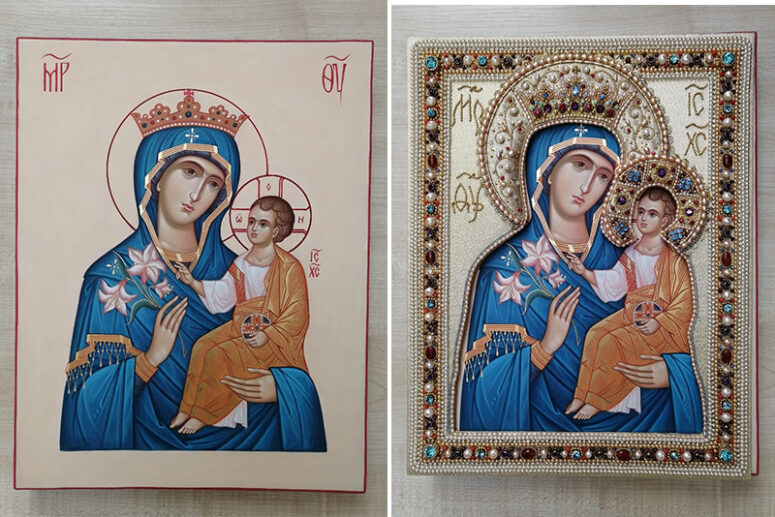 From Minsk to the Rest of the World
Icon covers from our convent's workshop are widely known and have a recognizable style, presented annually at exhibitions abroad.  Orders come to the workshop from different parts of the world. Icons with frames are often purchased as gifts. Several years ago, an icon of the Mother of God "Giver of Reason" encased in a beautiful cover by our icon-plating workshop was bought as a gift to Pope Benedict XVI.
Covers are often ordered for old icons, cherished by families or churches. A new hand-written icon with a cover can become a family heirloom and heritage for future generations.
"Icons with covers come to life. For example, when we make shrouds (epitaphia) of the Mother of God we always make them fully embroidered, widely using zirconium and glass. With its cover gleaming in the light of the lamps and candles, such a shroud looks alive". 

"After consecration, an icon begins to live its own life. It changes and picks an owner for itself, choosing where to go. There is no doubt about it. This has already been noticed and verified. An icon has a completely separate life of her own". 
– Sr Elena Pozharitskaya, head of the icon-plating workshop