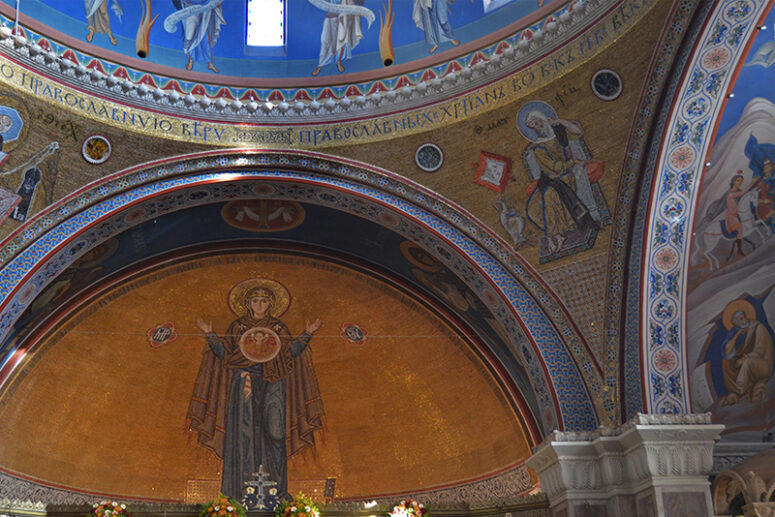 Dmitry Trofimov, head of the Tsargrad creative workshops:
Mural painting has its canon just as there is a canon for writing icons. This canon, originated in Byzantium, presumes a strict hierarchy of themes and motifs, making it possible to "read" the murals, as they lead us from the earthly events starting in the narthex, all the way to heavenly Jerusalem. Mural paintings are arranged according to the biblical story in relation to the altar. The other axis arranging the murals according to the degree of revelation about Divine Providence and the union of Heaven and earth points towards the main dome.
The sacral significance increases as we look higher. The vault under the dome, where the image of the Savior is most often painted, symbolizes heaven. Below are depicted angels, then prophets. Below them are the four evangelists. The upper part of the temple is usually reserved for New Testament stories. Images of saints and hagiographic scenes are placed closer to the worshipers. An image of the Mother of God or Christ is placed on the altar vault, just above the "Last Supper" or "Communion of the Apostles".
We see this pattern (from earthly to heavenly) unchanged in Russian churches of different eras, in spite of the changing style and preferences in compositional structure. I will give an example of the Spassky Cathedral in Penza, which was blown up in the 20th century and is now being restored. The cathedral was painted in 1851 by father and son, Kuzma and Ivan Makarov. The latter was a brilliant portraitist who also worked much for the Church. The descriptions, photographs of the church interior and, most importantly, sketches depicting the brilliantly detailed figures of the evangelists have been preserved.
The first half of the temple was occupied by scenes from the Old Testament, leaving the second half for the New Testament. The plots were collocated, revealing symbolic connections. For example, the Mother of God with the Eternal Child was depicted above the "Moses with the Burning Bush". Opposite the "Lamentations of Jeremiah for the Destruction of Jerusalem" was the Kazan Icon, in front of which, similarly to the Old Testament prophet, people wept over their sins.
"As far as the eye of a Christian can reach, it meets instructive events and examples of saints, vital on the path to our salvation," so they wrote in the local press. In that particular era, parishioners wanted to see the picturesque side of the Sacred History, depicted authentically, vividly, perhaps too emotionally. One way or another, the described arrangement of images always leads from simple instruction to Christ as the mystery of our salvation.
Translated by The Catalogue of Good Deeds
Source: https://foma.ru/kak-chitat-rospisi-v-hrame.html