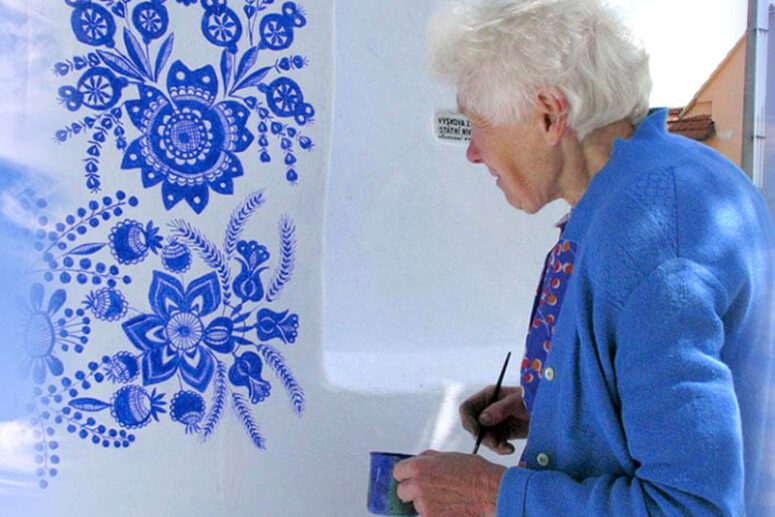 Our section "Сhronicle of Heaven" features people from different countries known to their communities as their next-door heroes. They have passionate hearts and share their love and sympathy generously with their neighbours.
 "Art is an indispensable and multifaceted property of human nature. It is a necessary attribute of the human spirit.
Fiodor Dostoyevsky.
With her beautiful murals, this 90-year-old lady transformed her native village into a picture gallery
A single person can change the world. If you are still sceptical, look at Agneska Kaspakova from Luka Village in the Czech Republic. At ninety years of age, she has not taken a holiday ever since she retired. Single-handedly, she painted the walls of her house and the houses of her neighbours. With beautiful murals of blue flowers on their walls, they have become a local tourist attraction.
With her work, Agneska transformed her native village into an open-air museum. Following in the footsteps of her ancestors, she has painted murals on the walls of residential houses and other buildings. Agneska took no money for her work, she did it for pleasure.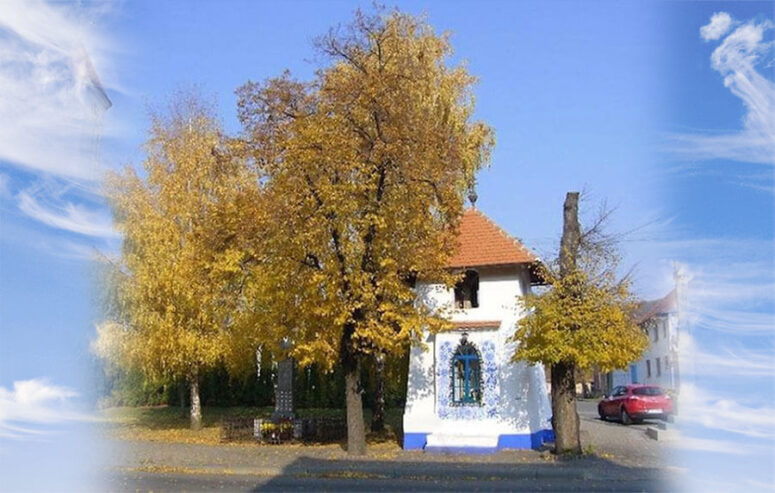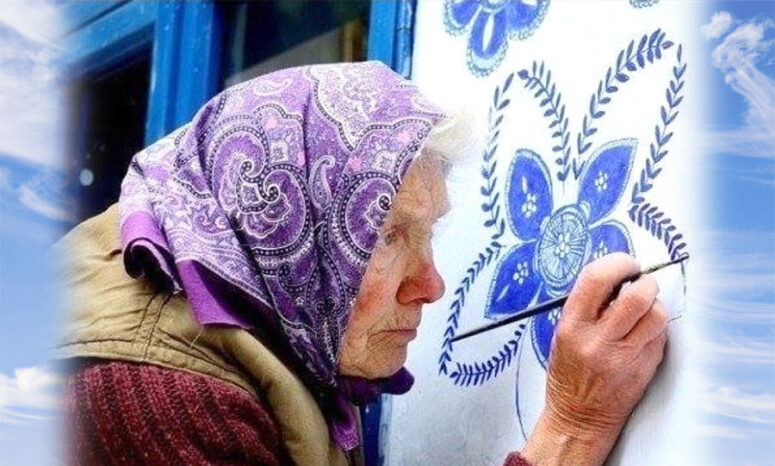 She spent the greater part of her life working as a farmer. She retired thirty years ago, but staying at home doing nothing has never been her style. She dedicated all her free time to art, and has not let her brush lie idle for a single day, She painted the local chapel and bell tower. Built in the eighteenth century, the chapel is an interesting example of popular baroque, an architectural style common in the Czech Republic. Its light blue mural is more than 100 years old. Agneska is the third in a generation of painters upholding this tradition.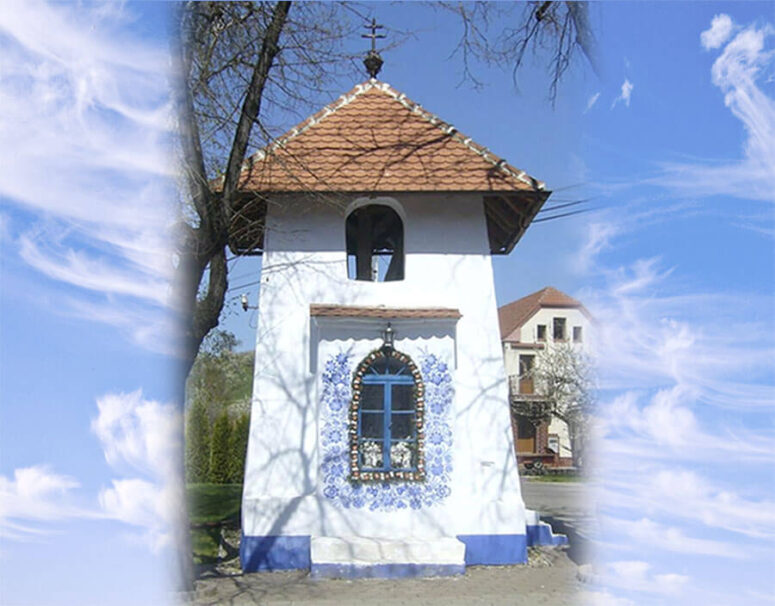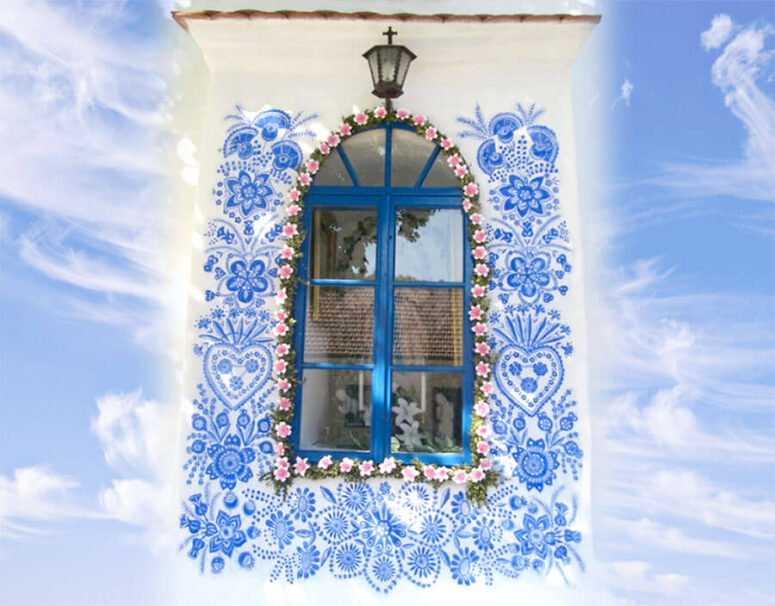 Agneska also painted murals on dozens of houses, and they continue to please the eyes of the residents and visitors of her native village. At her advanced age, she remains as proactive as ever and is a model of making good use of her time and talent for the benefit of others.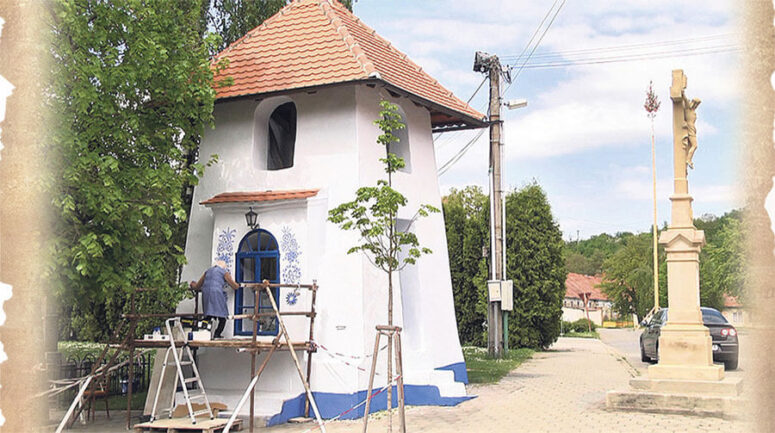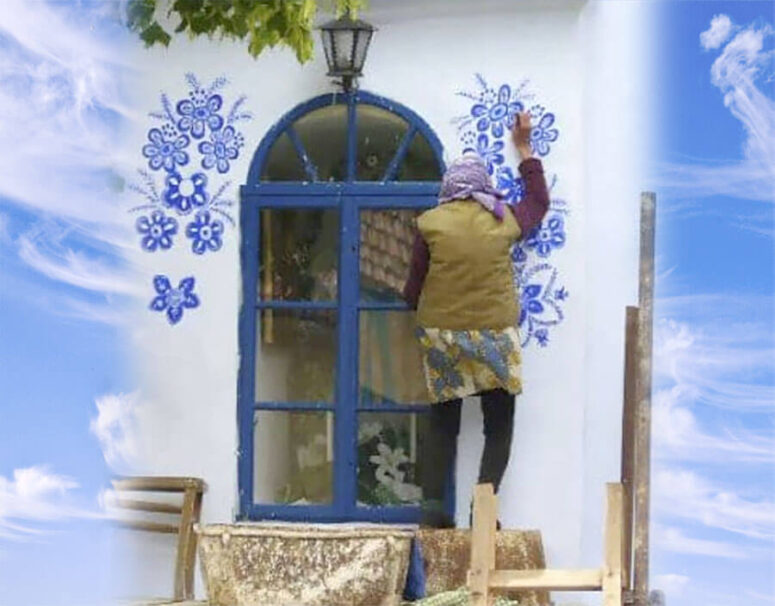 Agneska has painted the window frames and front walls of houses with traditional Moravian patterns. The ones with flowers have peen her favourites. She finds that they add a unique freshness to the front walls that tend to wane with time. To Agneska, her work is a source of satisfaction and pleasure.
She has been painting since she was sixteen. She has completed many pieces, most of which followed the tradition of Russian folklore. Many are internationally renowned. But fame has not made her proud of herself.
"I am not an outstanding painter. I am only doing what I like to make this world a little bit more beautiful," she says, softly.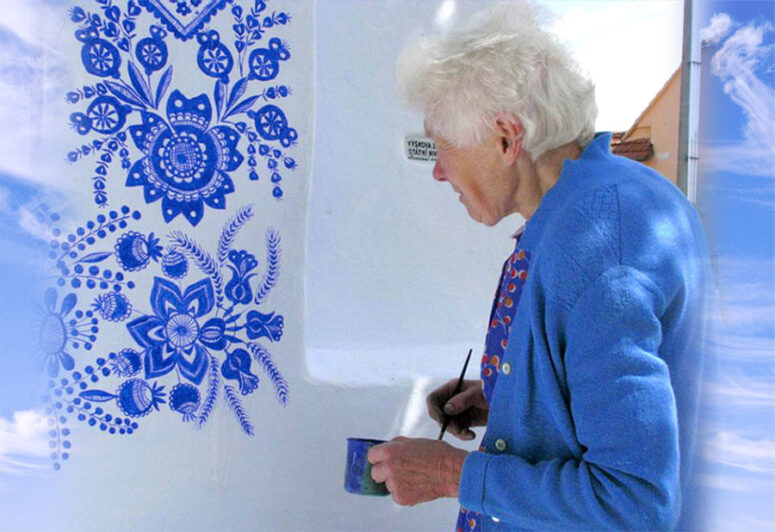 She has always used one small brush and one colour –  ultramarine blue. It goes well with the white of the old village houses.
The village administration has procured the paint for her.
 "The colour looks beautiful. The paint is of good quality and will keep for at least two years. I think it would have kept longer if the grounding had been a little better," says Agneska.
She never does any planning, sometimes she does not even know what the final product would look like. She just picks up her brush and starts working, and beautiful flowers appear on the walls. The result is a real masterpiece that pleases the eye and warms the heart.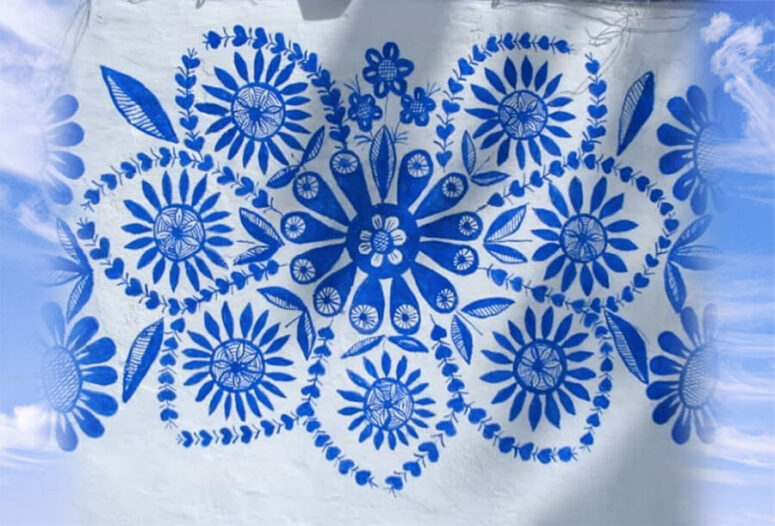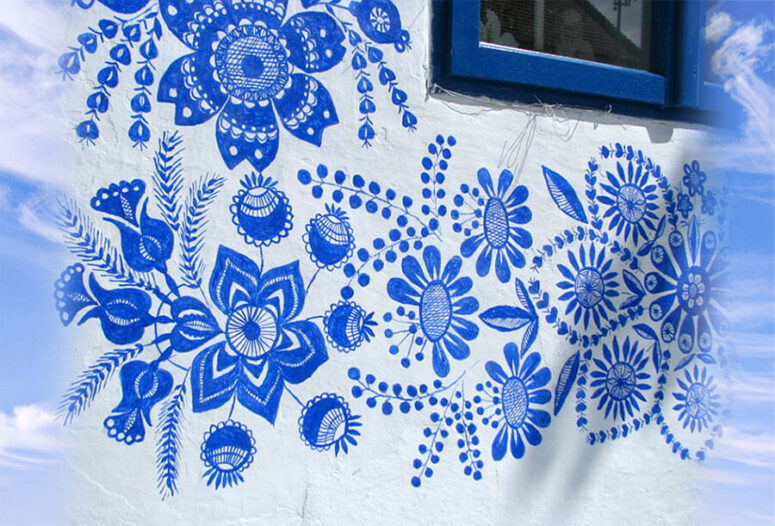 Agneska always composed her own patterns, relying on her taste and imagination.
Sometimes, she complained about the difficulty of her work. Yet, as an old saying goes, where there is a will, there is a way. And she has always painted with great enthusiasm and motivation.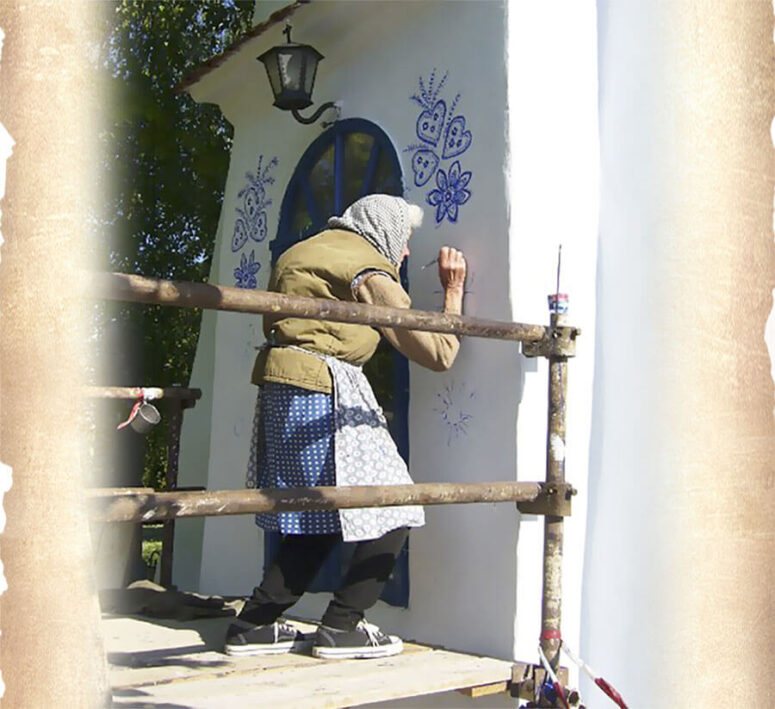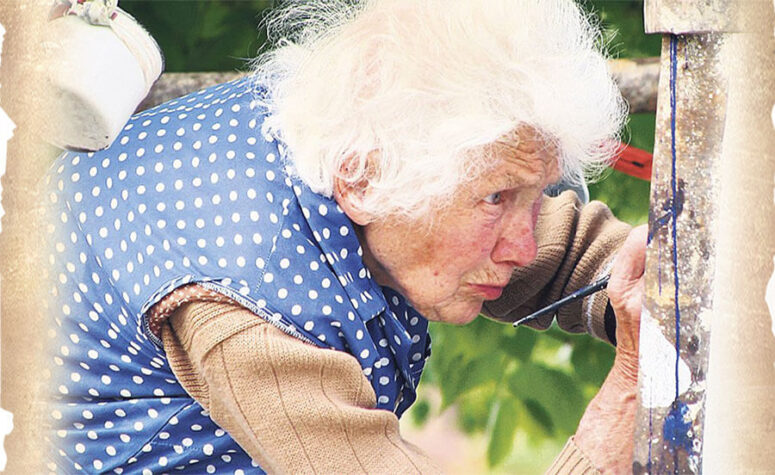 Every year with the coming of spring, grandmother Agneska climbs her ladder and begins to renew the mural of the village chapel.
To most spectators, her murals are works of great talent and a source of great joy and inspiration.
Grandmother Agneska left this world on 15 March 2018 and now creates her works in high palaces and mansions.
The whole village gathered for her funeral. The villagers remember her for her love for her neighbours.
Her niece Maria Jagosova has followed in her footsteps. She explains,
"I just prayed to the Holy Theotokos in my thoughts. I said, 'if you help me, I will succeed. And I am making good progress."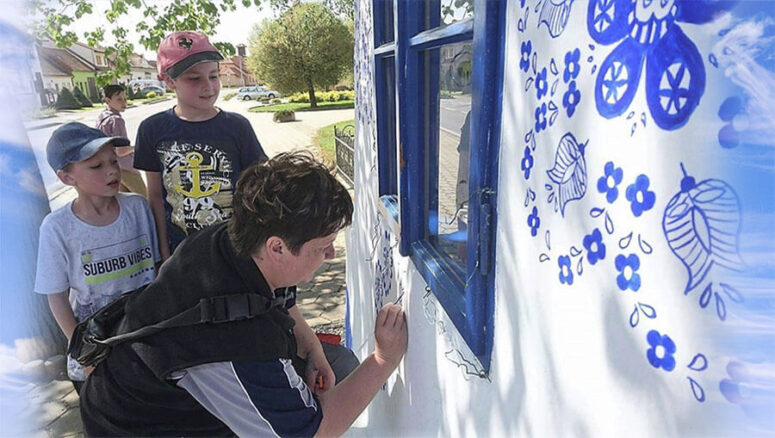 Translated by The Catalogue of Good Deeds
Source: https://obitel-minsk.ru/chitat/den-za-dnyom/2021/ultramarinovye-doma-agneshki-kashparkovoj