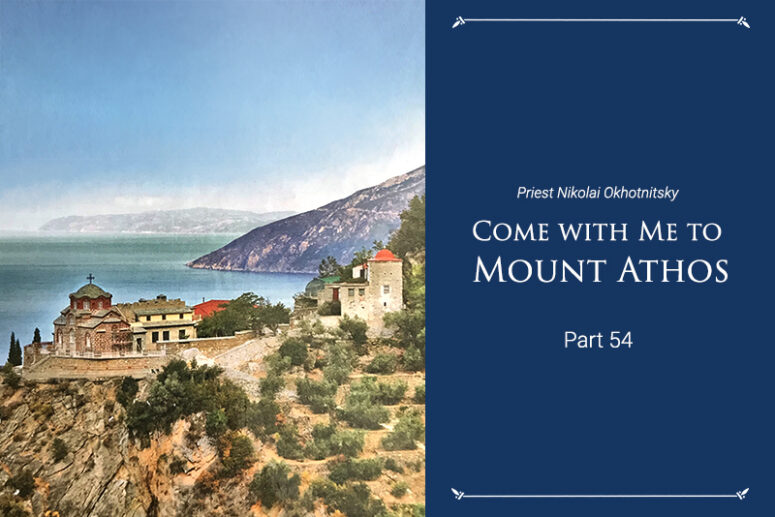 A Sobering Conversation over Coffee
At last, a ferry appeared in our view. It was coming to take us across time. We were going aboard to sail to our future.
"Igor, wake up! Grab your bags, quick! The boat is leaving!" I cried in excitement.
Igor took his walking stick and backpack and we ran joyfully aboard the "Agios Anna". Standing on the deck, we turned around and waved goodbye to the Gregoriou monastery as it was disappearing from our view. It waved back to us with its Byzantine flag.
 The boat picked up more travelers at Simon Peter's and hurried on to the port village of Daphne. All the time, we were gazing at a huge rock giant atop a mountain, thinking that if we would ever come back, we would visit there – if the Abbess of the Holy Mountain would be willing, of course. The boat was cutting through the waves, puffing along under the heavy weight of its passengers and their backpacks, like a mule carrying a large load up a mountain.
At Daphne, we got off the boat. The people from the ferry took their seats under the tent of the Yanis snack bar and soon most went sipping away at their frappe. Frappe is a kind of Greek ice coffee, sometimes served with cream Ideal for the local climate. We tried a frappe, too. Very refreshing.
In his good English, Andrey asked around and found out that the Xiropotamos Monastery was closed to pilgrims due to repairs.
 "You can walk over there and come back if you want," he smirked.
Silently, we looked up towards the monastery. We remembered the difficult climb up a winding road on a bus and went back to our coffee. Over coffee, Andrey told us that the boat was returning to the Great Lavra, and then heading for Ouranoupolis.  
"If you have changed your mind about going to Xiropotam, you can take the boat to the monastery of the Hieromartyr Panteleimon," he suggested.
"Good idea!" we thought. "And it would be nice to meet Valery on board. The Russian monastery was visible from Daphne's wharf. It was close enough to walk, but we had made ourselves very comfortable under the tent of a seaside café.  We hated to interrupt our blissful tea party in the quiet splashing of the waves. Nobody wanted to move or hurry anywhere.
 "Why do not we go for another coffee with cake? Why not, Vladimir?" Before I begin to tell you about the interesting thing that happened next, let me give you a little background.
At the request of our Archbishop, I had been travelling extensively across the diocese to meet the parish priests and discuss with them the organization of parish life. In our meetings, we discussed a sensitive subject- professional burnout among the clergy. I used examples from my experience, and also from my readings. My audience was a mix of new and mature priests. Some were interested, others were visibly bored and could not wait for me to leave. That time, I had just finished a round of the church parishes and had a sense of the situation.
Some of the parishes I visited were in remote villages. Their churches were empty and would remain so whatever the priest did. Many of the villages are depressed areas with bleak futures. The only reason that priests do not go hungry there is because they grow their food, and often worry more about the crop than their salvation in heaven. Needless to say, their spiritual growth takes place under some very tight constraints. With our Soviet background, we have not acquired the strong faith of our sainted ancestors who also bemoaned and sometimes despaired at the sight of the empty village churches. I am referring to the holy righteous father Georgy Kosov (Chekriakovsky), from the Bolkhov district in Oryol Region. But he had good spiritual guidance from the Venerable Amvrosy, a prominent Optina elder. Nowadays, we do not have the benefit of such excellent spiritual advice. Many priests who cannot afford to concentrate on church service, especially those with large families, feel extremely discouraged. I understand them well and do not judge them.
So as I was discussing burnout at that meeting, a pleasant-looking, well-dressed priest in the front row stood up and said, with an air of self-confidence and some disdain: "Burnout is an invention of Western Christianity. When it happens, it is always the product of some of our fathers' weak faith."
I would have ignored his remark in other circumstances. But sitting across the table from me was a priest who looked fatigued and exhausted. I knew he was a good hard-working priest with a large family, while the well-dressed priest who spoke before him knew no want. He began his service in a well-to-do parish.
Inwardly, I was gearing up.
"You are right, Father, it is all because of poor faith! I took the priest's skufia from the windowsill, placed it in the middle of the table and challenged him: "In the Gospel, the Lord tells his disciples that he who has faith as small as a mustard seed can move mountains. Father, show us the power of your faith. I am not asking you to move mountains, try moving this skufia. There was some confusion, agitation, and a few smiles. The instigator of the incident looked down and muttered:
"We do not have that kind of faith anymore."
"Exactly, but we do have burnout," I triumphed. The rest of the discussion was constructive and to the point. Now let me explain why I told this story in the first place. We were sipping at our coffee and enjoying our hot pies with feta cheese. It had become quite hot, and we went outside. There, we caught sight of a monk with a Slavic look, but he was wearing a Greek hat and a black T-shirt under his cassock to disguise himself as a local. But his backpack – which looked Russian – was giving him away.
"May I?"
"Sure." The monk moved over, to give us room. He, too, was sipping away at his drink and trying to relax. But something was troubling him. He was making no effort to keep the conversation and showed no interest in knowing who we were, unlike most other countrymen we had met. Perhaps he was trying to keep the inner silence of his solitary walks along the shores of Mount Athos. We ate quietly. After a while, we both became uncomfortable.
"I went to the top of Mount Athos yesterday," he uttered, at last. I seized this opportunity to have a conversation and replied with enthusiasm:
"Good idea! How was it? We have been spending all our time visiting monasteries."
"Normal," said the monk with dignity and added after a moment of silence:
 "You do not know Mount Athos if you have not been to the top of Mount Athos!"
 No more, no less. My friends felt uneasy, but to me, the monk reminded that self-confident priest from my story. Again, I a wave of excitement and agitation rose within me. It would have been far better spiritually to sigh, "I wish I could do it, too!" But I lost my self-control and told him in the face:
"We have not come here to climb mountains!" Needless to say, our conversation ended abruptly with little spiritual benefit for either party. He said something sharply, got up and hurried to the bus, leaving us to discuss the incident among ourselves and watch the crowd of travelers depart to Karea. Yet for some strange reason, there was peace and calm in my heart. We do not know the name of this monk, but we do ask him for his forgiveness.
Translated by The Catalogue of Good Deeds
Part 1
Part 2
Part 3
Part 4
Part 5
Part 6
Part 7
Part 8
Part 9
Part 10
Part 11
Part 12
Part 13
Part 14
Part 15
Part 16
Part 17
Part 18
Part 19
Part 20
Part 21
Part 22
Part 23
Part 24
Part 25
Part 26
Part 27
Part 28
Part 29
Part 30
Part 31
Part 32
Part 33
Part 34
Part 35
Part 36
Part 37
Part 38
Part 39
Part 40
Part 41
Part 42
Part 43
Part 44
Part 45
Part 46
Part 47
Part 48
Part 49
Part 50
Part 51
Part 52
Part 53
Part 54