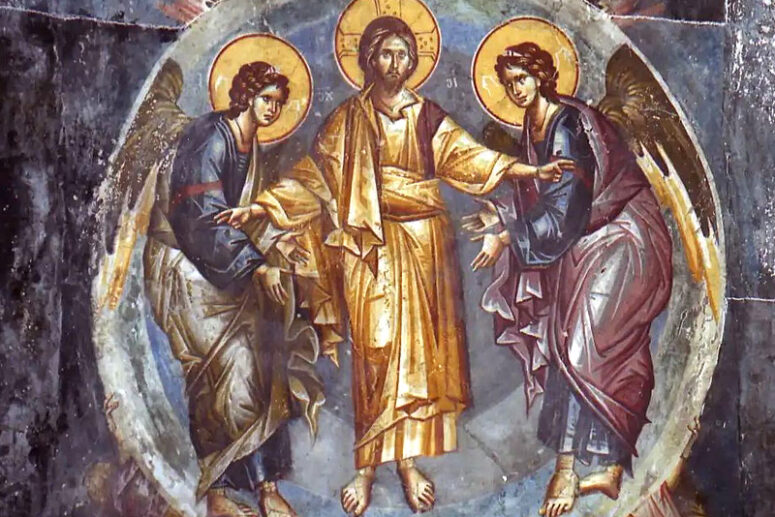 Can we say anything specific about the exact time spent by Christ visiting His disciples after His resurrection? According to Apostle Luke, His disciples continued to see Him for forty days. However, he mentions this number only once in his writings. Elsewhere, he avoids giving a specific period or states that it was for many days, as in Acts 13:31. Luke's love of numbers is well known. He tends to use numbers more than any of the other writers of the New Testament and displays a preference for those that are symbolic. He may have given such a symbolic number to indicate the duration of Christ's stay, as a reference to the time of trial or Divine Visitation.
Luke might have taken as his reference point the timing of the feast of Jewish Pentecost – commemorating the discovery of the Torah and celebrated on the fiftieth day from the Jewish Pascha – to date the descent of the Holy Spirit, a crucial event for his narrative. His task, then, would have been to name a date that was close to the Pentecost but preceded it. Using the symbolic number forty was a good solution in this respect.
Perhaps Luke was drawing parallels with Christ's forty-day fasting in the desert. These forty days were spent in preparation for His earthly ministry, while the forty days after His resurrection prepared His disciples for theirs.
Interestingly, the old Christian Church did not celebrate Christ's ascension on the fortieth day after Pascha, disregarding the forty-day time frame that Luke mentioned. Instead, it celebrated the feast on the day of the Pentecost up until the fourth century AD. Circa 383, Egeria, a Roman pilgrim to Jerusalem, left the following description of the Ascension celebrations. "On the eve of the Pentecost, all the Christians of Jerusalem gathered on Mount Eleon  (also called Mount Imvomon), from which the Lord had ascended to Heaven. They held a worship service and read passages from the Acts and the Gospels about His Ascension."
However, as early as the fifth century, this feast began to be celebrated separately from the Pentecost on the fortieth day after Pascha, as is still the practice today. There is little doubt that this change was influenced most decisively by Luke's narration of the forty days that separated Christ's resurrection from His Ascension.
Translated by The Catalogue of Good Deeds
Sourced from: https://foma.ru/voznesenie-na-kakoe-nebo-voznessya-hristos.html