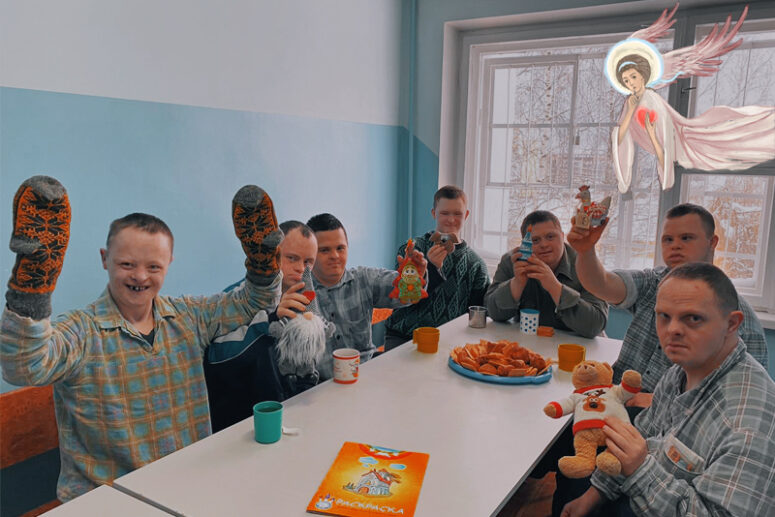 In December last year, on the eve of the Nativity of Christ, our Catalogue launched the Secret Angel charity event. We are glad to see this deed of mercy become a good tradition, all thanks to your active participation.
This year we have collected several large boxes with wonderful gifts: 198 coloring pages, 29 towels, 58 pairs of socks, 25 pairs of mittens, 7 shawls, 62 soft toys, 72 wooden Christmas souvenirs and 55 other wooden products (constructor toys, storage boxes, greeting cards) and sweet treats. With the help of these gifts we were able to please many sick and socially vulnerable children and adults staying in boarding homes and rehabilitation centers.
It is hard to comprehend the value of simple coloring books, knitted socks and cute toys that you have donated without seeing these people's faces light up with great joy and immense gratitude. We have seen this happen more than once with the sick boarding home children and the residents of the women's rehabilitation center that our convent supports. Today, during the period of strict quarantine, they need these small surprises more than usual to add bright colors to their lives and help them escape from their dull routine.
Unfortunately, due to the quarantine, we were not able to personally present our gifts and to take photos, as we did previously. But the kind nurses were able to capture for us some smiles of gratitude on several photos and even a video. We share this joy with you and thank you from the bottom of our hearts for your feedback and your donations.
Inspired by your activity, for the first time we decided to launch a similar event before Easter. We will be glad if you take part in it and help us make this Bright Feast special for the residents of boarding homes and rehabilitation centers. Together with you, we make this world brighter by showing that miracles still happen!