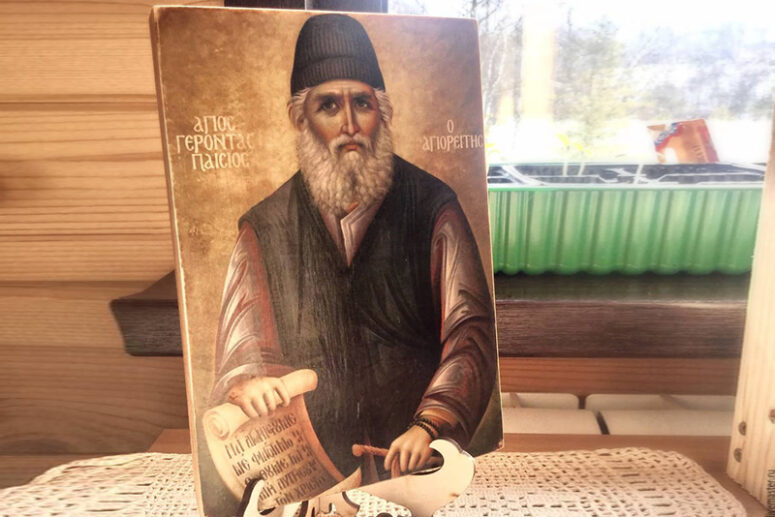 On October 20, 1993, Elder Paisios, despite being in great pain, went to the Koutloumousiou Monastery, to which his cell belonged, and greeted hegumen Christodoulos on his name-day. The elder was going to leave Athos on the following day to go to the monastery of St John the Apostle in the village of Souroti, near Thessaloniki. For that reason, he decided not to return to Panagouda and stayed overnight in one of the cells near Caries. The fathers who knew the elder came there to see him. The venerable was very tired and looked exhausted, but still he was in a very placid state of mind. In that quite long conversation the elder shared with the brethren some precepts, which they have put together into the following spiritual will:
✔ "A priest has the grace of the priesthood. Even if he does not have virtues, this grace still works and performs sacraments through him. Contrariwise, a monk, who fails at his monastic labors, is a bare desert".
✔ "If we strive against some passion, but it does not go away, it is either due to our hidden egoism, or condemning others."
✔ "A person's severity towards himself and forgiving attitude towards others is the best proof of authenticity of his spiritual state."
✔ "Persist in your monastic feat now, while you are still young,  because you will not have the strength later. I used to struggle a lot, but now I am sick of myself."
✔ "The elder fathers, driven by their love for Christ, came to the Holy Mountain and pursued the monastic life in the teeth of death. And death was afraid of them. Nowadays we run to the doctor, if a little blood starts coming from our nose… It's too bad. The young people of today are like new cars with the oil frozen in their engines.  They want to receive grace without making an effort."
✔ "Those who were here before us lived in great asceticism, self-denial and obedience. This is the secret of monastic obedience: to cut off one's will even when facing someone who is younger, making our obedience not superficial, or "army-like", but filling it with a joyful inner disposition, all for the love of God. A novice should be zealous, while the elder should be slowing him down."
On the following day, October 22, 1993, Venerable Paisios left for Souroti and never came back to Holy Mount Athos.
In Panagouda, he left the following self-written will:
"I, Monk Paisios, having studied my own nature, became convinced that I have transgressed all the commandments of the Lord and committed all sins. It makes no difference that some of them I have committed to a lesser extent. I have not a single mitigating circumstance, because the Lord has given me the greatest of blessings. Pray that Christ may have mercy on me. Forgive me, and may those, who think they have hurt me in some way, will be forgiven. Thank you dearly, and again, please pray.
Monk Paisios".
Translated by The Catalogue of Good Deeds
Source: https://zen.yandex.ru/media/orfograf/duhovnoe-zavescanie-sviatogo-starca-paisiia-kotoroe-nashli-v-kele-panaguda-na-afone-posle-ego-konchiny-v-1994-godu-5fc8910a52642f33b908ac9e