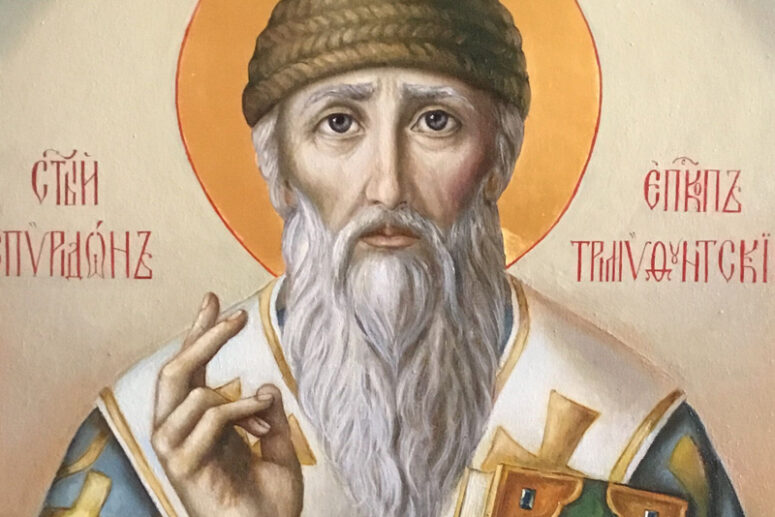 It happened on 12 October 1939 at the beginning of World War II. A German submarine sank the Greek steamer "Aris" 175 miles off the coast of Ireland. The survivors left the ship on two lifeboats. They tied them together to stay in one place and wait for help. A small number of light flares was all they had. It was their second day with no water or food in the open sea. It was autumn, the water was cold, and their chances of rescue were dwindling. One of the sailors, Georgios Kalkinos, was a native of the Island of Kerkir. He had heard accounts of the miraculous intercession of Father Spyridon and turned to him in prayer.
On 13 October, they saw a glowing image of Saint Spyridon in the North-east at about five-thirty in the afternoon. They were heartened by the vision. At midnight, they saw some lights and took them for fishing boats. They fired the signal flares to gain attention and began to row in a different direction towards the light. But soon, the lights disappeared. Some non-believing sailors swore and blasphemed, but Georgios told them to stop and put their trust in the Lord. At dawn, a Danish ship crew noticed their lifeboats and took them aboard. They only met the boat because they had changed the direction of their movement at night. The sailors thanked the Lord and Saint Spyridon for their deliverance.
Thirteen surviving sailors returned to Greece and sent to the Church of Saint Spyridon on Kerkir Island two silver boats tied together with a silver thread, in memory of their salvation and grateful to the saint for his intercession.
Excerpted from:
Saint Spyridon of Trymythus: Life, miracles, canon and Akathist. М.: Damilovsky Blagovestnik Publishers, 2009
Translated by The Catalogue of Good Deeds
Source: http://spyridon-trimifuntsky.ru/chudesa/chudesa9.html