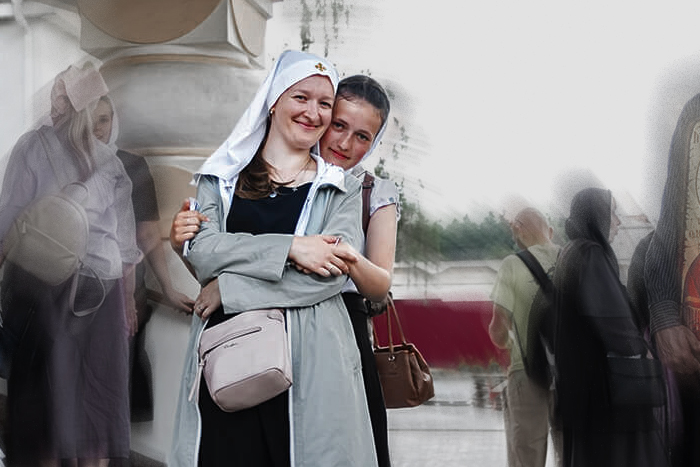 Saint Ephraim the Syrian
Without love, everything is unclean. If someone keeps his virginity, if he fasts or stays alert, if he prays or gives shelter to the poor… if he builds churches or does anything else, all of this will not count for God without love; because it is unwanted by God. So, do not do anything without love.
Saint Nilus of Sinai
Blessed is [a man] who respects everyone as if he were a god for God's sake.
Saint Gregory the Dialogist
The one who loves both his friend in God and his enemy for God's sake has true love.
Holy Abba Dorotheus
Do not do evil to your neighbor, do not upset him, do not slander him, do not belittle him, do not reproach him. Thus you will begin to do good to your brother little by little, by comforting him with words, being compassionate to him, or by giving him what he needs. Climbing from one step to another, you will reach the top of the ladder with God's help. By helping your neighbor, little by little, you will reach the point where you will desire his benefit as your own and his success as your own. That is what it means to love your neighbor as yourself.
Saint Maximus the Confessor
Let us love each other and be loved by God. Let us tolerate each other for a long time, and He will endure our sins for a long time. Let us not pay back evil for evil, and He will not pay us back for our sins. Let us forsake our sins in forgiveness to our brethren; for God's mercy to us is hidden in our mercy to our neighbors.
Saint Poemen the Great
Greater love hath no man than this, that a man lay down his life for his friends (John 15:13). If someone hears a disheartening word and, being able to answer with a similar word, overcomes himself and does not say it, or if someone, being lied to, endures it and does not take revenge on the deceiver, he lays down his life for his neighbor.
Saint Basil the Great
What is inherent in loving one's neighbor? Looking not for your own gains, but for the spiritual and physical well-being of your beloved one. He who loves his neighbor, manifests his love to God because God transfers his mercy on Himself.
Saint John Chrysostom
Nothing lifts up your soul as much and brings so much joy as a feeling of sincere mutual love.
***
He who loves his neighbor as he should, will not refuse to serve him more obediently than any slave.
Saint Isaac the Syrian
Without love for your neighbor, your mind cannot be enlightened by divine wisdom and love.
Saint Nicodemus the Hagiorite
Love for God has no measure, for the beloved God has no limits and restrictions. However, love for one's neighbors has limits and restrictions. If you don't keep it in proper limits, it can divert you from loving God, cause a lot of harm, or even ruin you. Indeed, you must love your neighbor, but in a way that does not harm your soul. Do everything simple and holy without thinking about anything other than pleasing God. It will protect you in the matters of love for your neighbors from any wrong steps.
Saint Ignatius (Bryanchaninov)
Pay respect to your neighbor without distinction of age, gender, class, and holy love will gradually begin to appear in your heart.
Holy Righteous John of Kronstadt
Remember that man is a great and precious creature of God. However, this great creature became weak after the Fall, and is subject to many weaknesses. While you love and honor him as a bearer of the image of the Creator, endure also his weaknesses – various passions and bad deeds – like the weaknesses of a sick person. It is said that we that are strong ought to bear the infirmities of the weak, and not to please ourselves… Bear ye one another's burdens, and so fulfil the law of Christ (Rom. 15:1; Gal. 6:2).
Translated by The Catalogue of Good Deeds
Source: https://obitel-minsk.ru/chitat/den-za-dnyom/2020/svyatye-otcy-o-lyubvi-k-blizhnemu