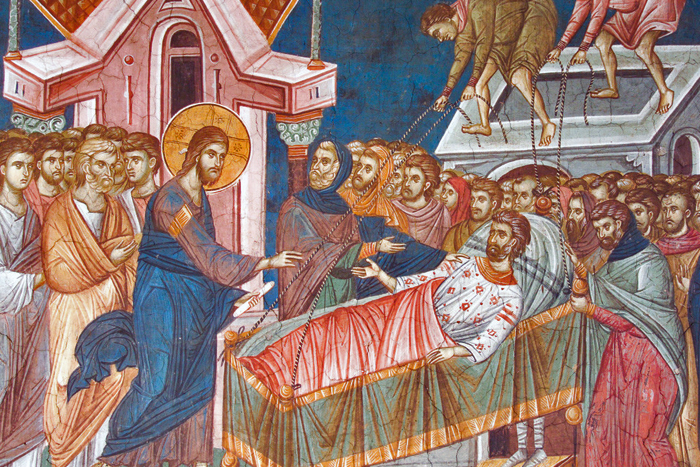 In the name of the Father and the Son and the Holy Spirit.
When we read the Gospel passages about how Christ raised the dead or healed the body of a human, we rarely think about what the human body means to God Himself, who lovingly created it for eternal life, and what it should mean to us. If our bodies were not dear to God, as dearly and tenderly loved by Him as our eternal souls, God would not heal the body or care for its eternal life after the resurrection of the dead.
When we think about the human body, whether in connection with eternity or temporal life, whether in connection with earth or heaven, we may ask ourselves: do we not receive all our knowledge, about God or about the created world, through the body? Since infancy, since our birth, we learn tenderness and love through our bodies, long before we can comprehend anything with our minds. Then we grow in knowledge, wisdom, and experience; everything that our mind possesses, everything that makes our hearts so abundant, reaches us through our senses. The apostle Paul said: Faith comes from hearing, and hearing comes from the Word of God. We perceive the beauty of the human face, and the world around us, and all the beautiful and significant things that man has managed to create, through our vision. We see that all of our senses are open to contemplation of the beauty and meaning of the created world like a door, and through it to contemplation of eternity: the eternal beauty of God that shines in all His creation.
This is why Jesus healed the body with so much love; it is by these healings that God reveals with all power the immortality of incarnate existence. Therefore, when someone dies, we encircle his or her body with such tenderness and reverence. This body is God's creation and He put all His love into it. Furthermore, He became human himself; the Living God put on flesh and showed us not only that man is built so well, that he is so great and so profound that he can be united with God and become a partaker of the divine essence, but also that our very bodies are able to be Spirit-bearing and truly God-bearing. What a marvel!
We also see that God imparts His eternal life to us through the substance of the earth: through the baptismal waters that become the source of eternal life, through the bread and wine permeated by His Deity, – and we are united with God Himself in His sacraments by means of our bodies. How marvelous our bodies are, and with what reverence we must treat them! In its conception, the body is holy; it is called to eternal fellowship with God in the same way as the soul. God loves it. It is not in vain that the Apostle Paul says: Glorify God in your bodies as well as in your souls… Glorify means let God shine through your body, as He shines through your soul; let your body be such that the contact with it is the contact with Incarnation, with the mystery of God becoming a human being.
Let's think about it; because often – oh, how often! – we are not aware of the eternal beauty and greatness of our body. We often think about death as the moment when the immortal soul enters the Divine life, while the body disintegrates into dust. Yes, it turns to dust; but it has an eternal calling: it will truly be risen like Christ. We all will one day appear incarnate before God, with transformed bodies, like the body of Christ, with souls renewed by eternity, and we will communicate with God in love, faith and prayer, not only in the soul, but along with all of creation we will be partakers of the Divine nature, both in our souls and bodies: the soul and body, when, according to the promise of God through the Apostle Paul, God will be all in all, and nothing will remain outside the Divine fellowship and Divine Glory.
What a marvel! What a wonderful mystery: the body seems to be so fragile and transient but it can already belong to eternity and shine with glory among the saints. Amen.
Translated by The Catalogue of Good Deeds
Source: https://azbyka.ru/otechnik/Antonij_Surozhskij/propovedi/15_27