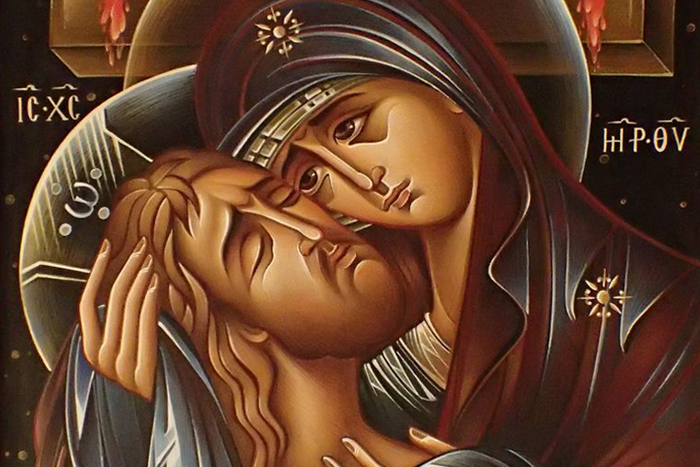 The topic of Passion in Orthodox iconography is not as diverse as in Western European art. However, since the late 15th century Russian iconostasis features the Passion row, and the new theme known as Weep Not For Me, O Mother appears in analogion icons and altar paintings. The iconography of this image was shaped by Byzantine art of the 13th century, and then came into Old Russian tradition.
The icon Weep Not For Me, O Mother depicts the Mother of God hugging Christ who stands in the tomb with the cross in the background. This image is often called the Orthodox Pieta (Italian pieta – crying), as it reveals the theme of mourning for Christ before His laying in the coffin. Perhaps the most famous Western painting on this subject is Pieta by Michelangelo.
Indeed, the image of mourning is present in both Western and Eastern Christian tradition, because for all Christians the theme of suffering and the death of the Savior on the cross is sacred.
However, there are significant differences between the Orthodox image and its Western equivalents. While in the West this image allows us to feel the depth of the tragedy of the Mother mourning her Son, the Orthodox image does not convey the sense of the totality of death. On the contrary, one hears the news of the Resurrection through the mourning.
This is evidenced by the name of the image, which is associated with the irmos of Ode 9 of the Canon of St. Cosmas of Maiuma on the Great Saturday: "Weep not for me, O Mother, beholding in the tomb… for I shall arise and shall be glorified, and as God I shall exalt with glory unceasing those that with faith and love magnify thee."
In this chant, Christ Himself comforts His mother by telling her of the coming Resurrection, which triumphs over death. We do not see anything gloomy in the icon; rather, it emphasizes the dialogue of the Mother and the Son. The composition repeats the iconographic sample of Tenderness, where the Blessed Virgin presses the Divine Baby Jesus to her bosom. This cross-reference shows that there is the theme of Passion in the iconography of the Tenderness, and that the iconography of "Weep Not For Me O Mother" contains the theme of love. Ultimately, it is love that conquers death.
The icon that we present here as an example was painted by a contemporary artist, Alexander Sokolov, an icon painter from Moscow. The icon is painted with soft strokes, delicate and subtle psychological nuances, while being fairly strict and perfectly canonical. The restrained coloration, the compact silhouette, the delicacy of the pictorial decoration – all this makes this icon an excellent piece, both artistically and theologically. The image painted by Sokolov helps us to focus our prayers on the theme of the Holy Saturday – the theme of the Savior's death, followed by his Resurrection and victory over death.
Translated by The Catalogue of Good Deeds
Source: http://dishupravoslaviem.ru/ikona-ne-rydaj-mene-mati/