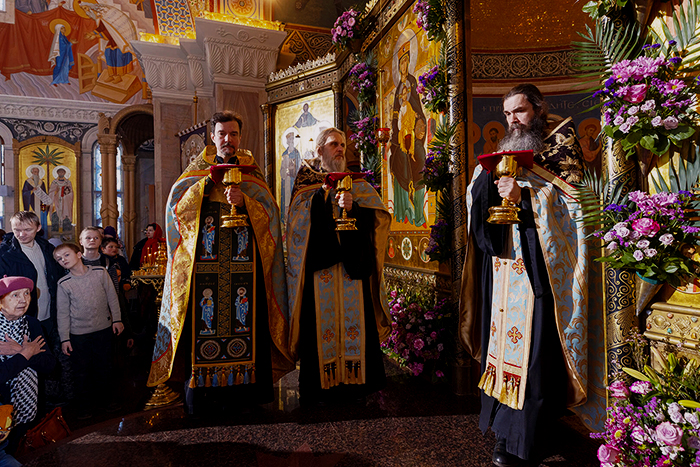 Due to the recent events related to the spread of coronavirus, many priests in Russia urge that the flock should not go to churches for some time. The laity are confused, many have their own opinions on this issue. One such opinion is given below.
You know, you can't expect anything else from me.
What is our Church without the Eucharist and the Communion?
Nothing. It's not the Church.
What are we without the Communion?
Then what's the point of everything?
What's the point of all this? What is it all for?
What was Christ incarnated for? Why did He suffer and die? Why did He rise from the dead?
We are nothing without the Eucharist. Who are we without the Communion?
As a certain man once told me, "Well, we will die…"
Well, we'll die, we'll all die someday.
Of course, that's why the virus came, to kill us. We have to die for some reason.
The virus, and cancer, and strokes, and heart attacks, and plane crashes, and accidents, and evil bad people.
We have to die of something.
If the grain doesn't die, it won't give birth to new life.
Yeah, well, let's say I don't want to die right now. I don't want my children or my parents dying. My most-most-favorite people. I don't want my friends to die right now. For my lack of faith, for my obsession with this world, for my involvement in this world, I don't want them to die. Because I love all these people!
But we still have to die.
If God ruled that I die because of communion, then I will die because of communion.
"That's better than dying of vodka and colds."
I've been walking around the city for half a day today. I went to a shop, a cafe, I took an elevator. I was trying to comply with all those rules about not touching things and washing my hands.
It's impossible to do it all the way through. You wash your hands and you push the toilet door at the café but how do you close it? With the sleeve? Well, I'm wearing a T-shirt. Okay, I washed my hands, I grab my phone. Oh, I had touched it before I washed my hands. OKAY. I wiped it with a tissue, but I didn't wash my hands again after I touched it.
Fine, I wiped the phone and washed my hands, but then I took the jacket I had touched before I washed my hands. I put my elbows on the table where I had put my phone, which I hadn't wiped with a tissue yet. Oh my goodness. A doctor on YouTube also advises to press the elevator button with your elbow. My elbow presses three buttons at once.
I caught the virus a million times today if there was any.
So am I supposed to avoid communion?
Will I be more afraid of communion than an elevator?
Sure, some precautions wouldn't hurt. You don't have to kiss the Chalice. You don't have to kiss icons and the Cross. You don't have to wipe your lips with the communion cloth. You can drink from a disposable cup. Fine. I'll take care of myself as best I can.
No matter what, I'll take communion.
If there is anyone who still wants to be united with the Lord, there will be someone who will celebrate the Eucharist.
And then, Lord, you'll figure out when and why I should die.
Translated by The Catalogue of Good Deeds
Source: https://pravlife.org/ru/content/umeret-ot-prichastiya