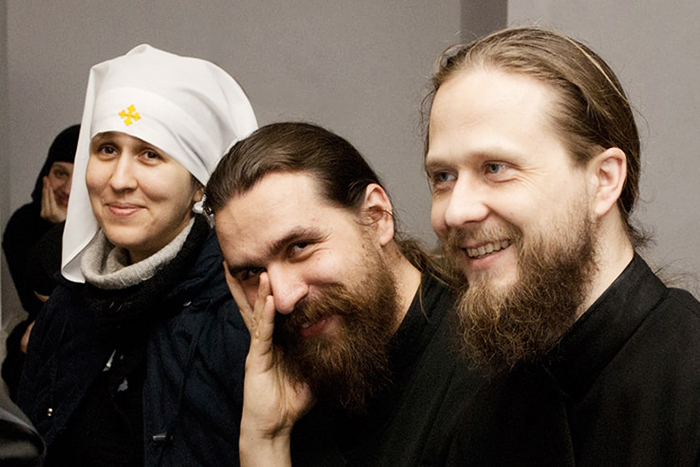 I think that each of us, regardless of age and spiritual experience, needs words of strengthening. Because a person is struggling during his life; and it happens that some word he overheard somewhere gives him strength. I would like my word to serve as a strengthening for at least someone as well…
We all understand that it is very important to live an inner life, but sometimes this inner life is very poor, and in such a situation, even external efforts, it seems to me, give a result. When a person is struggling, but for the sake of Christ, he forces himself (for example he limits himself in something, stands in the service, even though he hears almost nothing, but he stands for the sake of Christ), I think that even in this case the Lord will definitely console him.
I want to tell you one incident that happened to me. Like many brothers and sisters of our sisterhood, I used to go to a boarding home. We visited departments where there were people who needed help. We came there, prayed with them, gave them holy water, took them to service. And once I had to go to the department as always. It was a dull gray day, I trudged there with my last ounce of strength, and only one thought was in my head: "Why am I doing this?" I felt then my complete helplessness and powerlessness, it seemed to me that even if I came, I would be no good to anyone there. And it was so convincing that there was nothing to oppose. But I continued going anyway, because I was scared not to go, I felt that I had to go. I came up to the door that led to the department, and about fifty people sat in the corridor behind it, in completely different state. Among them were those who responded to prayer sometimes even with joy, for the sake of these people we tried to do at least something …
I stood outside the door and heard their voices. Pressing the bell button, I waited for the door to be opened. And in our department, there was one resident who was especially happy when we came (usually it was at the same time), and he always said: "God has come!"
And now I'm standing, completely incinerated by my weakness, and I hear the same voice that is shouting to the paramedic: "Open it! God has come!" The paramedic responds with displeasure: "What a nonsense! What are you saying!" Then this resident came up close to the door from that side and asked in a crack: "God, is that you?" I felt a jolt go through my back, I did not know what to say, and after a few seconds I said: "Yes, it's me." And the resident walked away from the door and happily said to the paramedic: "Well, I told you, it is God!"
The door was opened, and I felt that God really came to the department with me that moment. And He came not only to those who lived there, but also touched me with a little piece…
And I thought that you should always continue to do what you do no matter what. The Lord will definitely come and touch our life.
Translated by The Catalogue of Good Deeds
Source: https://obitel-minsk.ru/chitat/den-za-dnyom/2019/bog-prishel