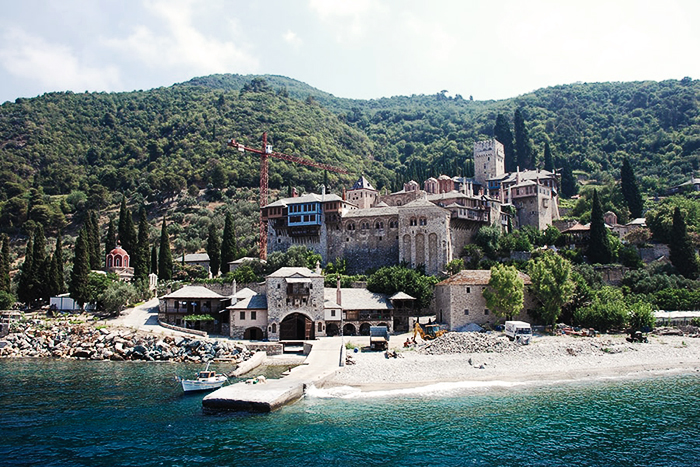 While making mosaics at the Docheiariou Monastery on Mount Athos, the artisans of our workshop really took a glimpse into the monastery life. They also had a unique opportunity to do their work with the blessing of the wonderful Elder Gregory and to talk with him in the last year of his earthly life. Our mosaicists share their impressions of staying in the monastery and of its famous abbot of blessed memory.
Archimandrite Gregory (Zumis) was the abbot of the Docheiariou Monastery for 38 years. Despite the fact that Geronda was already very sick, he still visited the brothers at work. It was obvious that the abbot was preoccupied with everything that was going on in the monastery. He always worked shoulder to shoulder with his brethren, and when it became difficult for him to walk, he asked to be carried over to the garden, where he pulled out weeds, doing all he could.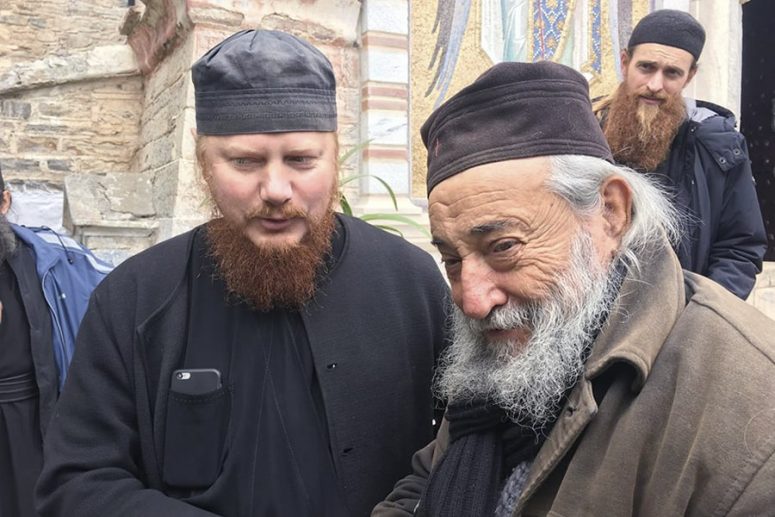 Sergei Kozyr, a painter at the mural painting studio:
"A monk must be simple, poor, and help someone with his work. One has to work in such a way as to feed oneself and leave something for the benefit of one's neighbor", the elder's most essential message was. This is exactly how they live today in the Docheiariou, and it shows. We have seen how the brothers work: the monks knead concrete together, lay the foundation of the temple together, and go to prayer together. Everything is straightforward. The brothers wear slippers and modest patched undercassocks. There are wheelbarrows at every corner. There is even a joke "In the Docheiariou, a wheelbarrow goes everywhere!" Everyone is busy, there is no idleness, and it is due to Geronda Gregory's efforts.
Mikhail Lavshuk, a mosaicist at the mural painting studio:
The simplicity of the brethren was amazing: they had no pompousness, they were hardworking, and they had an incredibly enthusiastic attitude towards art. Had I not known it, I would have never been able to identify them as monks. They look like ordinary builders, transforming themselves only for church services. The brethren saw us as simple working men, not unlike themselves. The Geronda was pleased that we were working for God's sake. It immediately made us closer to each other. It's hard to explain, you just feel a special fondness towards some people and you know that they treat you with the same sincere affection.
Alexei Guzov, a mosaicist at the mural painting studio:
I recall an interesting moment. It turned out that I had taken from home some really worn-out working clothes. I didn't expect them to be so battered. When I took my T-shirt out of my bag in the Docheiariou, I saw that it was spotted byholes. It was embarrassing for me to wear these clothes but I had nothing else to wear. I put my shirt on and strolled around the monastery modestly. I saw Father Superior looking at me and smiling in his mustache. I was ashamed at first but then I looked around and saw that all the monks wore old mended undercassocks. Apparently, I joined the club…
Vadim Kryzhanovsky, a mosaicist at the mural painting studio:
When the elder came to us, he sometimes gave us advice. One day I was wearing my headphones and getting ready to make mosaics. He said, "Take them off! Your head should only be in one place. If you're listening to music or some lectures, it means you're in two places at the same time, and that's bad. You have to be completely immersed in what you are doing."
I also faced a phenomenon, which I couldn't get over for a long time. Sometimes you read about something similar in books, but it's amazing when you can see and hear it with your own eyes and ears… 
We were working with the guys in the Docheiariou, while the head of our workshop, Dmitry Kuntsevich, was in Minsk. When a fragment of the mosaic was almost finished, we had to take a picture of it and send it to Dmitry for approval. If he saw any faults, he told me to fix them. I made the Archangel's foot, took a photo, and sent it. Dmitry wrote that a line was a little deformed, so I had to correct the curve. This fragment of the mosaic was near the Geronda's cell. So the abbot comes out of the cell and says to me through the interpreter, "Is that your crooked foot? Don't worry about it, it doesn't matter! If you have any questions, ask me." I was unable to speak: the elder suffered from a cataract at the time and he could barely see anything; he had stayed in his cell while I was working on the foot. I couldn't come to my senses for a long time: the elder had some other way of looking at things…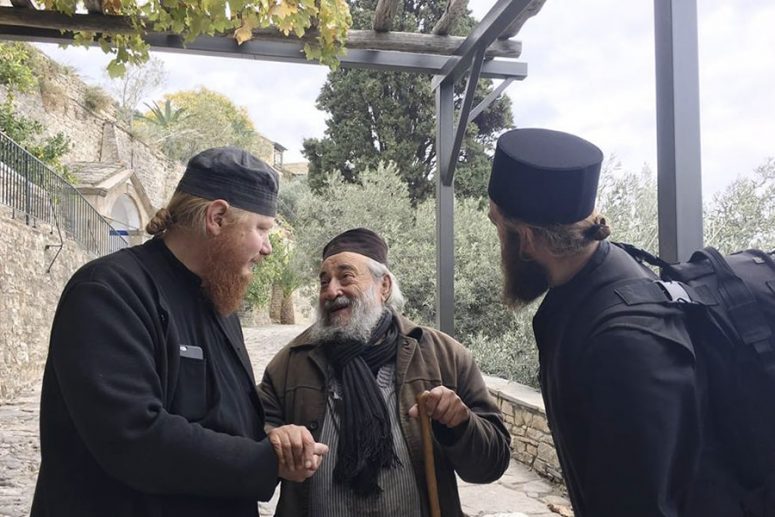 Mikhail Lavshuk, a mosaicist at the mural painting studio:
Geronda Gregory was an example in everything. He demanded a lot from himself and from the brethren. The monks recollected that in his youth the elder worked diligently and quickly, and it was difficult to work as fast as he did. Have you ever dug up potatoes with your grandmother? The grandma is already at the end of the field, and you're far behind her. That's how the brothers had felt when they worked with the geronda who was still young and robust. When we were working in the Docheiariou, the elder already felt bad (he had been struggling with severe diabetes for many years), but every day he tried to come out of his cell to help the brothers and talk with the pilgrims, nursing them with his love, giving advice, and urging them to preserve the Christian faith…
Vadim Kryzhanovsky, a mosaicist at the mural painting studio: 
The Geronda had a good heart; he treated every person with love. Until you see how someone else's pain becomes his own, it is impossible to understand it. When the elder talked about somebody in trouble, tears would appear in his eyes. His was a Gospel-inspired heart and Gospel-driven love. At the same time, there was a sense of strictness and discernment, and it seemed that he could see through you. He kept everybody in shape: he could say some harsh words, but it was not offensive at all; he could praise or bless you in an unusual way by slapping you on your cheek or neck. One could feel that this man had a connection with God, and that there was God's energy in him.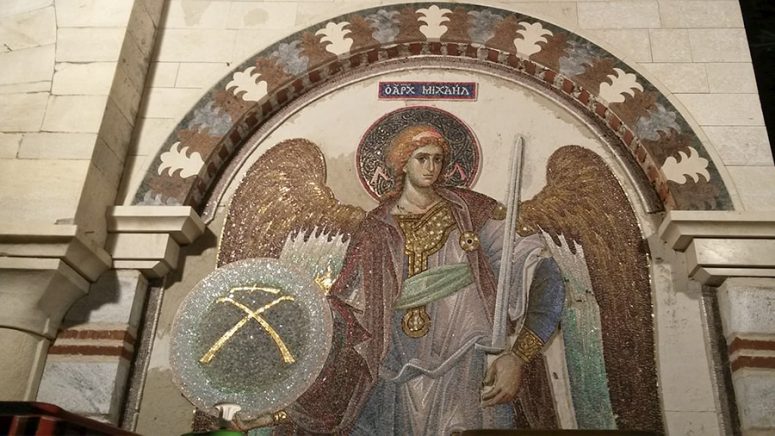 Alexander Truskovsky, a craftsman at the glass workshop:
Geronda Gregory was an example in the highest sense of the word. He was a real example of the Gospel-driven care for another person. The elder lived for the sake of his neighbors: fellow monks and pilgrims. One could see the struggle against sin going on in this man and how he reacted to it. Sometimes we cannot find the right words to say something, we cannot avoid being rude, we offend each other, and our ego is getting in the way. The elder had a pure heart and his reproof was perceived as if it were God talking to you. You trusted him and felt that his word was a word of God to you. For me, Geronda Gregory is a beacon of godliness. I saw the living model and I can't keep on living like I used to…
Working on the Holy Mountain, being exposed to the real monastic life, communicating with the amazing elder – all this enabled the brothers of the studio to have a certain rebirth. It helped them to break away from the bustle of everyday life and to reconsider a lot of things, and perhaps to change their lives for the better. We look forward to their new creative heights and accomplishments, and we pray for God's guidance and support in all possible ways.