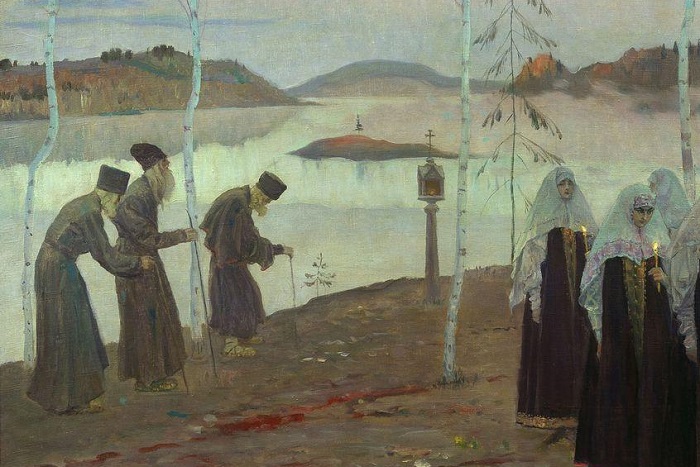 Story of Monk Daniel who was falsely accused of fornication. Prologue on March 18.
If there's one group of people that attracts a disproportionate share of the devil's hatred, it's monks. You can see that it is true simply by listening to what people say about monks. Indeed, is there anything they are not criticized for? There are heaps of calumny and slander that people pour on them. They ascribe lots of immoral actions to monks. Yes, if you listen to what people say about monks, you will find out that in most cases the problem isn't evil people; the devil is the one who is to blame for most of the dirty rumors. No human being could invent those rumors and libel without the devil's help.
Well, what can we do?
An elder told this story of Monk Daniel of Egypt: "One day, Daniel went to the market to sell the works of his hands. A young man approached Daniel and begged him, "For God's sake, O good monk, come to my home and pray for my wife so that God would make her pregnant." Daniel followed the young man to his house and prayed for his wife. Soon, the wife got pregnant. Some people who didn't fear God started saying, "That woman's baby is not her husband's but Daniel's." The latter learned about it and called the young man, asking him, "Please send for me as soon as you wife gives birth to your child." The young man promised to do so. When his baby was born, he rushed to the elder and exclaimed, "Father, God has given us a son thanks to your holy prayers!" Daniel said, "Go make a meal and invite your parents, relatives, and all friends." The young man obeyed the elder. When the meal started, Daniel picked the newborn baby who was twelve days old and said to him, "Say and point at who's your father!" The twelve-days-old baby pointed at the young man and uttered, "He is my father!"
The elder concluded, "That is why you shouldn't judge monks when you hear something bad about them. It isn't fine even to trust your own eyes lest you fall into a sin."
That is what you should do, slandered and mocked monks! You have to entrust your honor to God and expect him to defend you. See how He defended Daniel's good name? He demonstrated his innocence in front of all people, miraculously restored his good name, and put the slanderers to shame. You shouldn't be desperate and sad when the devil and his henchmen vilify you. Rejoice, for you have been counted worthy to suffer shame for the Lord's name (Acts 5:41). Apostle Paul says, "[I] rejoice in my sufferings for you." (Col. 1:24).
Blessed are ye, when men shall revile you, and persecute you, and shall say all manner of evil against you falsely, for my sake. Rejoice, and be exceeding glad: for great is your reward in heaven (Matthew 5:11, 12).
Translated by The Catalog of Good Deeds