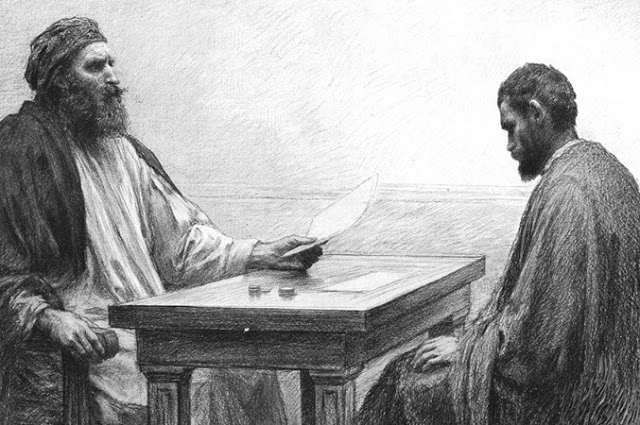 "There was a certain rich man, which had a steward; and the same was accused unto him that he had wasted his goods." The rich man calls the steward but he doesn't check whether the accusations were true or false and whether the steward was guilty or not. He writes the steward off, tersely and clearly demanding from the steward, "give an account of thy stewardship; for thou mayest be no longer steward." Neither does the steward ask his master, "Why?" He doesn't attempt to justify himself or repent. He evaluates his status, abilities and possibilities realistically: "What shall I do? for my lord taketh away from me the tewardship: I cannot dig; to beg I am ashamed."
He is looking into the future: "What shall I do?" It is the only question, which the Lord has always answered directly, unlike other questions. Finally, the steward comes up with a solution, "I am resolved what to do, that, when I am put out of the stewardship, they may receive me into their houses." He called every one of his lord's debtors unto him and suggested that they re-wrote their bills and thus cut their debts.
It seems strange that the lord commended the unjust steward for his actions because he had done wisely. It is even more surprising how the Lord finishes this parable: "And I say unto you, Make to yourselves friends of the mammon of unrighteousness; that, when ye fail, they may receive you into everlasting habitations." Someone might say that it's appalling to leverage someone else's riches in such a way. Let's recall the Parable of the Prodigal Son whose return elt repugnant to the older brother. The younger brother had used up all his possessions carelessly but then he shamelessly came back to enjoy the riches that he hadn't moved a finger to preserve!
The Lord commends both of these strange characters for their determination. The Lord in these two parables is not just the house owner but also the father—and not just a father but the Heavenly Father. The prodigal son came to use the property that wasn't his own, and that was exactly why his father showed him a lot of kindness. The steward in this parable also got the chance to survive at someone else's expense. He received praise, too. However, the Prodigal Son had wasted all his money and hadn't acquired friends thanks to the wealth that he fiddled away. On the contrary, the Steward stopped in his tracks. Instead of stealing more of his master's possessions one last time, he decided to use them to help others. 
Of course, he was stealing and wasting the things that weren't his own. The point is, everything that we have in this life doesn't belong to us by any means. Apostle Paul writes, "[W]hat hast thou that thou didst not receive?" (1 Cor. 4:7) We must learn to make use of everything for our genuine benefit, so as to achieve the eternal bliss and find those who will pray for us. It is really valuable when someone prays for you or at least remembers you with kind words.
As far as justice is concerned, we all live at the expense of the Only Innocent Savior who suffered for us, which is a horrendous breach of justice, don't we?
By Fr. Viacheslav Reznikov
Translated by The Catalog of Good Deeds