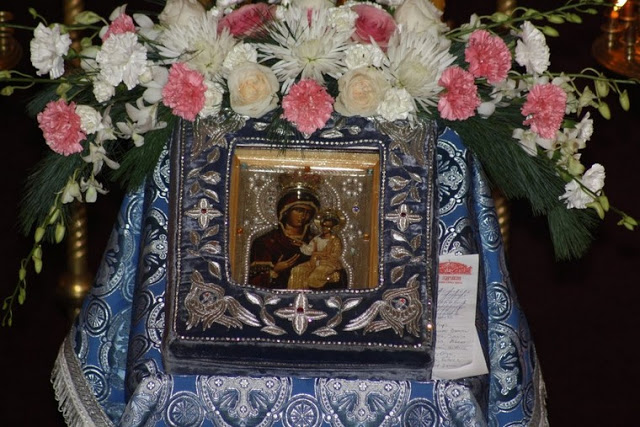 My good friends, the Zlodorevs, are parishioners of St. John the Forerunner Cathedral in Washington, D.C. Lately, I've learned that their nine-year-old son, a cheerful, lively, and sociable boy, struggled with leukemia courageously for more than three years. He was diagnosed with that disease when he was 2. Thanks to his patience, love of his parents, help of his family, and of course, a God's miracle, he managed to triumph over the illness.
Miraculous Help of the Iveron Icon from Hawaii
"When we were in hospital, we met a Russian nurse who advised us to contact Father Victor Potapov, the rector of the St. John the Forerunner Cathedral, and invite him to the hospital ward to baptize the boy. We had planned to perform the Sacrament of Baptism in Moscow where we have friends and family. We called Fr. Victor, and he came to the hospital. He warned us that the Sacrament wasn't going to be as magnificent as usual. We couldn't baptize Sasha with full immersion, so the priest simply sprinkled the holy water on the baby.
We started going to church. Of course, first we chose times when there were few people there. We asked Sasha which icon he wanted to kiss, and then carried him to that icon. Father Victor would come to our house and give Sasha communion. Sasha wasn't allowed to drink tap water, so Father Victor consecrated boiled water for him. Sasha liked the holy water and refused to drink non-consecrated water.
We noticed many times that his blood count improved after each communion.
We would like to share a story of the miraculous help of the Hawaiian Iveron icon of the Mother of God, too. Sasha kissed it, and we all prayed in front of this icon asking for help and healing. Nectarios, the icon's keeper, gave us a bottle of the myrrh pouring from the icon. We didn't ask for it: he must have concluded that the boy needed the gracious help. Following the keeper's advice, we gave Sasha one drop of the myrrh daily, and of course, we anointed him with the myrrh. It was Hawaiian Iveron icon that saved him, undoubtedly. It is his icon, so to say. When Sasha was ill with leukemia, the icon visited our church 3-4 times every year. We thought that it was normal. Later, we learned that the Iveron icon normally visited our church once a year. Isn't it a miracle? When Sasha recovered, the icon started coming to our church once a year again, and Nectarios stopped giving us the bottles of myrrh.
When Sasha was four, we went on a pilgrimage to Holy Trinity Monastery in Jordanville. The boy handled the 7-hour trip stoically.
When doctors drew out a plan of treatment for Sasha back in 2011 and said that it would be over in 2014, I was dreaming of closing my eyes and falling asleep, and then waking up in three and a half years when everything was fine already. But it wasn't a good idea, in fact. We wouldn't have gone through all those steps and would not remember them. Father Victor Potapov says that there are no accidents in the life of an Orthodox Christian. The path that we've taken wasn't easy, of course. Naturally, I wouldn't recommend it to anyone but it has made us stronger. We've done it. We go to church and we pray. Sasha's illness hasn't just made us stronger: it has also made us closer to the church and to some amazing people. It has taught us to be happy.
There are self-made posters on the walls of the cancer unit, which read "Those who don't believe in superheroes, haven't seen our kids" and "Cancer can't break our faith, hope, and love."
Translated by The Catalog of Good Deeds