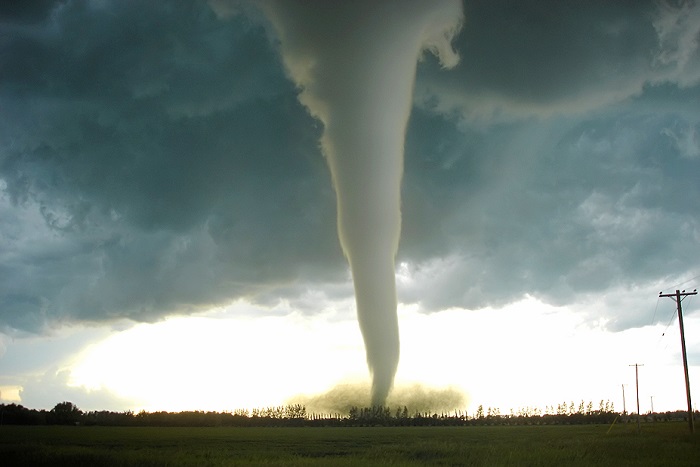 A tornado above the river Dnieper near the village of Volosskoye was formed in the afternoon of June 26. According to the eyewitnesses' evidence, it had at least 100 meters (c. 328 feet) in diameter and was about 1 kilometer (c. 0.62 miles) high.
"Moving along the Dnieper, the tornado was light, but, swooping on the village, it turned much darker, absorbing everything on its way. Darkness, wailing, roaring, uprooted trees, roofs and fences carried miles away from their houses, crumpled gas main pipes, torn power lines, ruined and heavily damaged houses, frightened children and shocked adults – this is what the natural disaster left our village with," the message on the website of the Church of the Holy Archangel Michael in Volosskoye reads.
Exactly two weeks before the disaster Metropolitan Irenaeus of Dnepropetrovsk had consecrated a Chapel in honor of Blessed Matrona in Volosskoye. It was built in gratitude for a miraculous healing of a parishioner that had occurred after fervent prayers to the saint, the church website relates.
The tornado was rushing towards the chapel and was already very near when Angelina, a mother of three children, who lives close to the chapel and saw approaching of the whirlwind from the window of her house, took an icon of Blessed Matrona in her hands and crossed the tornado with it. At once the vortex changed its direction, turned left, and, skirting the chapel, Angelina's house, and all the neighboring dwellings, headed towards the Rakshivka village, losing its strength with each yard.
Nevertheless, the Volosskoye village suffered extensive damage. "I never could imagine that metal-plastic windows can bend so easily!" relates one local resident. "Everything around became dark and such a horrible wail began – I had never heard anything like it before!" recounts another inhabitant.
A woman was raised in the air by the violent storm. She could hardly hold the handrail and was finally rescued by her daughter. The tornado also lifted a car with its driver to some height and then dropped it on asphalt. A heavy rain fell on the village. The whirlwind raged for around 15 minutes.