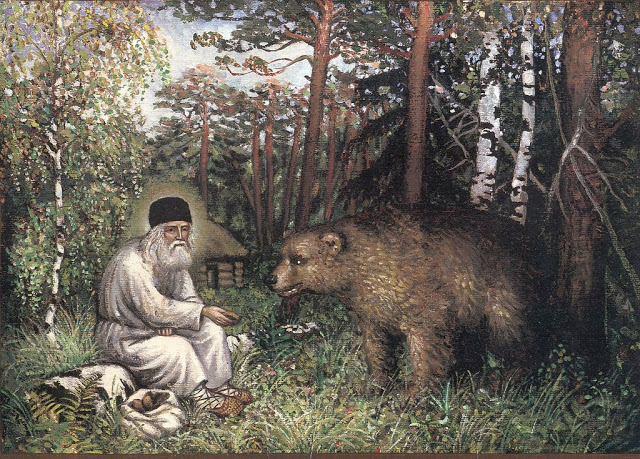 The enlightening discussion between Motovilov and St Seraphim of Sarov on acquiring the Holy Spirit.  It seemed proper to post on Holy Pentecost.
Introduction
Saint Seraphim of Sarov was born in 1759, in the city of Kursk. His parents were pious Orthodox Christians, examples of true spirituality. At the age of ten, Seraphim was miraculously healed from a serious illness by means of the Kursk icon of the Theotokos. As a boy, he immersed himself in church services and church literature. He began monastic life at the hermitage of Sarov at the age of nineteen. He was tonsured as a monk when he was twenty-seven, and soon afterwards was ordained a deacon. The intensity and purity of Seraphim's participation in the Divine services are evident as he was allowed to see angels, and during the liturgy on Holy Thursday, he saw the Lord Himself.
At thirty-four, Seraphim was ordained as a priest, and was assigned as the spiritual guide of the Diveyevo convent. At this time, he also received a blessing to begin life as a hermit in the forest surrounding Sarov. He lived in a small cabin, devoting himself entirely to prayer, fasting, and the reading of the Scriptures and the Holy Fathers. Seraphim would go to the monastery on Sundays to receive Holy Communion; and then return to the forest.
In 1804, Seraphim was attacked by robbers and almost beaten to death. Permanent injuries sustained from this attack caused him to always be bent over and the need of a staff to walk. After this event, the Saint began more fervent prayers, incessant for a thousand days and a thousand nights; spending the better part of his time kneeling on a stone near his cell crying out, "Lord, be merciful to me, a sinner." Then he then spent three years in absolute silent seclusion. Obeying the request of the elders of the monastery, Seraphim returned to the monastery in 1810, but continued to live in prayer, and silent seclusion for another ten years. In obedience to a heavenly vision, Seraphim ended his silence and began to speak for the benefit of others. The Saint greeted all who came to him with a prostration, a kiss, and the words of the Pascha greeting: "Christ is Risen!" He called everyone, "my joy." In 1825, he returned to his forest cell, where he received thousands of pilgrims from across Russia. Granted the gift of clairvoyance, the wonder-working Saint Seraphim of Sarov gave consolation and guidance to all. Saint Seraphim died on January 2, 1833, while kneeling before an icon of the Theotokos.
An example of the grace of the Holy Spirit at work within the life and words of Saint Seraphim has been preserved for us. In November of 1831, a pious Orthodox Christian named Nicholas Motovilov met with Saint Seraphim, and recorded his conversation. The notes by Motovilov were transcribed and published by Sergius Nilus, who wrote the following introduction:
This revelation is undoubtedly of worldwide significance. True, there is nothing essentially new in it, for the full revelation was given to the Apostles from the very day of Pentecost. But now that people have forgotten the fundamental truths of Christian life and are immersed in the darkness of materialism or the exterior and routine performance of "ascetic labors," St. Seraphim's revelation is truly extraordinary, as indeed he himself regarded it.
"It is not given to you alone to understand this," said St. Seraphim towards the end of the revelation, "but through you it is for the whole world!" Like a flash of lightning this wonderful conversation illumined the whole world which was already immersed in spiritual lethargy and death less than a century before the struggle against Christianity in Russia and at a time when Christian faith was at a low ebb in the West. Here God's Saint appears before us in no way inferior to the prophets through whom the Holy Spirit Himself spoke.
We record everything word for word without any interpretations of our own.
S. A. Nilus
The Aim of the Christian Life
"It was Thursday," writes Motovilov. "The day was gloomy. The snow lay eight inches deep on the ground; and dry, crisp snowflakes were falling thickly from the sky when St. Seraphim began his conversation with me in a field near his hermitage, opposite the river Sarovka, at the foot of the hill which slopes down to the river bank. He sat me on the stump of a tree which he had just felled, and squatted opposite me.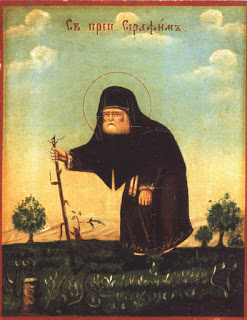 "The Lord has revealed to me," said the great elder, "that in your childhood you had a great desire to know the aim of our Christian life, and that you have continually asked many great spiritual persons about it."
I must admit, that from the age of twelve this thought had constantly troubled me. In fact, I had approached many clergy about it, however their answers had not satisfied me. This could not have been known to the elder.
"But no one,' continued St. Seraphim, 'has given you a precise answer. They have said to you: "Go to church, pray to God, do the commandments of God, do good – that is the aim of the Christian life." Some were even indignant with you for being occupied with such profane curiosity and said to you, "Do not seek things which are beyond you." But they did not speak as they should. Now humble Seraphim will explain to you of what this aim really consists.
"However important prayer, fasting, vigil and all the other Christian practices may be, they do not constitute the aim of our Christian life. Although it is true that they serve as the indispensable means of reaching this end, the true aim of our Christian life consists of the acquisition of the Holy Spirit of God. As for fasts, and vigils, and prayer, and almsgiving, and every good deed done for Christ's sake, are the only means of acquiring the Holy Spirit of God. Mark my words, only good deeds done for Christ's sake brings us the fruits of the Holy Spirit. All that is not done for Christ's sake, even though it be good, brings neither reward in the future life nor the grace of God in this life. That is why our Lord Jesus Christ said: "He who does not gather with Me scatters" (Luke 11:23). Not that a good deed can be called anything but gathering, even though a deed is not done for Christ's sake, it is still considered good. The Scriptures say: "In every nation he who fears God and does what is right is acceptable to Him" (Acts 10:35).
"As we see from another sacred narrative, the man who does what is right is pleasing to God. We see the Angel of the Lord appeared at the hour of prayer to Cornelius, the God-fearing and righteous centurion, and said: "Send to Joppa to Simon the Tanner; there you will find Peter and he will tell you the words of eternal life, whereby you will be saved and all your house." Thus the Lord uses all His divine means to give such a man, in return for his good works, the opportunity not to lose his reward in the future life. But to this end, we must begin with a right faith in our Lord Jesus Christ, the Son of God, Who came into the world to save sinners and Who, through our acquiring for ourselves the grace of the Holy Spirit, brings into our hearts the Kingdom of God and opens the way for us to win the blessings of the future life. But the acceptability to God of good deeds not done for Christ's sake is limited to this: the Creator gives the means to make them living (cf. Hebrews. 6:1). It rests with man to make them living or not. That is why the Lord said to the Jews: "If you had been blind, you would have had no sin. But now you say 'We see,' so your sin remains" (John 9:41). If a man like Cornelius enjoys the favor of God for his deeds, though not done for Christ's sake, and then believes in His Son, such deeds will be imputed to him as done for Christ's sake. But in the opposite event a man has no right to complain, when the good he has done is useless. It never is, when it is done for Christ's sake, since good done for Him not only merits a crown of righteousness in the world to come, but also in this present life fills us with the grace of the Holy Spirit. Moreover, it is said: "God does not give the Spirit by measure" (John 3:34-35).
"That is it, your Godliness. Acquiring the Spirit of God is the true aim of our Christian life, while prayer, fasting, almsgiving and other good works done for Christ's sake are merely means for acquiring the Spirit of God."
"What do you mean by acquiring?" I asked St. Seraphim. "Somehow I don't understand that."
"Acquiring is the same as obtaining," he replied. "Do you understand, what acquiring money means? Acquiring the Spirit of God is exactly the same. You know very well enough what it means to acquire in a worldly sense, your Godliness. The aim of ordinary worldly people is to acquire or make money; and for the nobility, it is in addition to receive honors, distinctions and other rewards for their services to the government. The acquisition of God's Spirit is also capital, but grace-giving and eternal, and it is obtained in very similar ways, almost the same ways as monetary, social and temporal capital.
"God the Word, the God-Man, our Lord Jesus Christ, compares our life with the market, and the work of our life on earth He calls trading. He says to us all: "Trade till I come" (Lk. 19:13), "buying up every opportunity, because the days are evil" (Ephesians 5:16). In other words, make the most of your time getting heavenly blessings through earthly goods. Earthly goods are good works done for Christ's sake that confer the grace of the All-Holy Spirit, on us."
"In the parable of the wise and foolish virgins, when the foolish ones ran short of oil, they were told: "Go and buy in the market." But when they had bought it, the door of the bride-chamber was already shut and they could not get in. Some say that the lack of oil in the lamps of the foolish virgins means a lack of good deeds in their lifetime. Such an interpretation is not quite correct. Why should they be lacking in good deeds, if they are called virgins, even though foolish ones? Virginity is the supreme virtue, an angelic state, and it could take the place of all other good works.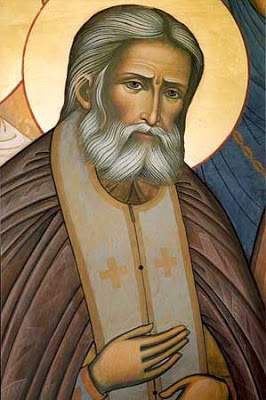 "I think that what they were lacking was the grace of the All-Holy Spirit of God. These virgins practiced the virtues, but in their spiritual ignorance they supposed that the Christian life consisted merely in doing good works. By doing a good deed they thought they were doing the work of God, but they cared little whether they acquired the grace of God's Spirit. These ways of life, based merely on doing good, without carefully testing whether they bring the grace of the Spirit of God, are mentioned in the patristic books: "There is another way which is deemed good in the beginning, but ends at the bottom of hell."
"Anthony the Great in his letters to monks says of such virgins: "Many monks and virgins have no idea of the different kinds of will which act in man, and they do not know that we are influenced by three wills: the first is God's all-perfect and all-saving will; the second is our own human will which, if not destructive, neither is it saving; and the third will is the devil's will – wholly destructive." This third will of the enemy prompts man to not do any good deeds, or to do them good out of vanity, or merely for virtue's sake rather than for Christ's sake. The second, our own will, prompts us to do everything to flatter our passions, or else it teaches us like the enemy, to do good for the sake of good and not care for the grace which is acquired by it. But the first, God's all-saving will, consists in doing good solely to acquire the Holy Spirit, as an eternal, inexhaustible treasure which is priceless. The acquisition of the Holy Spirit is, in a manner of speaking, the oil, which the foolish virgins lacked. They were called foolish just because they had forgotten the necessary fruit of virtue, the grace of the Holy Spirit, without which no one is or can be saved, for: "Through the Holy Spirit every soul is quickened and through purification is exalted and illumined by the Triune Unity in a Holy mystery."
"The oil in the lamps of the wise virgins could burn brightly for a long time. So these virgins, with their bright lamps were able to meet the Bridegroom, who came at midnight. With Him, they could enter the bridal chamber of joy. But the foolish ones, though they went to market to buy more oil, when their lamps were going out, were unable to return in time, for the door was already shut. The market is our life; the door of the bridal chamber, which was shut and barred the way to the Bridegroom is human death; the wise and foolish virgins are Christian souls; the oil is not the good deeds, but the grace of the All-Holy Spirit of God which is obtained through good deeds and which changes souls from one state to another – such as, from a corruptible state to incorruptible state, from spiritual death to spiritual life, from darkness to light, from the stable of our being (where the passions are tied up like dumb animals and wild beasts) into a temple of the Divinity, the shining bridal chamber of eternal joy in Christ Jesus our Lord, the Creator, Redeemer and eternal Bridegroom of our souls.
"How great is God's compassion on our misery, that is to say, our inattention to His care for us, when God says: "Behold, I stand at the door and knock" (Rev. 3:20), meaning by "door" the course of our life which has not yet been closed by death! Oh, how I wish, your Godliness, that in this life you may always be in the Spirit of God! "In whatsoever I find you, in that will I judge you," says the Lord.
"Woe betide us if He finds us overcharged with the cares and sorrows of this life! For who will be able to bear His anger, who will bear the wrath of His countenance? That is why it has been said: "Watch and pray, lest you enter into temptation" (Mk. 14:38), that is, lest you be deprived of the Spirit of God, for watching and prayer brings us His grace.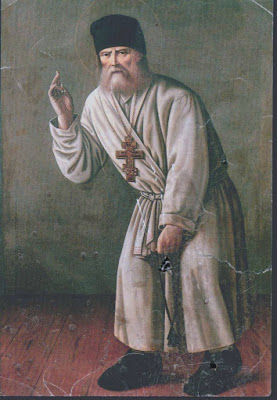 "Of course, every good deed done for Christ's sake gives us the grace of the Holy Spirit, but prayer gives us this grace most of all, for it is always at hand, as an instrument for acquiring the grace of the Spirit. For instance, you would like to go to church, but there is no church or the service is over; you would like to give alms to a beggar, but there isn't one, or you have nothing to give; you would like to preserve your virginity, but you have not the strength to do so because of your temperament, or because of the violence of the wiles of the enemy which because of your human weakness you cannot withstand; you would like to do some other good deed for Christ's sake, but either you have not the strength or the opportunity is lacking. This certainly does not apply to prayer. Prayer is always possible for everyone, rich and poor, noble and humble, strong and weak, healthy and sick, righteous and sinful.
"You may judge how great the power of prayer is even in a sinful person, when it is offered whole-heartedly, by the' following example from Holy Tradition. When at the request of a desperate mother who had been deprived by death of her only son, a harlot whom she chanced to meet, still unclean from her last sin, and who was touched by the mother's deep sorrow, cried to the Lord: "Not for the sake of a wretched sinner like me, but for the sake of the tears of a mother grieving for her son and firmly trusting in Thy loving kindness and Thy almighty power, Christ God, raise up her son, O Lord!" And the Lord raised him up.
"You see, your Godliness! Great is the power of prayer, and it brings most of all the Spirit of God, and is most easily practiced by everyone. We shall be happy indeed if the Lord God finds us watchful and filled with the gifts of His Holy Spirit. Then we may boldly hope "to be caught up . . . in the clouds to meet the Lord in the air" (1 Thess. 4:17) Who is coming "with great power and glory" (Mk. 13:26) "to judge the living and the dead" (1 Peter 4:5) and "to reward every man according to his works" (Matt. 16:27).
"Your Godliness deigns to think it a great happiness to talk to poor Seraphim, believing that even he is not bereft of the grace of the Lord. What then shall we say of the Lord Himself, the never-failing source of every blessing both heavenly and earthly? Truly in prayer we are granted to converse with Him, our all-gracious and life-giving God and Savior Himself. But even here we must pray only until God the Holy Spirit descends on us in measures of His heavenly grace known to Him. And when He deigns to visit us, we must stop praying. Why should we then pray to Him, "Come and abide in us and cleanse us from all impurity and save our souls, O Good One," when He has already come to us to save us, who trust in Him, and truly call on His holy Name, that humbly and lovingly we may receive Him, the Comforter, in the mansions of our souls, hungering and thirsting for His coming?
"I will explain this point to your Godliness through an example. Imagine that you have invited me to pay you a visit, and at your invitation I come to have a talk with you. But you continue to invite me, saying: "Come in, please. Do come in!" Then I should be obliged to think: "What is the matter with him? Is he out of his mind?"
"So it is with regard to our Lord God the Holy Spirit. That is why it is said: "Be still and know that I am God; I will be exalted among the nations. I will be exalted in the earth" (Ps. 45[46]:10). That is, I will appear and will continue to appear to everyone who believes in Me and calls upon Me, and I will converse with him as once I conversed with Adam in Paradise, with Abraham and Jacob and other servants of Mine, with Moses and Job, and those like them.
Many explain that this stillness refers only to worldly matters; in other words, that during prayerful converse with God you must "be still" with regard to worldly affairs. But I will tell you in the name of God that not only is it necessary to be dead to them at prayer, but when by the omnipotent power of faith and prayer our Lord God the Holy Spirit condescends to visit us, and comes to us in the plenitude of His unutterable goodness, we must be dead to prayer too.
"The soul speaks and converses during prayer, but at the descent of the Holy Spirit we must remain in complete silence, in order to hear clearly and intelligibly all the words of eternal life which he will then deign to communicate. Complete soberness of soul and spirit, and chaste purity of body is required at the same time. The same demands were made at Mount Horeb, when the Israelites were told not even to touch their wives for three days before the appearance of God on Mount Sinai. For our God is a fire which consumes everything unclean, and no one who is defiled in body or spirit can enter into communion with Him."
The Acquisition of Grace
"Yes, father, but what about other good deeds done for Christ's sake in order to acquire the grace of the Holy Spirit? You have only been speaking of prayer."
"Acquire the grace of the Holy Spirit also by practicing all the other virtues for Christ's sake. Trade spiritually with them; trade with those which give you the greatest profit. Accumulate capital from the superabundance of God's grace, deposit it in God's eternal bank which will bring you immaterial interest, not four or six per cent, but one hundred per cent for one spiritual ruble, and even infinitely more than that. For example, if prayer and watching gives you more of God's grace, watch and pray; if fasting gives you much of the spirit of God, fast; if almsgiving gives you more, give alms. Weigh every virtue done for Christ's sake in this manner.
"Now I will tell you about myself, poor Seraphim. I come of a merchant family in Kursk. So when I was not yet in the monastery we used to trade with the goods which brought us the greatest profit. Act like that, my son. And just as in business the main point is not merely to trade, but to get as much profit as possible, so in the business of the Christian life the main point is not merely to pray or to do some other good deed. Though the apostle says: "Pray without ceasing" (1 Thess. 5:17), yet, as you remember, he adds: "I would rather speak five words with my understanding than ten thousand words with a tongue"(1 Cor. 14:19). And the Lord says: "Not everyone who says to Me: Lord, Lord, shall be saved, but he who does the will of My Father" (Mt. 7:21), that is he who does the work of God and, moreover, does it with reverence, for "cursed is he who does the work of God negligently" (Jer. 48:10). And the work of God is: believe in God and in Him Whom He has sent, Jesus Christ (John 14:1; 6:29). If we understand the commandments of Christ and of the Apostles aright, our business as Christians consists not in increasing the number of our good deeds which are only the means of furthering the purpose of our Christian life, but in deriving from them the utmost profit, that is in acquiring the most abundant gifts of the Holy Spirit.
"How I wish, your Godliness, that you yourself may acquire this inexhaustible source of divine grace, and may always ask yourself: Am I in the Spirit of God, or not? – there is nothing to grieve about. You are ready to appear before the awful judgment of Christ immediately. For "In whatsoever I find you, in that will I judge you." But if we are not in the Spirit, we must discover why not and what reason our Lord God the Holy Spirit has willed to abandon us. We must seek Him again and must go on searching until our Lord God the Holy Spirit has been found and is with us again, through His goodness. We must attack the enemies that drive us away from Him until even their dust is no more, as the Prophet David has said, "I will pursue my enemies and overtake them; and I will not turn back till they are destroyed. I will crush them and they will be unable to stand; they will fall under my feet" (Ps. 17[18]:38-39)."
"That's it, my son. That is how you must spiritually trade in virtue. Distribute the Holy Spirit's gifts of grace to those in need of them, just as a lighted candle burning with earthly fire shines itself and lights other candles for the illumining of all in other places, without diminishing its own light. If it is so, with regard to the earthly fire, what shall we say about the fire of the grace of the All-Holy Spirit of God? For earthly riches decrease with distribution, but the more the heavenly riches of God's grace are distributed, the more they increase in the one who distributes them. Thus the Lord Himself was pleased to say to the Samaritan woman: All who drink this water will be thirsty again. "But whoever drinks the water that I shall give him will never be thirsty any more; but the water that I shall give him will be in him a spring of water leaping up to eternal life" (John 4:13-14)."