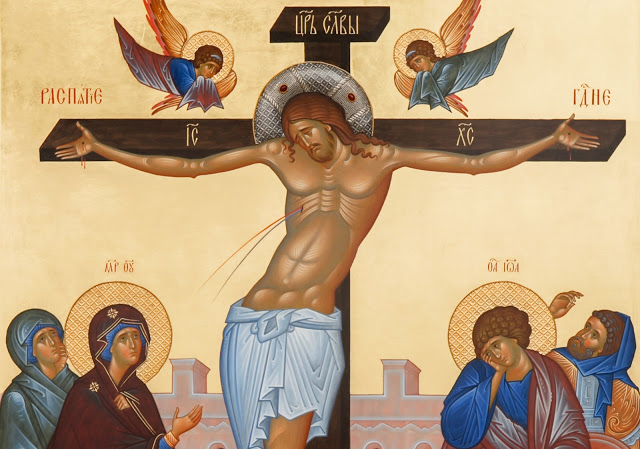 The icon "Crucifixion of Christ" containing a particle of the Life-giving Cross of the Lord and the relics of the saints, depicted in the fields of the icon, was placed in St. Nicholas Church of our convent. The image was created in the icon painting studio of the convent.
Christ's sufferings on the cross are in the center of the composition. Near crucified Christ we can see the Mother of God, sharing His sufferings, as well as Mary Magdalene, Apostle John and commander Longinus. There are also the angels soaring above the Cross and showing compassion for Christ.
The theme of the cross sufferings is developed with the help of the images in the fields. Pious Joseph was the one who was caring for Virgin Mary and the Divine Infant during his earthly life. Mary of Clopas and Martha of Bethany (the sister of Pious Lazarus) saw the sufferings and
burial of Christ together with other myrrh-bearing women. Later they became the first ones who heard about His Resurrection from the angel. Two thieves were crucified on Golgotha with Christ, and one of them – the Righteous thief – believed in God wholeheartedly and became the first to enter the Kingdom of Heaven.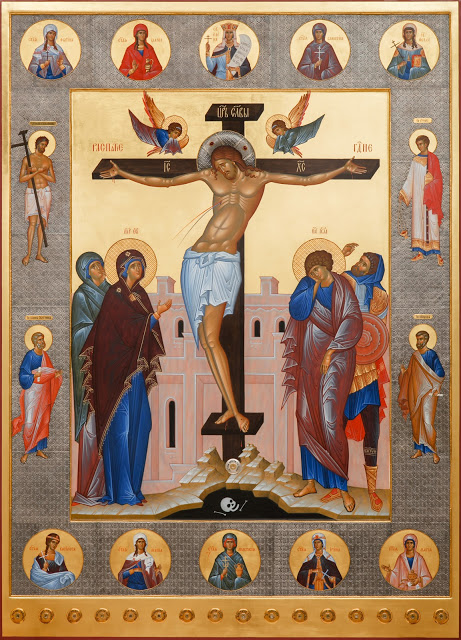 There are also other saints in the icon, who believed in Christ and suffered for their faith, among whom there are First Martyr Stephen, Pious
Nicodemus, First Martyr Thecla, Martyrs Vasilisa, Agape, Anastasia, Irina, Photina and Valeria. There is also the image of Equal-to-Apostles Queen Helen, who found the Life-giving Cross of the Lord.
While working on the icon, our icon painters used as a source the original image created in the 15th century for the Dormition Church of Kirillo-Belozersky Monastery.