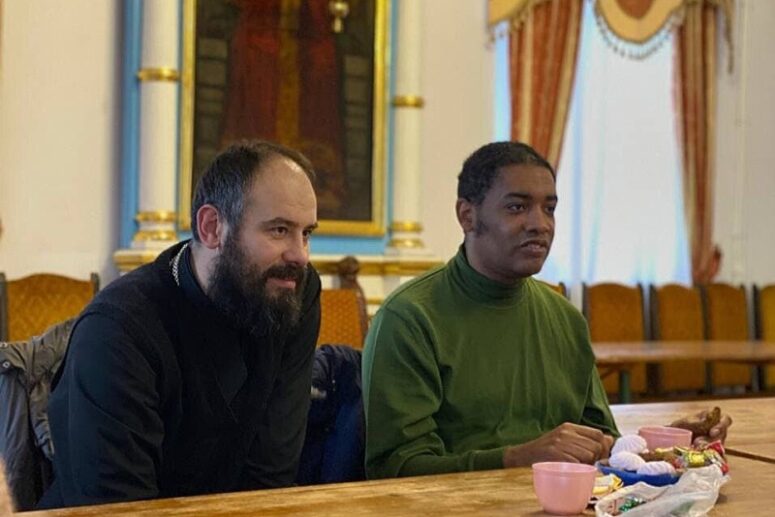 Recently we had a guest in our Convent – Aaron Barwell from England. It was so nice to meet this meek and pious man. We have been in touch with him since May as Aaron gets our weekly emails and had several phone calls with Sr Anastasia to discuss our deeds of mercy, the difference between lay and monastic sisters, the world situation, etc.
We always invite people to come and visit our Convent, and Aaron as many others expressed his wish to come in December for New Year and Christmas season. It was so nice to meet Aaron in person. The sisters always remember the generous hospitality that they are treated with during their missionary trips, so we do our best to make every guest feel welcomed and loved in our Convent.
Aaron is truly our brother in Christ. We thank him for all the beautiful photographs that he made for us. Photography is his irrefutable talent. We are looking forward to seeing him again this summer, God willing!
We asked Aaron to share with us his expectations and impressions of the Convent – its monastics and laity, the liturgical life and the Convent's ministries, as well as some valuable advice for those planning to visit our St Elisabeth Convent.
1. My expectations from the Convent (what a virtual Convent's friend wants to see during his first real visit to the Convent)
It is hard to answer, as it will depend on the background of the person visiting. Whether a believer or an enquirer, whether or not they have stayed at a monastery or know much about the Convent.
It was my first time staying at a monastery and therefore I was looking out for things I had read about other monasteries. Equally, I was aware of the social action of the Convent and the difference between the nuns and lay sisters.
I was also aware of the life of St Elisabeth, a saint whom along with the other Royal Martyrs I venerate.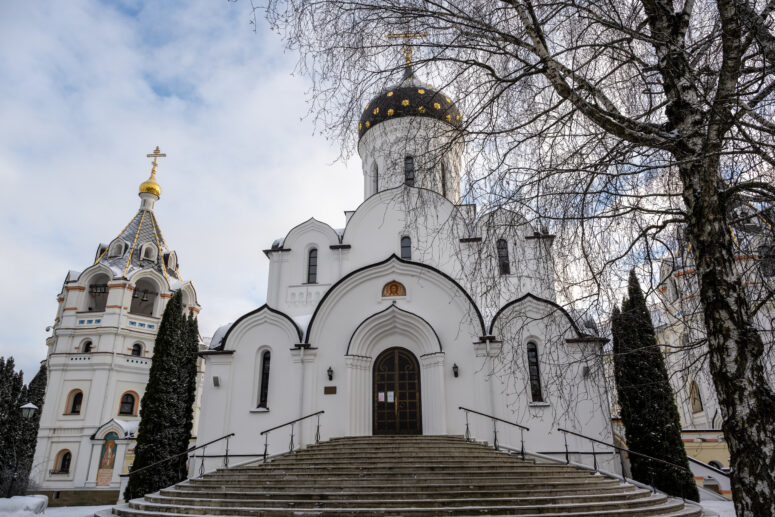 By reading her life, one can at least know what to expect in regards to the good works of the Convent. As long as one respects and is aware that the Convent is full of people who are dedicated to seriousness, love Christ and take joy in this, it will help set expectations and allay any concerns. Watching the Convent's videos or reading its blog also helps one to prepare for their visit.
I had visited the Convent unplanned in 2013 but neither took a tour, nor stayed (which looks like a missed opportunity). Eight years later, I visited and stayed. It is my hope that it is just the first of many visits, God willing.
Ahead of my visit, I hoped that I would get much more opportunity to focus, and this was possible by being at the pilgrim house. I was able to attend Liturgy. I was told by Fr. Oleg Kovalenko that in the future there may be a Liturgy in English, celebrated once a month or so. If this happens, then Orthodox pilgrims who might be afraid of visiting because they are not used to Church Slavonic may find things easier. In my personal opinion, I would encourage those wishing to visit to do so in any case.
2. People at the Convent (nuns, lay associates): do they differ from other people I met in Belarus?
It was great to observe in action the lay people's zeal for Christ. Some of them have left well-paid jobs to re-orientate themselves to God and, of course, this is inspiring.
Regrettably, church attendance in Belarus is low but one would not think this when visiting the Convent.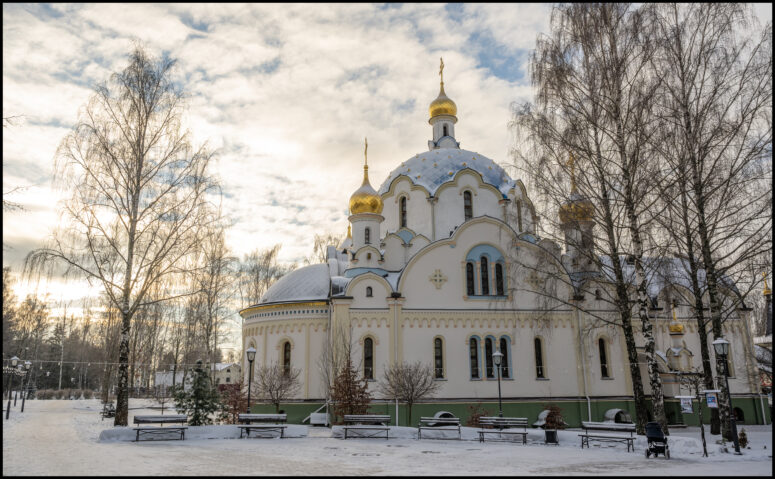 In summary, the fact that one can meet so many people dedicated to God's will and bringing it to others in action and prayer is one difference. At the same time, I met kind people while at the Convent and outside of it. The difference in priorities of those working at the Convent is spiritually uplifting.
As a tourist, as in any country, it is possible to meet people with different motivations, but my experiences in Belarus are overwhelmingly positive.
3. What peculiarities in liturgical life did I find at the Convent (in comparison with an Orthodox parish abroad)?
In the UK, there are many jurisdictions with minor differences in practices. At various times, I have either attended or visited ROCOR, Moscow Patriarchate (MP), Serbian, Antiochian and Greek parishes. My regular parish is Romanian.
In view of this, nothing was new to me, but others may observe minor practices different from their local jurisdiction. If one is familiar with jurisdictions under the MP then there should not be any peculiarities in my opinion.
4. Accommodation at the Convent: pros and cons.
The accommodation was good, better than what I would have reasonably expected.
I chose the "comfort" rooms, as I knew that I would be bringing lots of luggage. The standard of the room was very good. It is not something I was expecting. As I am tall, I was concerned when seeing pictures of the beds having footboards as I thought that it would be uncomfortable for me. However, the bed was more than long enough. The mattress was good and the room was kept warm in winter.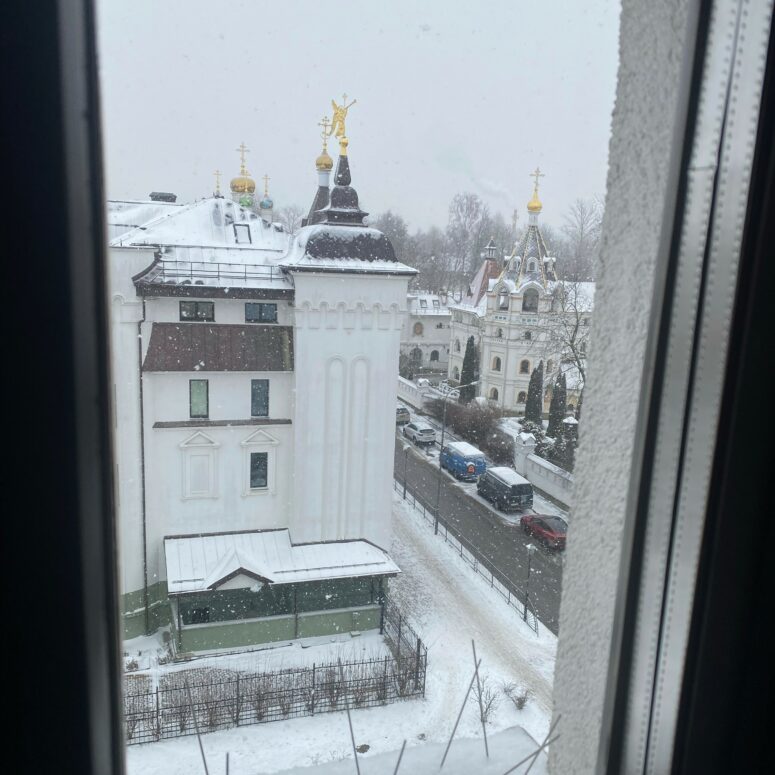 There is a list of rules in English, but no welcome note or information about the facilities. For example, I was later told that it was possible to eat in the pilgrim house (not in the rooms), to have laundry done but I did not know this.
There was a sign about Christmas meals at the windmill cafe, on the day of the nativity, which was in Russian only. I relied a lot on Sister Anastasia who helped willingly and without complaint. However, with a little more information in English it would be easier.
The staff at the reception spoke no English. This problem was not insurmountable and neither would I expect them to necessarily speak my language. It is however something to be aware of.
Other minor things are: there appeared to be no blinds on the window and so it was never really dark in the room. However, I still managed to sleep well. The room was inexpensive, clean and of course being part of the monastery complex, it was perfect for being able to attend liturgies, and other services. I think staying there is highly recommended for a pilgrim not only because the proceeds go to the Convent but also because one can spend extended times at the Convent complex and churches, away from traffic and the business of the city.
5. What else (from my experience) is it worth to see in Minsk (or Belarus))?
It was my second time in Minsk. As for my first impressions, the city is clean, and whilst it may not be considered by many to have famous attractions like its European neighbors, it is actually an enjoyable place to visit and reasonably inexpensive outside of hotels.
Some of the architecture and monuments are really quite interesting (some I only saw in passing). The Island of Tears, a monument to the Afghan War, is both impressive and evocative. The relatively recent All Saints Church is architecturally beautiful inside and outside. It has a very beautiful iconostasis and contains a crypt dedicated to those who have died in tragedies in Belarus. Ordering a guided tour of it is also possible.
Both my visits were in winter while the prevailing view seems almost unanimous that summer is a better time to visit. However, in winter of course there is the possibility of celebrating the Nativity, enjoying the days of snow and clear skies.
In my previous visit, I went to Mogilev and Polatsk. Polatsk has a convent with the relics of St Euphrosyne.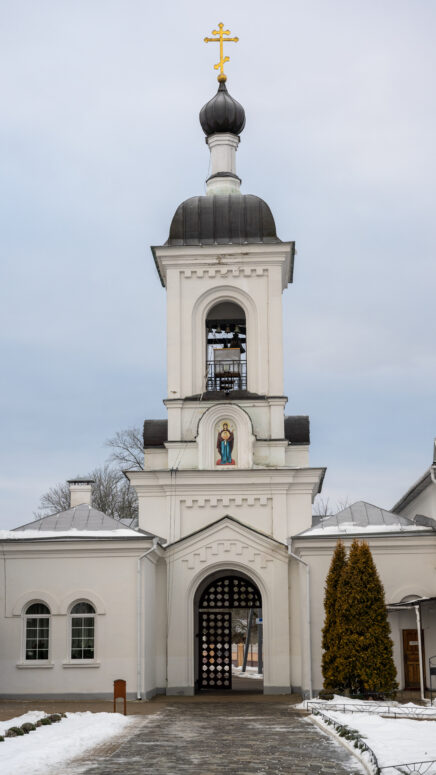 It is not far to get away to Mir, where there is a nice castle and a lake but if you are looking for tourist attractions then Grodno (which I visited for the first time in this trip) is almost a must. When I went there, it exceeded my expectations and it is somewhere I will be keen to return, God willing.
Michael and Sister Anastasia invited me to an opera performance of Eugene Onegin at the Opera House, and the quality of the performance was great. The national art museum is worth seeing too.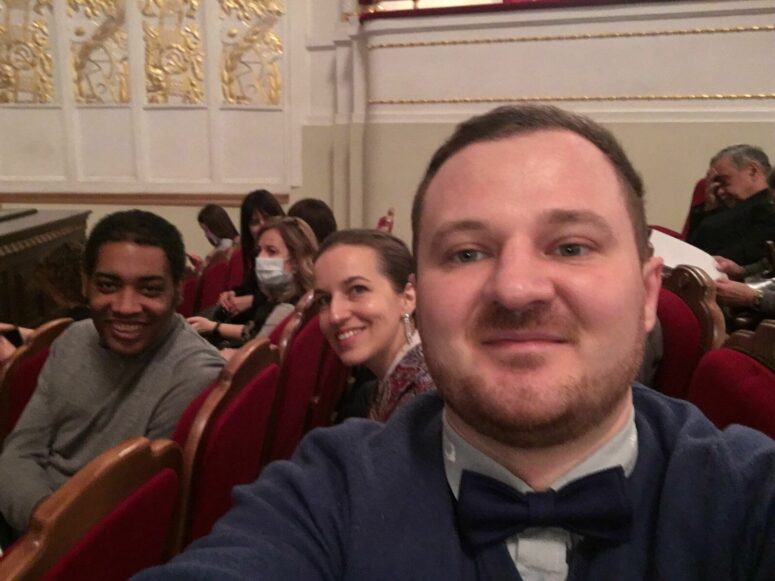 There is a lot to see and it is beautiful and really should be much better known than it is.
Apart from sites, it is worth it to try Belarusian cuisine, to walk by the river in the evening and just to spend time enjoying the place in no particular rush.
6. Gifts for my friends that I bought at the Convent's souvenir shop:
I was restricted in my luggage space; otherwise I would have loved to buy some of the glass products. Instead, for Orthodox friends I bought small icons, holy oils, a bowl for antidoron and the like. For others, I just bought some small items like bells and small wooden containers that can be used for jewellery or anything else. If one is not limited in luggage space, there are a lot of things to buy that are nice and help support the Convent.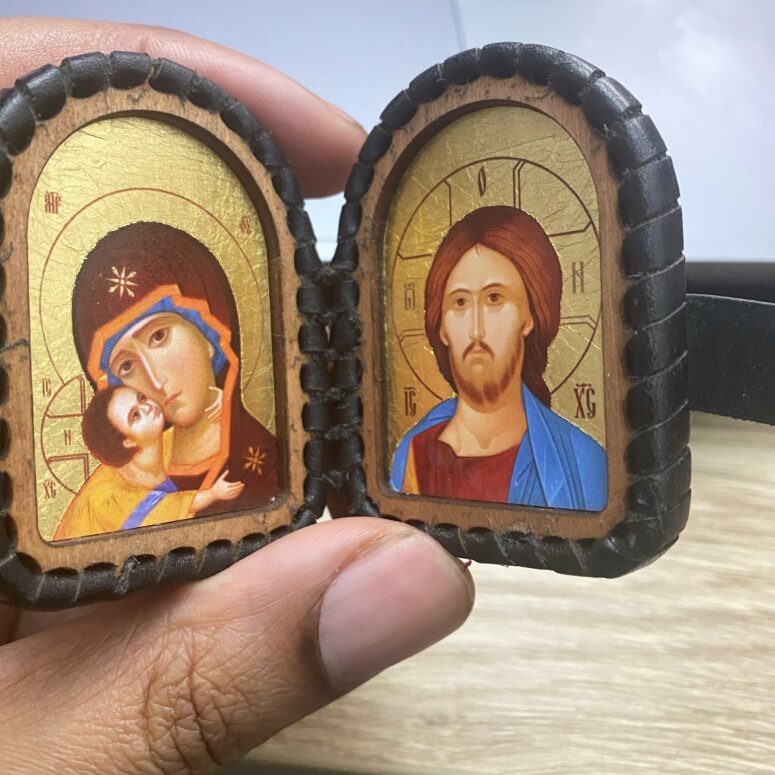 7. What spiritual fruit did my visit to the Convent yield?
One of the benefits was to be able to go to Liturgy on a daily basis. All night Vigil, Vespers and Akathist are great. Where I live, other services, apart from Liturgy, are not frequent outside of lent. Visiting them was a rare opportunity. It was possible to go to confession in English. Meeting so many people dedicated to God and the Church is great.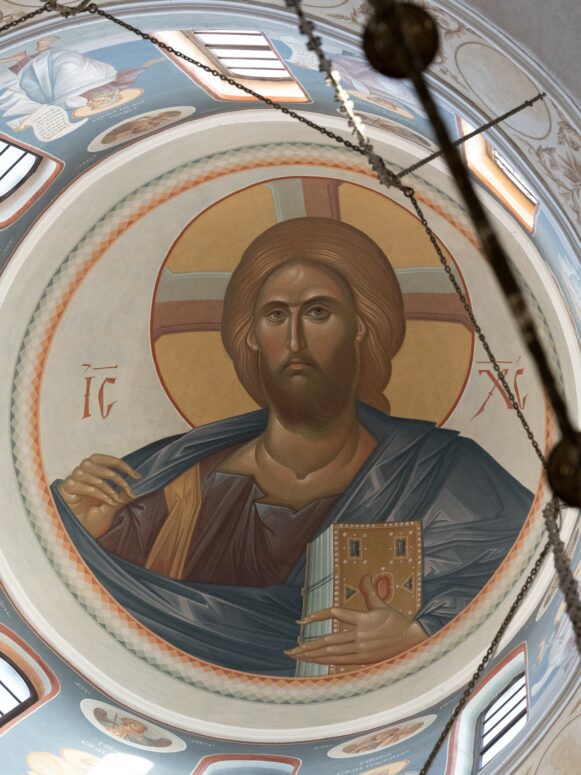 I have met so many kind and welcoming people from the priests to the nuns, monks, sisters, and brothers and some other pilgrims that I came across. Hopefully, I can keep this as an inspiration.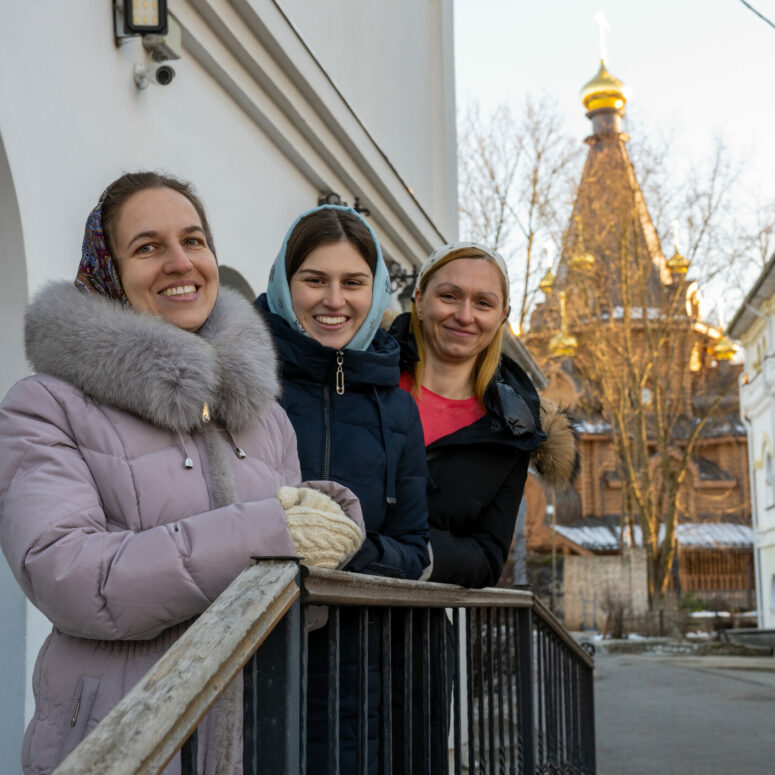 I was able to eat in the refectory, where there was always fasting food. The food is simple but it is what the people at the Convent eat. After being there, I could appreciate the more simple foods instead of what I am used to. It would be good if I could retain this, as such small things help people to reflect and focus on the important things in our life rather than the non-essentials. 
It was a blessing to be able to assist in the English classes at the school, the English clubs that Father Oleg organizes etc. To meet fellow Orthodox people in numbers was great.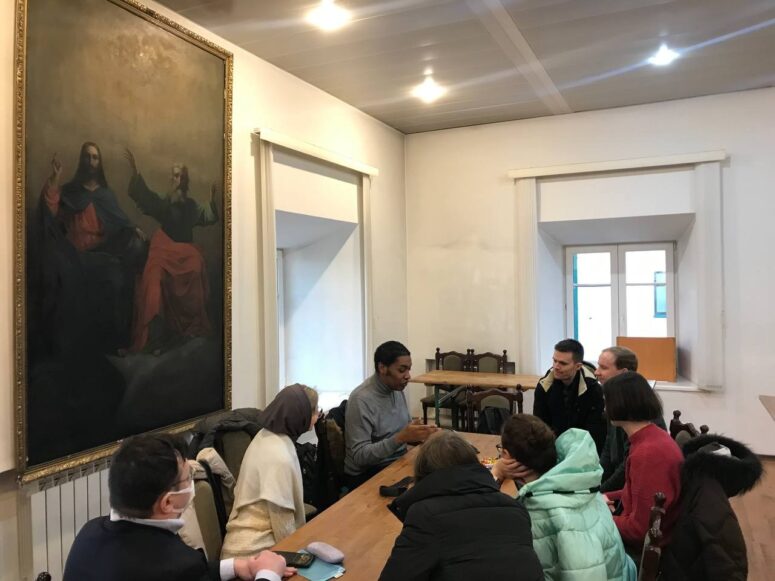 In short, my trip was fulfilling spiritually because of the Convent.
8. What upset me during my visit to the Convent?
Leaving? Nothing else upset me.
Speaking of a few minor things that may help a visitor or pilgrim (not necessarily staying) at the Convent, the Windmill cafe on the site very quickly ran out of food. For deserts, it has a sign for fasting foods. For non-Russian speakers, it would be great if the same sign was also put on the main dishes.
Although the cafe was very inexpensive and of great quality, there were a few times when I was unable to go to the refectory and the cafe was out of food, so I had to walk 7 minutes to a cafe off site. Not a major problem but an observation.
9. What is my most joyful recollection after visiting the Convent?
The liturgies, vigils etc.
The joyful and kind people among the clergy, monastics, and lay brothers and sisters as well as the kind lay people that I came across who performed small acts of kindness (although I do not know their names to thank them).
The opportunity to focus on what is important and to observe all the good work that the Convent is involved in, both in prayers and helping the disadvantaged via their workshops, and farmsteads.
Contributing to an Orthodox ethos for Belarus, particularly children and the young (for example the Orthodox school), its work for the neighboring mental hospital (which unfortunately has been curtailed by authorities in the current health situation), and the fact that the Convent is not stopping but growing in its good acts and aiming to do more.
10. Five pieces of advice to those who think about visiting the Convent.
If coming from the airport, download Yandex Taxi if possible (or a similar app) before arriving, be prepared for roaming (if you do not arrive at a time when the sim card shop is open) and avoid the pushy drivers at the airport.
Offer to help the Convent in any way even if small. Join in the joys of serving Christ and others.
Attend liturgies, akathists, etc as much as possible. In many places, this opportunity is not as common.
Prepare to use Google translate or something similar if you do not speak Russian. There are very helpful sisters who speak English, but there may still be times when it is necessary.
Try to visit the farmstead, if possible; in any case ask questions about how the Convent interacts with society. Some of this can be learnt from the life of the patron saint St Elisabeth the New Martyr.
P. S. We know that many of our readers are considering a visit to our convent someday. We are always happy to receive visitors, while our Pilgrim's house will certainly have a room available for everyone. At the same time, we understand that in current conditions many people prefer to postpone their trips to Russia and Belarus.
For those who would like to visit us in spite of the circumstances, we are happy to announce that foreign citizens can currently enter Belarus with only a Belarusian visa (PCR test IS NOT needed). Visitors arriving via a direct flight from Istanbul may enter Belarus visa-free. You can find more information about the documents required to visit our country at https://www.belarus.by/en/travel/travel-visas. You can also email us your questions at [email protected]
Photos by Aaron Barwell
Also read new article about Orthodox Architecture. What unusual shapes can Orthodox churches have?