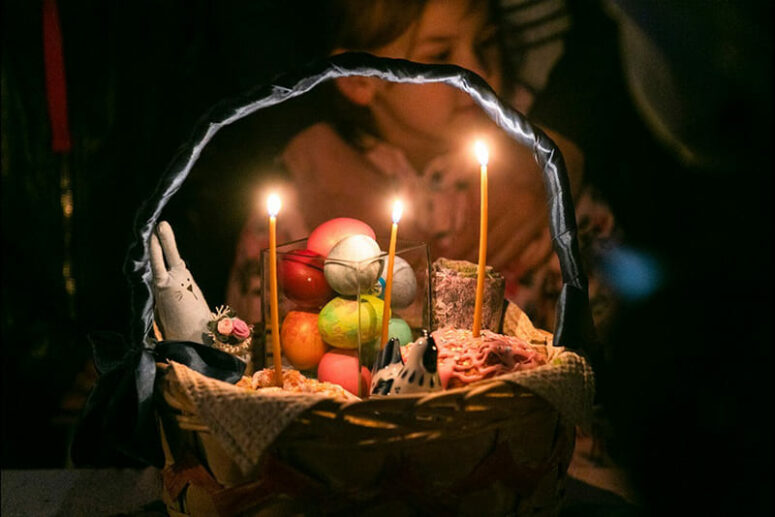 Dear brothers and sisters, our beloved readers and givers! From our hearts, we bring you our warmest greetings to you on the Bright and Holy Pascha, the Feast of Feasts! The expectation of this day inspired us throughout our Lenten journey. We travelled it in anticipation of this glorious day: "Christ is risen, and not one dead remain in the grave."
May this Paschal season fill your hearts with joy, jubilation and hope, and strengthen you in your belief in Christ our Saviour, today and for ages and ages. May His boundless love overcome all fear. Nothing is more pleasing to God than a grateful soul, so let us not stop singing glory to God for His mercy and love, His gifts of the Holy Spirit and His miracles. Let us give our thanks to Him through the practice of our virtues and our tireless struggle with sin. For our good faith and mercy the Lord rewards us His miracles big and small. Here are a few moving examples that we hope will inspire you on this bright and joyous feast.
No need for words
On the day of the Pascha, I took my granddaughter to church for the ceremony of the Holy Fire. On our way out, she asked me what "Holy" meant. No sooner had she said that than a strong gust of wind almost put out the fire on her candle in a second. I gasped, not knowing what to answer. Yet, a moment later, the candle burned again. My granddaughter declared, wisely, "Now I know what it is." We walked towards the car.
Alena Sokolova, Moscow
My mother takes communion
Several years ago, I was preparing to sing at the Paschal service in my church choir. My mother only goes to church when I ask her and only to put a candle and say a short prayer. She seldom goes to the church of her initiative.
That year, I was singing at the Paschal service and my church. Several days before the feast, our priest asked three singers from our choir to go to a rural church which had no singers at all. It was a faraway church with no heating and little repair. The priest had a hard time finding three volunteers to go there. But he succeeded, and I was one of them.
Soon after my decision, my mother asked me about coming to the liturgy and taking communion. That Easter, she came to church. Perhaps it was a coincidence, but one thing occurred to me that day: when we make a sacrifice to God and follow His will, He can fulfil our desires and do miracles. My mother's communion on Pascha was truly a miracle to me.
Maria Kiselyova, Kirov
Unexpected joy
On Saturday, I called one of my friends. It was a casual call, and it happened to be on Easter Eve. My friend said to me, "Look, I cannot talk for very long. It is a very busy time for me. I need to clean up the flat, dye the eggs, and wash the children, and I am hopelessly behind. "I can come and help. Would you like that? We can talk in the process. "I don't know. But come around if you are free." Together, we completed all the outstanding chores and put the children to bed. My friend began to prepare to go to church and offered to bring me along. I am not sure why, but I said yes. I had never been to a church service before. I was shy of my disbelief. I thought I would be too uncomfortable standing and watching others as they prayed. But that time, it was as if all the pieces of the jigsaw had come together: the expectation of a feast, the hasty preparation and nice weather. The church was full of people. A quiet rumble was coming from inside. My friend dived into the crowd and returned to me a few moments later with two candles. She kept one and gave the other one to me. Somewhere at a distance, the male singers chanted, "Your Resurrection, O Christ Our Saviour, The Angels in Heaven Sing." Immediately, the rumble died down, and candles came alight in the dusk of the church floor. The voices at the altar grew louder, someone lighted my candle for me. Soon, the people began to chant along, and I joined. I was jubilant. I walked in the procession around the church, I shared everybody's joy. I realised that it was the feast that I had been anticipating ever since I was a child. I was home and did not need to go looking anywhere else. I took baptism a week later. The baptistery was put in the choir place, right under the icon of the Mother of God "Unexpected Joy".
Marina Borisova, Moscow
God bless you for playing an active part in the life of our blog and Catalogue of Good Deeds. Your comments, reactions and donations inspire us and add meaning to our work.
Christ is risen! Truly He is risen!
Stories sourced from: https://foma.ru/chudo-na-pashu.html