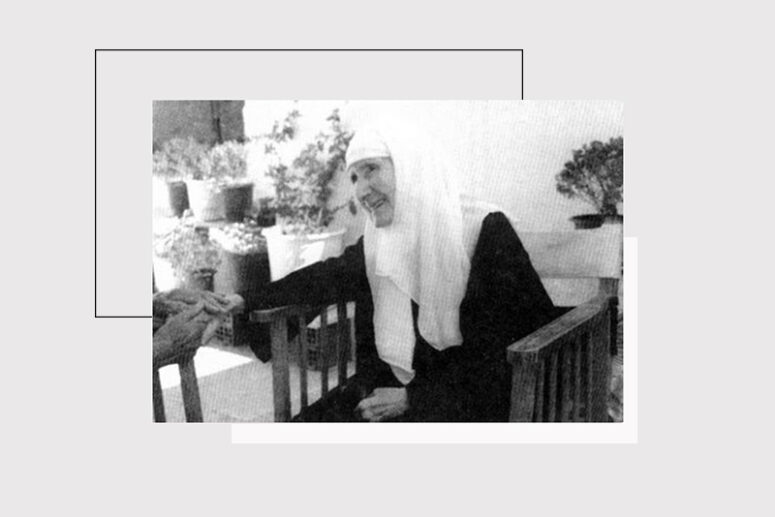 Eldress Gabriela (in the world, Avrilia Papayannis) was born on 15 October 1897 to a Greek family in Constantinople. She was the youngest in her family and a beloved child. Her father was a timber merchant. Her mother's father was a doctor, and grandfather a priest. Asked at fifty years of age where she found the love to embrace the whole world, she replied, "Despite all the sorrows and trials in my life, I still feel, as all of us do, like a beloved child of God and my close family. My mother, father and brothers loved me dearly, and from their example, I learned to love others.
The journey to sainthood begins
Avrilia received a good education. She spoke several languages and loved geography. She had a dream – to travel the world. By the will of God, she had her dream come true. All her life, she served the Lord and other people in different corners of the world.
Eldress Gabriela remembers: "At eighteen, I trained as a volunteer with the Red Cross. I felt a calling to give my care to others. I wanted to look after the sick.  In 1923, her family moved to Thessaloniki, where Avrilia proceeded with her university studies. Her family spent their summers in the suburbs of Florina, where the merciful Avrilia was teaching poor children how to read. One day, she went down with a disease and a high fever. At night, a young man in an unusual attire appeared to her in her dream and reassured her, "Fear not. You will be all right tomorrow." Gabriela woke up on the morning of 26 October fully cured.
In 1932, she left her family home and moved to Athens, where she began to work as a nurse in a private hospital. In 1938, she moved to England and became a well-known physiotherapist in a suburban London clinic. After the war, she joined the society of podologists in England and returned to Athens in 1947 to establish her private practice. Many of her clients remembered finding in her clinic a cure for their bodies and their souls. They shared with her their troubles and grievances, and she always found words of reassurance for them and even gave money to the needy. By projecting God's love, she led many to convert to Christ. Eventually, Avrilia began to notice the action of God's grace on her and her patients. Many normally needed six months of therapy were cured in fifteen days. She also stopped charging money for the treatment.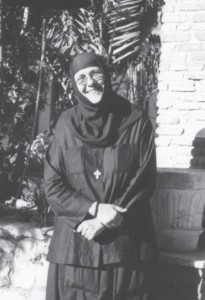 Following Jesus around the world
When her beloved mother died in 1954, Avrilia decided that she, too, had died for the world, and chose to give away her estate to follow God. By His Divine providence, she travelled to India. She visited nearly every corner of the land caring for patients with leprosy and preaching the Orthodox faith by word and deed. From early morning to late evening she cared for the afflicted. She put ointment on their wounds, and travelled to the most remote villages across the jungle, sometimes putting her life in danger. She also taught English to children. She filled her life with intense prayer and reading of the Gospel, the only book she brought with her.
As she treated gangrene wounds, the stench that emanated from them turned into fragrance by God's grace. Avrilia illuminated sincere joy and filled all the people around her with faith, optimism and trust in the Providence of God. Many unbelievers and disciples of other faiths converted to Orthodoxy, impressed by her love and the healing they received.
Sylvia S, who knew Avrilia personally, recalls, "All the missionaries I knew would boil their water, and still contracted dysentery. But Mother Avrilia, whom everyone called Lilly from Greece, drank from different lakes and rivers, including the river Ganges, but she was never sick. Before drinking, she always made the sign of the cross over her water and said, "In the name of the Father, Son and the Holy Spirit. She drank, and I drank from her cup, too."
Eldress Gabriela describes her sometimes difficult times in India as follows: "Angels were always willing to come to our help. I saw it happen with my own eyes and my spiritual vision, even in my hardest times. I have always said, and I repeat, it is getting better all the time. Even when I am worse off physically, I am always joyful, because I know that God has a plan for me.
A European once criticised Avrilia: "How can you be a good Christian missionary without learning the local dialects as Catholics and Protestants do? Avrilia replied, "Sir, I forgot to say that I know five languages. Smile is the first, Tears are the second, Touch is the third, Prayer is the fourth, and Love is my fifth. With these five languages, I am at home in every place in the world! 
Monasticism in the world
After five years in India, Avrilia heard a new calling from God –  to become a nun. In 1959, she went to Bethany and joined the Monastery of St. Martha and Mary as a novice. She lived there for three years and did numerous jobs. She completed every task, and was asked to do more; yet Avrilia did not grumble, but welcomed this opportunity to advance in humility, endurance and purity.
At 65, she was tonsured in the Ryasophore. Yet God destined her to become a monastic in the world, travel worldwide as a missionary and take upon herself the feat of a Gerontissa. Despite all these different pursuits, Gabriela never broke off her connection with her monastery in Bethany.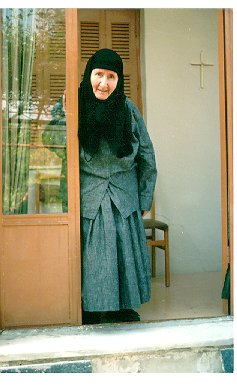 In 1962, she visited France, the United States, Canada, Denmark, Sweden, Germany, Switzerland and Austria. In 1963, she travelled to Patmos Island to see Elder Amphilochios, who tonsured her into the small Schema. After that, she went back to India where she spent three years helping the Orthodox missionary Hieromonk Lazarus (Murus) with his translations of the Gospel and the works of the Holy Fathers. She also visited Europe on multiple occasions. In 1965, she went to England to meet Elder Sophronius (Sakharov). Later that year, she visited the Holy Land, Tehran, Delhi, Hyderabad, and Bombay giving talks about the Orthodox faith or accompanying the ill for treatment.
In 1966, God allowed the Gerontissa another illness and a miracle. First, she was diagnosed with a cataract in her left eye, and she had surgery in Athens to remove the damaged lens. Three years later, she had an infection in her right eye, and the doctor put a bandage over it, leaving open just her left eye. She could see with it, although medically it was not possible. By a miracle of the Lord, the lens in her left eye had grown back.
In the years that followed, she travelled extensively to Africa and spent some time in the New Jerusalem of Lalibela. 
The House of Angels
From 1979, she lived for ten years in a partial hermitage in a flat in central Athens that soon came to be called the House of Angels. Visitors from different countries flocked to the Gerontissa for her guidance. Here are some examples of her sayings:
"In the eyes of God, there are no distinctions between black, white, red or yellow children. He bore His every soul in His heart, and let them our into the world like drops of His blood. Who is to say which of these drops is dearest to Him?
"When we are out to help somebody, we must identify one half of ourselves with that person. The other half of ourselves will come to the right decision even when it is opposed."
"When one is preoccupied with the self, physically or mentally, one has no time to spare for another or even to show an interest in him. One becomes egocentric."
P. Evdokimov, a spiritual disciple of the Gerontissa, remembers: "We witnessed on multiple occasions her healing touch on the sick and ourselves. With one touch or prayer, she relieved their pain, and they sensed an inner warmth. She insisted in all cases that it was the piece of cotton or a bandage, not her touch that gave them relief. But we knew full well that she was telling us that out of humility.
Earlier, she had confided to his closest friends that she had moments when her hands were burning as if on fire, and she needed to cool them in cold water. It was certainly the action of the Holy Spirit, whose gifts she took great care to hide from others.
She was over eighty, but in the eyes of many, she was looking younger and more active than before. The people around never saw her fatigued. As she used to say: "People who love never become tired."
The final years on the islands of Greece
In 1989, Nun Gabriela moved to the desert monastery of the Protection on the island of Aegina, next to the Monastery of the Holy Trinity founded by Saint Nectarios of Aegina. While there, she was diagnosed with cancer of the lymphatic nodes, but she refused all treatment. Nut-shaped swellings appeared on her neck and at her ears causing her great pain, which the Gerontissa endured with great humility. On the Bright Saturday of 1990, she took communion at the Church of Saint Paraskeva, returned to her cell and saw that her tumours were gone. 
After her miraculous healing, Nun Gabriela moved to Leros Island and settled in the cell of the Holy Islands, observing complete silence. That same year, she took tonsure into the great schema.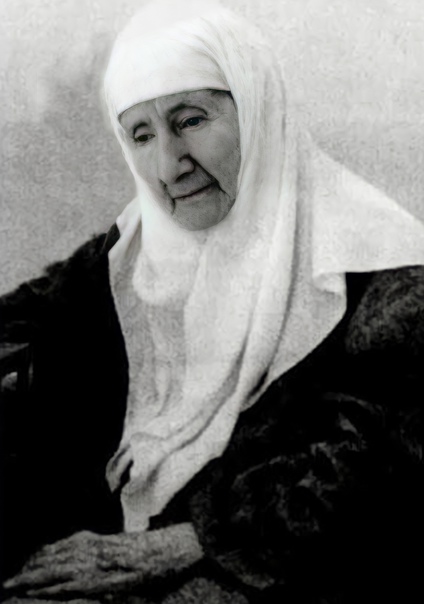 Schema-nun Gabrielia fell asleep in the Lord on 28 March 1992, aged 95. According to eyewitness accounts, angelic singing was heard for two minutes around the time of her departure on the last journey of her life, to Jerusalem in Heaven. They laid her body to rest inside the castle walls around the monastic church of Panagia Tou Castrou on Leros Island. Grant rest, O Lord, to the soul of Your Departed Servant Schema-nun Gabriela, and have mercy on us sinners by her holy prayers.