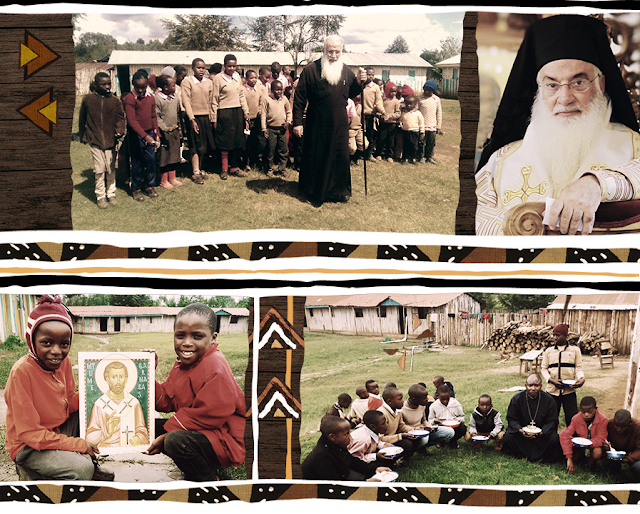 Ruslan Yarotsky, a religion studies major and a former Evangelical pastor who is now an Orthodox missionary from Hrodna and the Director of a Support Fund for Orthodox Christians in Africa, took a flight to East Africa together with his friend Dmitry Fadeyev and spent two weeks in an Orthodox community in Kenya. The two friends helped St Barnabas Shelter in Njabini where Father John, an Orthodox priest and school principal, takes care of ca. 170 orphans. The majority of those children's parents have died. Many of the kids are seriously ill.
We visited a meeting where Ruslan told about the Orthodox mission in Kenya and the struggles of Orthodox Christians in Africa, as well as about his own spiritual journey from a pastor to an Orthodox missionary and the simple things that make us happy.

– I'm an infinitely happy person because the Lord found me, -Ruslan says. – Now I know why I get up in the morning, and I can hope that I will find myself in a good place after I don't wake up one morning. I'm a parishioner of the Church in honour of St Luke at Hrodna Regional Hospital. Our parish is vibrant and lively. It's like a big family. We know each other by name, come together to study the Gospel and mix with interesting people. There is even a booklovers' club. What else can one possibly need? Nonetheless, I have always wanted to do an overseas mission.
Fyodor Dostoyevsky said that a Russian must have something to die for. We are subconsciously looking for something to die for. I have long wanted to go to Africa. I was haunted by the idea that I had to help African children and the Orthodox community there. He who seeks will find. I came across a webpage run by Greek missionaries, who later introduced us to Father John, a year ago. Following our request, he invited us to St Barnabas Orphanage located in Njabini settlement.
There was just one problem: where do we find so much money? A brother from our parish advised us to "test God's will" by asking a priest to bless our
journey. Naturally, I did not want to go anywhere to ask for the blessing because I had already made up my mind. I did not have money, though, and I
didn't know where to get it, so I went to Lavrishevo Monastery to my wonderful spiritual father and counsellor Father Eusebius, the abbot of this monastery.
As we were walking with the abbot in the snowy Lavrishevo, I stammered about my idea. He looked straight in my eyes and replied that we had had to launch overseas missions a decade ago. As soon as I received the blessing, things began to unfold at the speed of light. Interestingly enough, it was one of my friends, who is a Catholic, who donated the first $1000 "for the development of Orthodox mission in Africa". Little by little, our parish collected a substantial amount of money in a month and a half, about $5000, although our parishioners are not that well-off. It happened thanks to God's mercy.
How did your family react?
You know, each one of us will die, so why should we care where it happens? I am certain that I won't live a second more or a second less than I am destined to. So it's pointless to worry whether I die in Africa or here in Hrodna. We don't get to choose where and when we are born and die.
I was raised in an Evangelical family. Every young Evangelical kid dreams of becoming a missionary. My family supported my decision. My wife had dreamed of going on a mission to Yakutia when she was young. So I'm making her dream come true in a way. My children wanted to go to Africa with me but it's too dangerous.
We had to undergo vaccinations against yellow fever and malaria. It is physically stressful to be there: Njabini is located at the altitude of 8200 ft. It is
hard to breathe and your heart is pounding differently. 
No one was waiting for us in Nairobi Airport. So we're standing there in the foreign country with several heavy suitcases (the total load of 330 lbs consisted of stationery, toys, and sweets).  We bought a SIM card, which cost us $20. Kenya is a very expensive country, strange though it may sound. The locals' line of thinking is that if you are white, you have to pay extra. A figurine that is impossible to bring back home because it is too fragile will cost you $200.
Soon Father John found us: he had parked his car in a wrong place. In spite of the huge sticker on his car, "Saint Barnabas Shelter. We help children,"
he had to pay a $40 fine. It's a lot even for us, and for them it's… That was how our first encounter with Kenya began.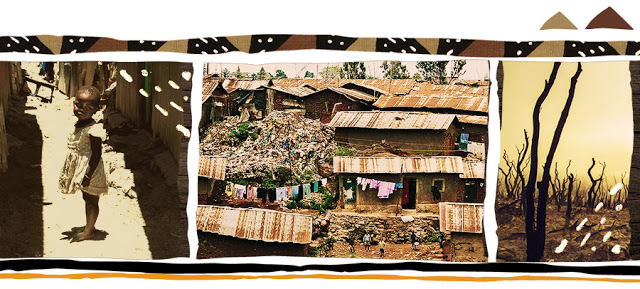 Kenya's main scourge is poverty, hunger, lack of access to drinking water and basic healthcare, and, as a result, there is a huge number of ill people. Due to high mortality rates many Kenyan kids are orphans. It is to these kids that Orthodox priests in Kenya cater. Yes, Kenya is different. There is a touristy Kenya with the ocean shore and safaris. You will drive through a Maasai village, give sweets to the local kids, and feel that you've done something meaningful. This isn't the real Kenya.
For the most part, the country is in a terrible condition. It is ridden by water shortages, unemployment, and terrorism.
Mogadisho, Somalia, is the most dangerous place in the world. Islamists keep raiding Kenya all the time. They kidnap whites for ransom. There is one of the largest refugee camps in Kenya — ca. 250 000 persons. Many of them are Christians because belonging to the Christian faith is punishable by death in Somalia. Not long ago two Protestants and a Catholic were beheaded…
There are slums everywhere on the outskirts of the capital city: rubbish, poor hygiene, crowds of people aimlessly wandering here and there, and apparent lack of security — you start feeling insecure as soon as you leave the territory of the airport.
When we got to the shelter, we saw a pathetic sight: an acre of fenced land and several bunkhouses made of terrible wooden planks. Animals in any of our villages live more comfortably than those children. This place is home for 170 orphans aged 3 – 17 or 18. Their parents died of AIDS, tuberculosis or hepatitis, or have been killed during civil strifes. The daily routine for Father John is to find resources to feed and clothe these children, teach them the basics of the Orthodox faith, and provide education for them. Upon graduation from the shelter, the children get a certificate and can apply to colleges. You are doomed if you are un-educated in Kenya. As a rule, the counsellors work for food.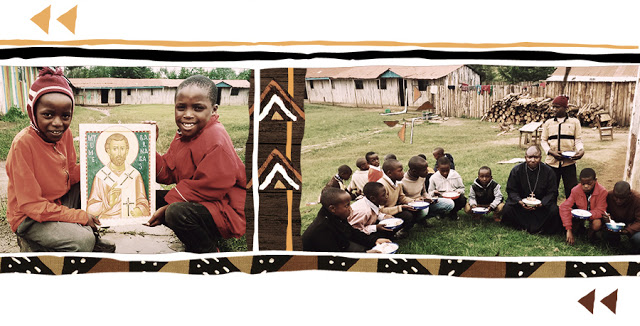 When there is money, the children eat three meals a day. When there isn't, they eat just once a day. What do they eat? Some kind of flour, possibly corn flour, diluted in boiled water to make a glue-like mass. They add sugar to make it less disgusting. If there's enough flour, they cook simple pancakes instead. As long as this mass is hot, it's edible. The children eat it well. They invited us to taste it but we couldn't. Even for Christ's sake.
The Lavrishevo Monastery donated two boxes of sweets to the shelter. Some of the kids saw them for the first time. The distribution of the sweets looked like a huge event: the children stood in lines, and the volunteers gave them sweets solemnly…
Dear friends, we are so rich, and I mean it! Human beings are naturally marked by their inability to be satisfied, they never stop pushing for more and more. Many people have this false impression that Africans don't have anything but they walk around happily, smiling at the sun. That's wrong. Africa is very depressing and miserable. Piles of rubbish and people wandering aimlessly. Abject poverty. Unemployment. No business opportunities. It is only where there are churches that children smile because they are loved, cared for, and helped.
Nowadays, life is harder in Belarus: the economic crisis hit everyone, but it pales in comparison with Kenya. One hundred and seventy children without parents; no one will shed a tear if they die… You walk down the village street, and there are someone's legs sticking out of a pile of rubbish, and you can't tell if that person is alive or dead and you cannot get closer: there is leprosy in some regions, and there may well be poisonous snakes in the rubbish. Human life doesn't cost anything at all.
One of the most pressing problems that Kenya faces is lack of access to pure drinking water. The shelter cannot afford a $30,000 borehole. Another acute problem for the children who live in the shelter is shoes, which are expensive. Without shoes, some nasty bugs will get under the children's skin, and their legs will swell. However, if you have to choose between shoes and food, you choose food. The older children pass their clothes and shoes to the younger kids.
Tyres are the usual toys for Kenyan children. They make sandals from old tyres. The children have almost no toys. When we got there, they were playing football with a "ball" made of an old newspaper…
My heart aches for them. I would like to help them but I can't. What can be done with a couple thousand dollars? It's like a drop in an ocean. The bare minimum spent on one child in the shelter is one dollar a day. For ten dollars, a child can survive in the shelter for ten days. That's how we calculated our expenses when we were getting ready for the trip. You can feed one child for $1 but often you don't have even that one dollar. We organised three meals a day for the money we had brought with us. We would buy cheap food, e.g., rice, lentils, grains, and sugar, in special wholesale shops. No one even talks about other foods, like meat or fish… The Great Lent is an ascetic feat for us; for them, it begins on the day they are born. And it never ends for the majority of the population.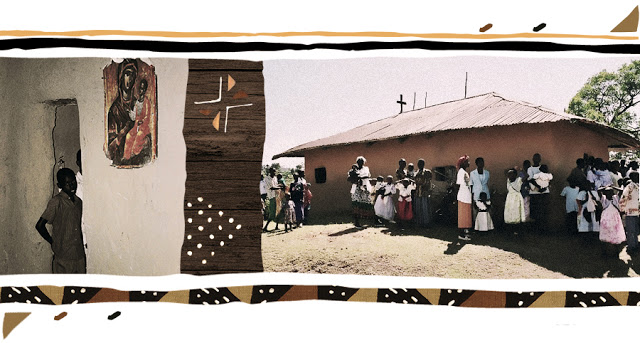 The Orthodox Church in Kenya grows rapidly, in large part thanks to the numerous shelters and schools. The children who stay there hear the Gospel, learn the God's Law, and participate in church services since their early years. They grow to become Orthodox Christians. Then they marry and raise their own children in the Orthodox tradition. Father John himself had skipped a service in his semi-pagan Protestant congregation one day. When he accidentally met an Orthodox priest who simply gave him some food, he was so fond of that man that he started helping him in the church. As a result, he graduated from a school and a seminary. Kenyan Christians are very simple-hearted. Prayer is their way to survive. We have to force ourselves into praying with prayer ropes and saying Jesus Prayer but in Africa, it's impossible not to pray.
Apart from Njamini, we brought humanitarian aid to cities where the situation is even worse. We wanted to support the priests and missionaries, our brothers in the faith who carry out their ministry under these extremely harsh conditions. I have many priests as friends. They also have their troubles and there are few of them who ride posh cars but it cannot be compared with what life is like in Kenya. We were driving to a priest to bring him some foodstuffs and came across a building made of steel sheets, like an old garage. This building turned out to be his house. There was a chair, a table, a bed, a prayerbook, a Bible, and a prayer rope, and that was all he had. He cooks some kind of stew on open fire near his cabin. His wife and children live 300 miles away. He serves as a missionary in that place for a fortnight every month, then gets back to his family somehow, and serves the other fortnight there. He does not complain. He loves God and lives happily. If I take a pack of rice and give it to a priest here in Belarus, I don't think he'll be extremely excited. For them, even tiny amounts of water and food mean a lot. They encounter pain and suffering but at the same time they rely on Jesus. They are true patriots of Kenya who love their country and don't want to leave. They simply want to live normal lives. Like we all do, don't we?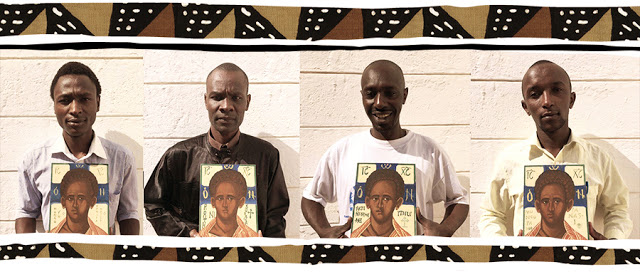 Europeans used to help them more but they reduced funding of African charitable projects due to the refugee crisis. Their welfare organisations and charities started focusing on their own countries.
It must be noted that it becomes cleaner and tidier wherever Orthodox parishes are planted. People really change their mentality for the better. The Lord cleanses their hearts and they begin to make everything clean, too. This is how small pockets of cleanliness and order pop up. There are more and more Orthodox parishes in Kenya every day. There is approximately one million Orthodox Christians in Kenya nowadays. They build hospitals and schools and by doing so, they unite people and preach the Gospel. There are regions where indigenous polytheistic beliefs are still strong. They require not only social support but also preaching about Christ. Their seminary prepares educated and skilled priests. There are no monasteries in Kenya right now. There is just one monk in the country.
I would also like to tell you about Metropolitan Makarios of Kenya, who is a spiritual child of Elder Sofrony (Sakharov). He hails from Cyprus. He studied in several universities in Europe, including the Orthodox Theological Institute of St. Sergius in Paris, France.  He is very unpretentious, I have never seen bishops like him. Our bishops are wonderful but I don't know them, I only see them on TV. He has spent his entire life to develop and strengthen the Church. It was due to his efforts that there are 300 parishes, many schools and shelters, a seminary and a technical college in Kenya now.
Kenyans honour Metropolitan Makarios like their father or grandfather. The situation of urvival that people have to face in Africa creates an atmosphere of simplicity. There are no barriers between bishops and common folk. They have to stay together to survive. His Eminence Makarios visits churches daily. He is always on the go. When he learned about our visit, he decided to come to see us. He celebrated a solemn Liturgy. He served partly in Church Slavonic during the Liturgy, so that we could understand what was going on. The service ended with lively dances – that's how Orthodox Kenyans praise the Lord.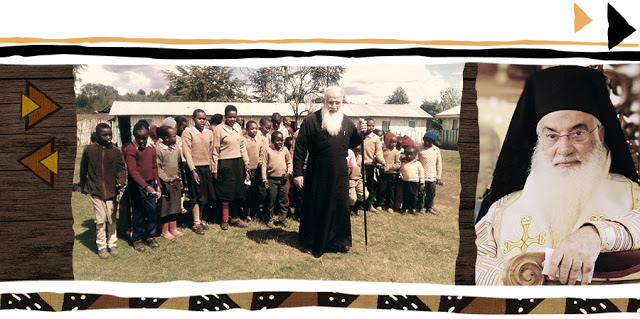 It was a completely new experience for us. When we first came to Njamini and there were 170 children dancing around us and having fun, we were astonished… Unfortunately, sincere joy fades in our hearts with time. By the way, the Book of Psalms reads, "Praise God with the timbrel and dance, (cf. Ps. 150: 4). The dance means roundelays. That's what it means. Our mentality stops us from having fun so openly. They are very open-hearted. As soon as the service was over, everyone went outdoors, and the children started dancing around the metropolitan. They live by dancing – and God.
Currently,the situation in central Kenya is becoming even more complicated. Due to their civil strife, food prices have skyrocketed, and it means that children will be starving again. Businesses from Belarus are ready to help but it's meaningless to send humanitarian aid: the corruption rates are so high that the locals won't see the aid, it will be stolen on its way. The Belarusian ambassador openly admits that it's a waste of money. That's why we collect donations, store them on a VISA credit card, go to Africa, rent cars, buy everything in the cheapest shops, and distribute the staples among missionary parishes. We bring back receipts and post photos to be as transparent as possible.
St Barnabas Shelter is actively raising funds to buy the plot of land they rent right now. We hope that, God willing, they will succeed. When they do, they will be able to build something more substantial, with the help of volunteers. For instance, during our last trip we built a coop for chicken, which will supplement the meagre ration of the children.
Our next trip to Kenya is in February. So if you can tell anyone about it, please do. Please write to us, we will be happy to receive all kinds of help.
My friend who is an editor of a newspaper had an argument with me, "Why Africa? There are many poor folks here, too." He is a very pious man and a
remarkable Orthodox Christian. He spent three days trying to convince me that "it was your pride telling you to go to Africa." And then he came to me and admitted honestly, "It has dawned on me that I oppose your idea so much because I don't do anything like that myself." He gave me a $100 note
saying, "I don't want to fight with God, I'd rather be your ally."
If some of our priests were to push forward the establishment of the Hrodna Missionary Fellowship, it could allow us to take a different approach. As of now, it's a bunch of amateurs. Our spiritual fathers bless us, and we're grateful to them. So if you spread the word among your friends, or if there are people who are willing to help, we will really appreciate it because one dollar is the cost of one day of a child's life. It isn't mere words. If any one of you will make up your mind to go there, you will see it with your own eyes.
Interview by Sister Maria (Kotova)