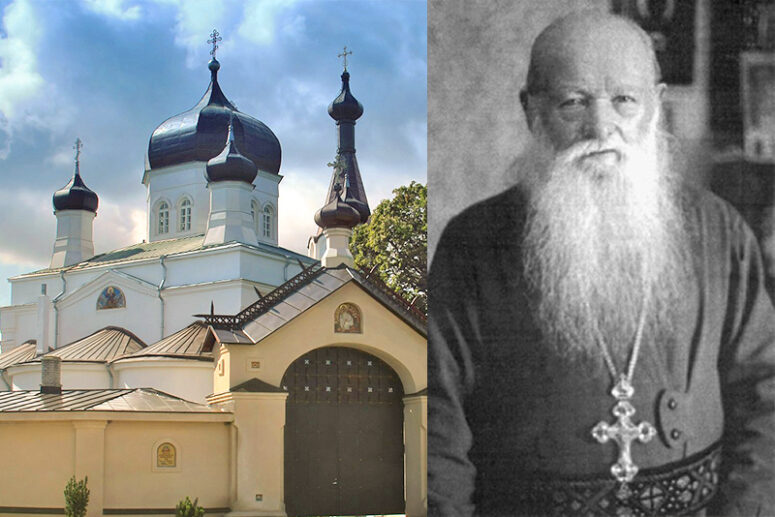 Father Vasily Borin (1917 – 1994) was a priest of great calibre, a model of unshakeable faith and exceptional humility. Only great ascetics receive from the Lord the gift of exorcism. Father Vasily accepted this divine blessing from another known exorcist, the Holy Venerable Simeon of the Pskov Monastery of the Caves. In the life of Father Vasily, we find many examples of the more or less successful exorcisms performed by his fervent prayer and with great humility. These accounts are still our source of instruction and inspiration.
The promise of a servant of God
Vasily came from a large and poor family from the Pskov area. He married at nineteen years of age and had three daughters. He began to earn his bread by catching fish. During World War 2, he served in the Estonian army, was imprisoned by the Nazis and even received a death sentence. But the Lord heard his heartfelt prayers, and his captors let him go.
After the war, he moved with his family to Tartu, Estonia. He was looking for a job that would allow him not to work on Church feasts, and the only job that met his desires was the position of a forestry assistant. One evening, he had not managed to finish work in time for the feast and had to continue working on the Holy Friday. Unexpectedly, a forest fire broke out. As he was putting out the fire, he cried out to the Lord, O Lord, I will be your servant for life, if you help me end this fire! Immediately, more people came to his help, and the fire was put out quickly.
Before that incident, Vasily was uncertain if he could ever serve as a priest, but now he was emboldened. In 1950, he entered the religious seminary in Saint Petersburg. After his graduation, he was ordained as a priest in the Diocese of Estonia. Shortly before he left to take his post, he saw a dream in which an angel commanded him to rebuild a church in a remote village of Syrentsi. He mentioned the dream when he met the Metropolitan of Estonia Alexis, and His Holiness smiled, "It is in my diocese. The village is now named Vaksnarva. I will post you there."
Rebuilding the church
Vaksnarva was a small village right next to Puhtitsa Convent. Frequently, Vasily approached the convents Hegumeness Barbara and prayed before the relics of its venerable eldresses, and he always received help.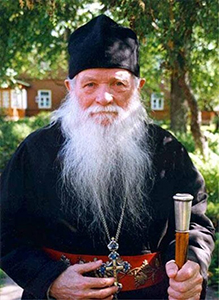 Rebuilding the old mortar church was not an easy task from the beginning. But next to it stood a tiny wooden church where he could serve worship offices. Soon, donations and people began to flow in. The Lord endowed him with the gift of healing people in the body and spirit, and Elder Simeon gave him his blessing to exorcise. Soon, he began to receive the sick from all over the Soviet Union, who donated icons, materials and supplies. His incomes of his parish were enough to hire a team of builders, but Father Vasily wanted to engage the sick in the building works. Among them, there were architects, painters, chefs and seamstresses.
He dedicated one full day in a week, from dawn to dusk, to performing an exorcism on devil-possessed people. Many residents were hostile to the idea of their village becoming a magnet for the mad from across the country and complained about his work to the authorities. The police followed up the complaints with frequent visits, and so did the KGB. When these officers attempted to question him, Father Vasily faked madness, and they left with nothing. He also benefited from some divine intervention. At one point, the authorities decided to close down the church. Expecting them to come the next morning, Father Vasily stayed up all night praying. The heavy snowfall in the morning rendered all the roads to the village unpassable. Even bread was delivered by airdrop from a helicopter. Father Vasily rejoiced and raised thanks to the Lord.
But isolation from the world was too hard on his wife, who abandoned him with the children. But that did not make Father Vasily leave his post. Only once did he decide, in a moment of weakness, that he would no longer practise exorcism and focus, like the other priests on worship and construction tasks. Immediately, he became ill, and the illness did not subside until he reconsidered his decision.
The exorcism
Father Vasily always said, "I am only a servant of God. The healing comes from Him. Nothing happens to a believer without the will of God. Where the Lord blesses the cleansing, the demons will retreat." Many demon-possessed people found healing by Father Vasily's prayers, and the demons fled the tormented bodies of the visitors with howling and screeching; but sometimes, they refused to leave.
One day, a woman came to visit him with her beautiful young daughter. She had brought a large donation for the rebuilding of the church; both agreed to do all the jobs they were offered and worked hard and with great diligence. But when the time came for them to leave, the woman said to Father Vasily, We are leaving in the same shape as we came. Father Vasily was upset and spent the night praying to God to send healing to the girl. In the morning, when she performed the rite of exorcism on the girl, she recovered. She left with her mother grateful for his help. Sometime later, Father Vasily received a letter from the girl's mother. "Father, please pray for my darling daughter. She left home and hooked up with some drug users," pleaded the mother. Father Vasily locked himself up in his cell and cried bitterly. He pleaded with the Lord to forgive him for his boldness and daring.
After that, Father Vasily warned his parishioners in his sermons to submit themselves to the will of God if the exorcism did not work. He said, If you no longer have any illness and let yourself confront the world fully healthy, you may die. Mindful of his warning, he never asked God to grant full recovery to anyone, so they would not stop living in repentance and keep a relationship with God. Freeing his visitors from the evil spirit was never Father Vasily's ultimate task. He considered it far more important to bring his visitor to God, lest the demon goes and takes with it seven other spirits more wicked than itself, and they go in and live there. (Matthew 12: 45).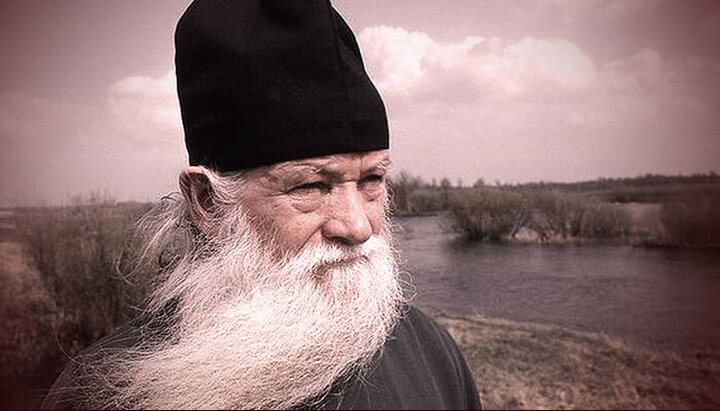 Once a demon-possessed woman came to him. She was holding her hands together cross-wise so tightly that no one could disengage them. All the visitors to Father Vasily prayed and fasted, and worked according to their abilities. Father Vasily also found work for the woman – he asked her to sort potatoes. The woman was living at the church, and after an ardent prayer, the priest finally managed to put her hands apart. But it was a close call – he nearly lost his life. One early morning Father Vasily woke up from the sound of some hard object falling on the floor. He opened his eyes and saw his visitor bent over him and a kitchen knife lying on the floor.
"Why are you here," he asked. 
"To kill you," answered the woman.
"Why didn't you?"
"I pitied you – for what you do – driving out the demons from us," she cried.
For Father Vasily, that incident was a close call, but a source of reassurance. The woman felt remorse and gratitude that were good signs of spiritual recovery.
The demons trained Father Vasily in humility, and this training gave him the strength to defeat them. Sometimes, the demons tried to confuse him. Father Vasily. "You are a man with a reputation," they said, feigning admiration. "You are right, I am a good-for-nothing priest, but I will still drive you out," replied Father Vasily. He often demeaned himself before others.
Full faith in God
Father Vasily worked hard for many years on rebuilding the church, often with no money to proceed with his work. But he never stopped praying or lost his faith in Gods providence for him.
One morning, two builders came to ask for their wages, but he had no money to pay them. So he said,
"Please wait until the evening, I am expecting a postal transfer."
Of course, there was no postal transfer to expect, but he still had the faith that the money would come from somewhere. In the evening, he had the money as he thought.
Father Vasily served liturgy at a regular pace and said long homilies. He tried to keep the people at church as long as possible, saying that the angels were recording every minute spent at church.
In one of his sermons, he narrated the departure of one of his parishioners, a farmworker. When her team were taking a break, she separated from it to read the gospel. She was lying on her deathbed, and father Vasily responded to the call for her immediately. But it was already too late.
Have you done everything to help her? He asked the doctor.
"Yes," he answered. "This handmaid of God always carried her gospel with her, and God will not let her depart without a Communion."
He turned to the dying woman and said,
"Repent," as he began to read out the sins.
At that moment, all the people around her saw two tears roll out of her closed eyes.
"Will you take communion?" He asked.-
She opened her mouth and accepted the Holy Gifts.
"God exists!" exclaimed the doctor and believed in Christ.
The miracle of a tearful prayer and humility
Father Vasily always asked for the blessing of the Lord, the Mother of God and the Saints before embarking on any new undertaking. He had the gift of a tearful prayer, and always practised it when faced with a serious question or not feeling strong enough to complete what he had started. He prayed until he heard the answer in his heart, and received a firm understanding of what to do.
Father Vasily had a great love for the departed and taught others to pray for them. One feast day, he received so many prayer notes for the dead that he had no time or stamina to read out all of them. He fell on his knees, covered the notes with his hands and cried out, Lord, You see cannot read all these notes. Please read them Yourself! As soon as he raised his hands, he understood that the Lord had read all the notes and raised thanks to Him.
One week, Father Vasily was getting ready to perform the prayer of exorcism on his visitors the next morning, but fell ill. He lay down with a high temperature and a bad cough. A crowd of [people had already gathered around the church as he was lying on the floor, coughing and in pain. The people had started to grumble when Father Vasily stoop up with great effort and walked into the altar. There, he fell on the floor and prayed tearfully to God. O Lord, spare me – not for my sake, but for the sake Of all these people who have come. Grant me recovery. The very next minute, he opened the Royal Gates and walked towards the people, joyful and in good health. It was a miracle for everyone.
He performed his last miracle for the people when he was no longer serving. It was a very dry summer. There had been no rain for many weeks. A Moleben was served at the church, but still, there was not a cloud in the sky. Barely able to move around, Father Vasily rose and walked to church. He prayed at the altar, and soon there was rain.
* * *
During his last illness, the day and time of his death were disclosed to him. He also knew that his family would not find him alive. The archpresbyter arrived a few hours before his death to give him extreme unction and communion. He departed to God in peace in the early hours of 17 December 1994.
Among today's attractions of the village of Vasknarva is a tall mortar church with three altars and the Ilyinsky Skete of Puhtitsa Convent, completed as foretold by Father Vasily.
Grant rest, O Lord, to the soul of Your departed servant Vasily and save us by his holy prayers.