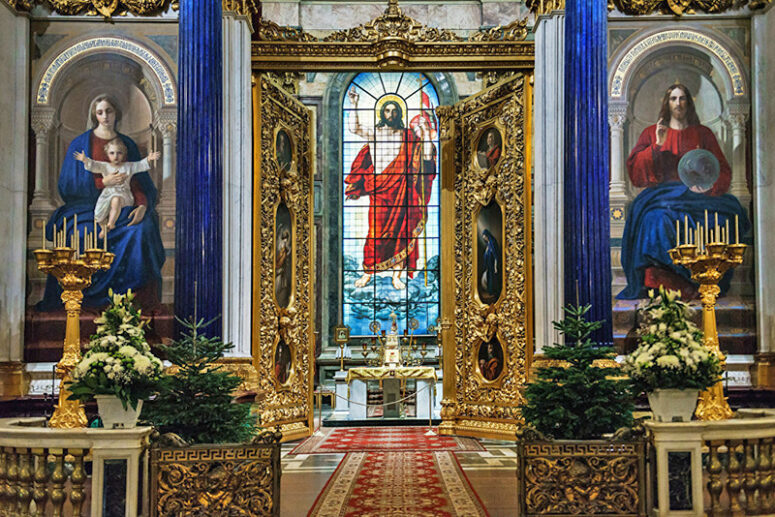 The beauty of stained-glass windows and panels made of multi-colored transparent glass has always been impressive. Today, works of stained glass art can be found in all sorts of buildings, but initially they were used exclusively to decorate Christian churches. Why did this tradition mainly develop only in Catholicism and in what form was it adopted by the Orthodox Church? In this article we will tell you about some interesting facts and monuments of Orthodox stained glass art.
The Emergence and Spread of Stained Glass Art
The exact time of the appearance of stained glass remains questionable, since the use of decorative glass has been known since the times of Ancient Egypt and Ancient Rome. 
It is assumed that stained-glass windows in the form of bright multi-colored glass mosaics appeared for the first time in the decoration of Byzantine churches, the main of which was St Sophia Cathedral in Constantinople (6th century). In the 10th century, stained-glass windows depicting people, animals and flower arrangements began to appear in Catholic cathedrals and churches. New techniques of painting and burning glass, appearing at that time, provided high color stability. The "Head of Christ" kept in the Wissembourg Abbey in France (1060) is the oldest surviving stained glass image.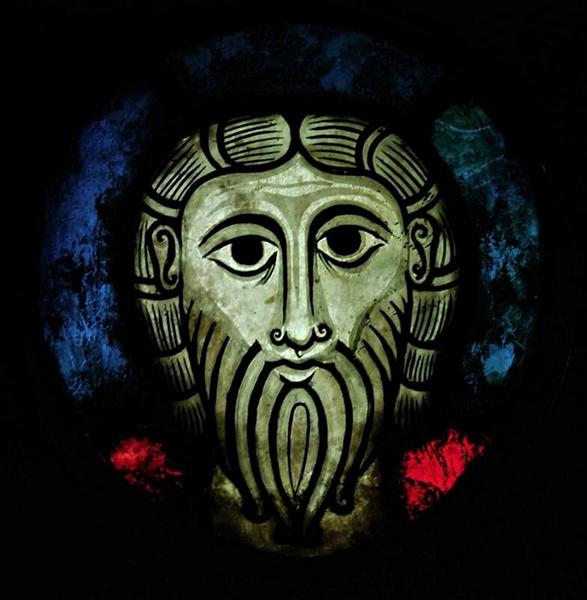 Stained Glass in Russia
Stained-glass panels did not become widespread in Orthodox churches, whose windows were usually small and narrow, due to climatic conditions and the Ancient Russian practice of building churches that could be also used as fortresses. 
Сreating sacred images in stained glass technique has not been approved in the Eastern Christian Church since the time of the Seventh Ecumenical Council (8th century). In his work titled On Holy Icons Venerable Maximus the Greek wrote that the holy fathers commanded to paint icons "on any wood or stone, as well as church pillars, walls and vessels" that is, on solid and durable objects. St Maximus considered writing holy icons on a material as brittle as glass "improper and unthinkable".
Stained-glass windows returned to the Russian Orthodox church only in the 18-19th centuries. During this period, the culture and architecture of the Russian Empire was strongly influenced by Europe. This was especially true for St Petersburg where Catholic and Lutheran churches were built in the Romanesque and Gothic styles with the use of stained-glass windows. Due to their close association with Gothic style, stained glass panels appear in the rare Gothic Orthodox churches built in Russia in the nineteenth century. Later stained-glass windows also blended quite seamlessly into the Byzantine style.
One of the first iconographic stained-glass windows in Russian temple architecture is the surviving altar image of the Savior in St Isaac's Cathedral in St Petersburg (1858) that prefigured other behind-the-altar stained-glass images in Russian churches. Its appearance was caused by the need to add light to the otherwise dark altar space, as well as the desire of Tsar Nicholas I to have glass images and windows with paintings in Russian churches.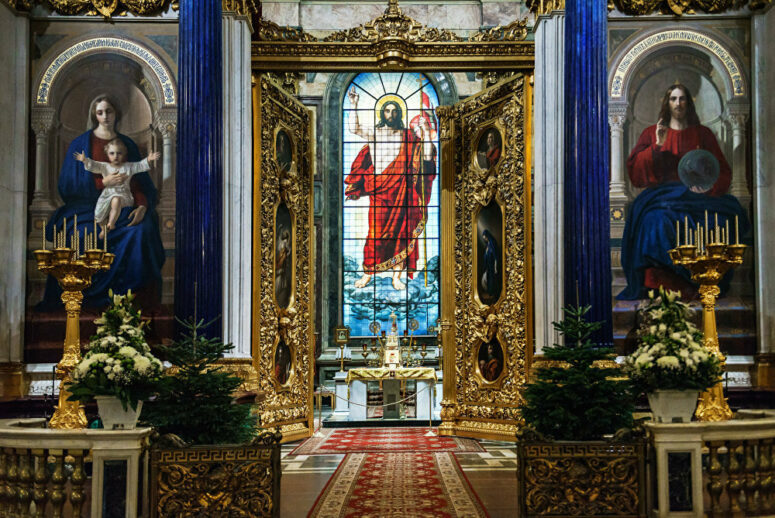 Another unique monument of stained glass art is the iconostasis in the Church of the Beheading of St John the Baptist in Kharkov. It was originally made in Munich in 1905 and designed for the house church of A. Yuzefovich, the owner of the local newspaper.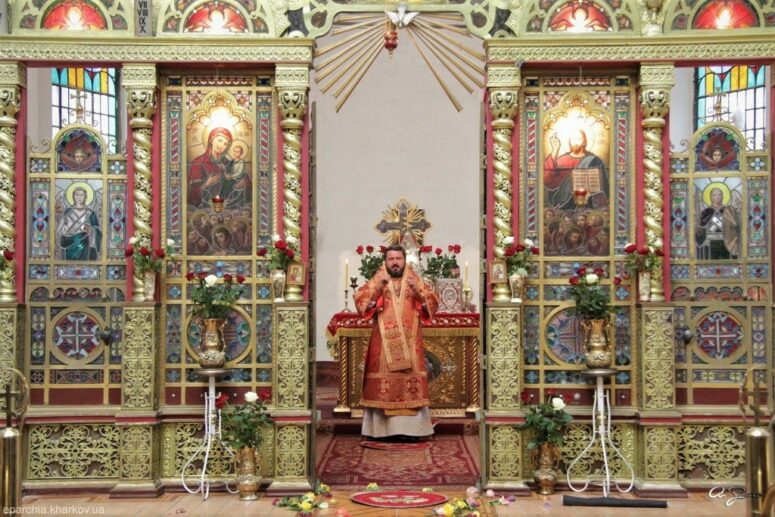 Two realistic style glass icons depicting St Michael Maleinos and St Anna the Prophetess are known to have been discovered in 1839 in the treasury of the Nativity of John the Baptist church in St Petersburg. A glass image of the Nativity of Christ is also known to have been kept in the church of the Imperial Porcelain Factory.
Stained glass was especially widespread in decorating the houses of the nobility and wealthy individuals of that time, while its use in office buildings and public facilities was less common.
Having learned the stained glass technique from Western master craftsmen, Russian artisans began to open and develop their own workshops. After the end of the 19th century, Russian church stained glass art became more and more distinctive, gradually freeing itself from Western influences. 
Contemporary Stained Glass Christian Art
Contrary to the expectations of our ancestors, today we see that with careful handling, stained glass windows remain practically unchanged after a thousand years. The properties and color saturation of glass do not change under the influence of time, changes in humidity and temperatures, as well as sunlight. On the contrary, the sun rays reveal the enchanting beauty of glass souvenirs and stained-glass windows.
Today, stained-glass windows can be seen in a variety of buildings. Ornamental patterns and images made of stained-glass are still rare in Orthodox churches. 

Our glass souvenir workshop has successfully tried itself in this field and offers various stained glass products to be used in architecture and interior design. Our experts create custom-made stained-glass windows for Orthodox churches in Belarus and abroad. 

Our workshop makes hanging stained-glass panels, as well as souvenirs with biblical subjects, images of the Mother of God and famous saints. These items are designed to become inspiring and truly unique church and home decorations.