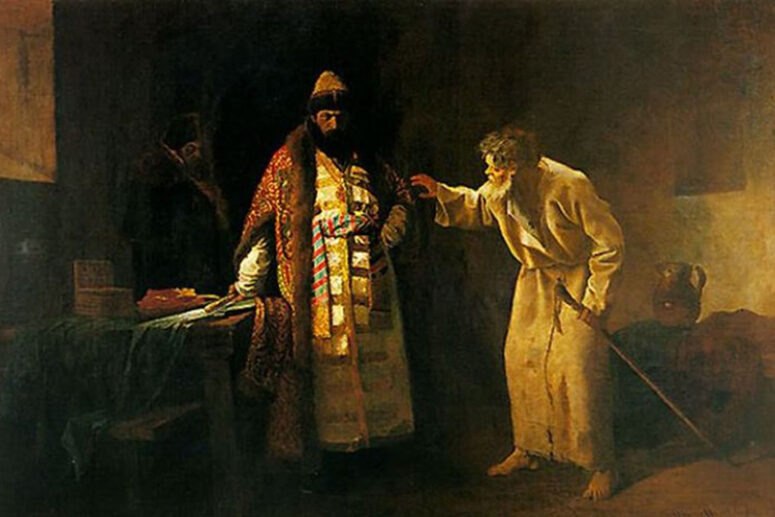 Holy fools lead a very unusual way of life, renouncing worldly wisdom. Their biographies often include very controversial facts, making the reader wonder why this person is generally considered a Christian, let alone a saint. For example, St Basil the Blessed threw stones at icons and once overturned a baker's tray in the market, and Blessed Simeon used to trip up passers-by causing them to fall over.
However, ordinary feeblemindedness is a far cry from foolishness for Christ's sake. "There are thousands of fools for their own sake and only a few fools for Christ," Venerable Seraphim of Sarov once said.
A holy fool challenges the norms accepted by contemporary society to reveal their deviation from Christian values. For example, after Basil the Blessed overturned a tray of rolls, the merchant admitted that he had been adding chalk into the flour. 
The phenomenon of foolishness for Christ originates from the Holy Scripture. "For the wisdom of this world is foolishness with God" (1 Cor. 3:19); "Blessed are the poor in spirit, for theirs is the kingdom of heaven" (Matthew 5: 3). A holy fool can be distinguished from a mentally ill person by his struggle with his own pride, considered the root of all other sins. Humbled before people, a holy fool hides his virtues deep within himself, pretending to merely be flouting society's conventions.
In doing so, he denounces the world's deviation from virtue, trying to guide it on the path of correction. Revealing a particular vice to society, he seems to be taking the responsibility for it upon himself, suffering for people, similar to Christ. Challenging the 'letter' of social norms, a holy fool draws people's attention to their 'spirit'.
This put-on madness makes a holy fool an object of derision and sometimes beatings, but he will never grumble or answer to them in any way. On the contrary, fools for Christ pray for their offenders. This helps them achieve even higher humility. Foolishness for Christ is a radical path to holiness.
It is rather hard to say when this path was first discovered. In fact, even the early Christians put themselves in a certain conflict with the world, denouncing it. Some deeds of the Old Testament prophets can also be compared to some of the holy fools'. Hosea married a harlot (Hos. 1: 2), Isaiah took off his clothes and walked around naked (Isa. 20: 2), Jeremiah wore a yoke around his neck (Jer. 27.2), Ezekiel lay 390 days on his left side and 40 days on his right side ( Ezek. 4: 4-6), eating bread made from cow dung (Ezek. 4:15).
In the very first centuries after the birth of Christ, the very phenomenon of Christianity was perceived by the world as foolishness, because believing in something like the resurrection of Christ was pure madness from the standpoint of conventional wisdom (1 Cor. 1:22). Thus, in response to St Paul's preaching about the Resurrection, his listeners said, "You are out of your mind, Paul!" (Acts 26:24).
In the traditional sense of this word, however, foolishness for Christ could only appear in a Christian society, since denouncing it for not following Christian norms is possible only as long as Christianity is the norm. Foolishness for Christ, as we know it today, arose in the 6th century, after Christianity became the state religion in Byzantium at the end of the 4th century.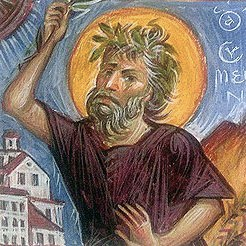 Simeon the Holy Fool is considered the first fool for Christ. He returned to his hometown after spending 30 years in the desert near the Dead Sea. There he played the fool, denouncing sinners. Here is what his hagiography says about him: "He would claim to be lame and then he would run, skipping or crawl on his behind. He used to trip up hurrying people, causing them to fall over. In the dark of the moon, he would look at the sky and then fall on his back, jerking his legs and shouting something. According to him, such behavior perfectly suited those who show themselves to be holy fools for Christ's sake. In such a manner, he often denounced sins and turned people away from them. He could get angry at someone to admonish him; he made predictions and did whatever he pleased, often changing his voice and appearance ".
Clearly, such seemingly insane actions were far from conventional and often incomprehensible. And yet, they served to do good. For example, Simeon once took a log and smashed a jug of wine in a tavern for no reason. The innkeeper got angry and beat the holy fool with the same log. Later it became known that the jug was poisoned. After that, the owner began to venerate Simeon as a clairvoyant seer. But Simeon did not accept any respect for himself, and soon entered the innkeeper's wife's bedroom and began to undress. The innkeeper beat Simeon again and returned to considering him an ordinary madman.
Basil the Blessed was also sometimes beaten for his seemingly blasphemous actions. One day he began throwing stones at a particularly revered icon, hanging on one of the Moscow gates. People decided to find out about the reasons for such an act only after beating the saint. Basil called the icon "the devil's muzzle" and asked to scrape the top layer of paint off it. As it turned out, under a layer of paint was an image of the devil. In a similar way, other "wild" acts of the holy fools also had a spiritual foundation, hiding behind the external ugliness the degree of spiritual beauty that makes it absolutely impossible for a person to live in the world by its rules.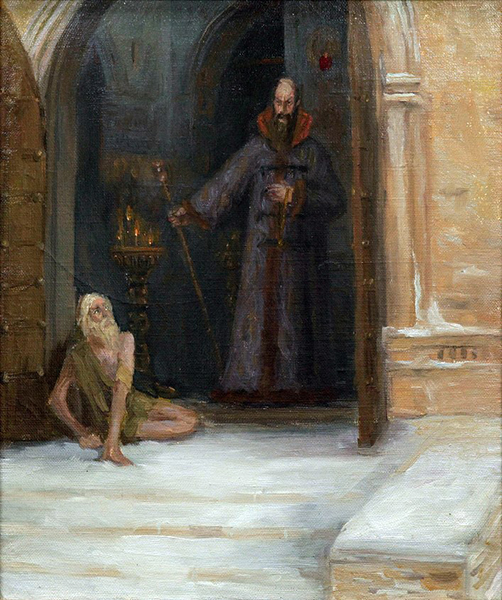 Ultimately, foolishness for Christ is the embodiment of the non-worldliness that the Savior speaks of  in John 15:19. After all, the Lord's very ministry was foolishness to the world, but "…God chose what is foolish in the world to shame the wise" and "what is weak in the world to shame the strong" (1 Cor. 1:27). In this aspect, holy fools can be considered direct 'heirs' to His ministry.