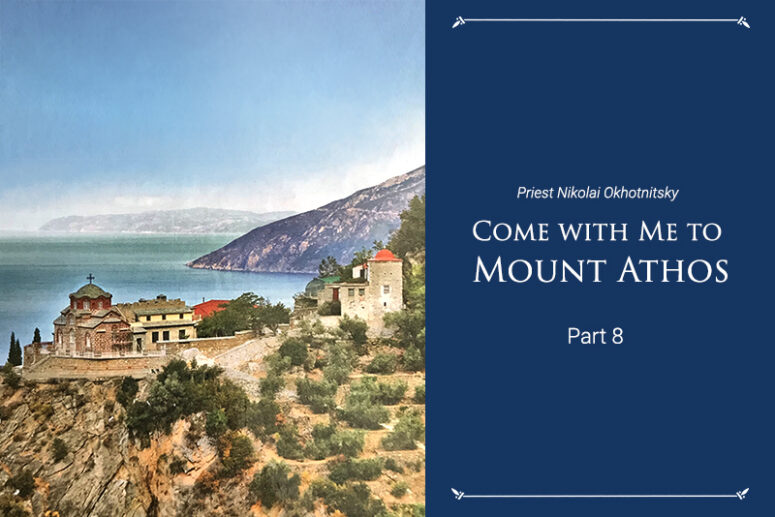 In Ouranoupoli
At 14 o'clock we returned to Thessaloniki airport and met with Georgievich, who had flown in from Moscow. Then we boarded a comfortable coach (also provided by Mouzenidis) and headed towards the town of Ouranoupoli, our final destination in Greece and the entry point to Mount Athos.
The classic Greek landscape, streaming past our windows, was pleasing to the eye. The olive groves and bright vegetation were dashed with roadside gas stations and small factories advertising their own products. It was no less than 30 degrees Celsius outside, and no more than 20 in our passenger compartment (glory to the miracle of air-conditioning).
From the moment I boarded our Boeing, I kind of put all my senses into a 'special' mode. I had no intention to write anything, but I was going to share my impressions of visiting the earthly dominion of the Most Pure Theotokos with my family, friends and parishioners. I realized that there were many people out there who could not afford such a pilgrimage, while for others it might simply not be an issue. In any case, I hope that my story will allow these people to visit these blessed places at least imaginatively. With that in mind, I tried to remember everything. The color of the grass on the side of the road, the faces of the people I met, the architecture and the local cuisine were equally important to me. However, it became clear to me right away that my language is too poor to convey my spiritual experiences.
In the meantime our bus climbed a mountain and rolled down to its bottom, making a loop around it. Somewhere in the distance we could already see the glittering of the Aegean Sea. We were expecting to see Athos behind every turn. But after each turn there was another turn, and after each descent there was a rise. It continued in this fashion for almost three hours until finally everyone simultaneously saw the old tower at the Ouranoupoli pier, familiar to all from the photographs. The Russian "Look, we are already approaching!" rolled across the coach. Apparently, all the passengers were tired of the road. Stretching our necks, we were looking in suspense over the heads and backs of the seats at the final point of our journey for that day.
The bus stopped right outside the tower. There, on the shore, there was a small square, to which several streets converged, entirely consisting of shops and restaurants. All the buildings had two floors.
We were accommodated in the comfortable double rooms of the Macedonia Hotel and left to ourselves. 
My Experience with Pyrography
I was ten or eleven years old when my mother asked me:
– What should I give you for your birthday?
– A wood-burning kit! – I didn't hesitate for a second. I mean, what else could a normal boy possibly need?!
– How much does it cost, and what will you be doing with it? – All mothers are very pragmatic.
– Six rubles (oh my, I want these prices back!) I will be burning wood and making gifts for everyone. It's such a beautiful gift idea to burn something on a piece of plywood and then varnish it…
– Good. – As a teacher, my mom was familiar with the postulate that it does not matter much what floats your child's boat, as long as it keeps him busy, you know… She gave me six rubles, and the problem of giving me a birthday gift was solved. On my way to the store I met my classmate and friend Mishka Kachanov.
– Mishka, let's go buy me a wood-burner!  – I needed company.
– Sure, – answered Mishka.
The kit was sold by one of the shops downtown. We were about 20 meters away from it when we decided to drop into an athletic store, since we were already there. Walking along the aisles with sports equipment, we were looking at dumbbells, balls, swords and other great things.
Finally Mishka saw a snorkel mask with a set of fins and a pipe. He narrowed his eyes dreamily, then he sniffed anxiously and finally uttered:
– Why do you need a burner?! Useless thing. No match for this snorkel mask…
Effortlessly and instantly he introduced me to an imaginary fantastic underwater world and … I never bought the wood-burner… On the following day, Mishka brought a shabby spearfishing magazine to school. A day later he also bought the same accessories. Our third friend Sasha Prokopovich was left with no choice but to follow our example. It turned out that he too was an avid spear fisherman, only he didn't know about that until the time came. Sasha's birthday was in April, but his mother's reasoning was almost like mine, and soon Sasha also acquired basic diving accessories.
We were waiting for the snow to melt while gathered in the basement of our house and dreaming of treasures and spearfishing. We even started making spearfishing guns. As soon as it got a little warmer outside, we immediately got into the icy water of the abandoned quarry nearby and began to conquer the mysterious aquatic environment.
I remembered all this as I was looking at the snorkel mask that I took out of my backpack pocket among other things spread hastily around my room. The romantic spirit of my childhood was still in my blood, while the Aegean Sea splashing within some 100 meters was a "Yippie Yay!" compared to any quarry.  All my companions also thought so.  
Translated by The Catalogue of Good Deeds