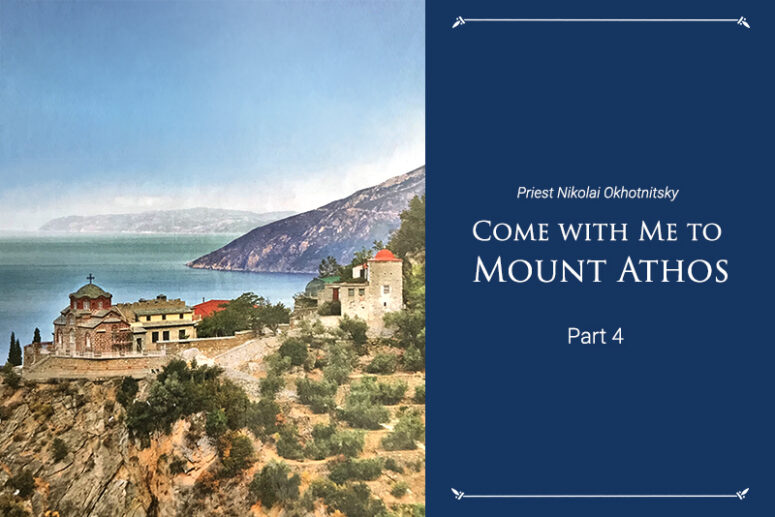 My Companions
There is a real writer among my Orthodox friends. He lives in Moscow, and has been to Athos multiple times. He draws his inspiration there and uses it to reveal secrets of modern conspiracy theories. My friend is "terribly" popular in certain circles and was the first on my list of candidates for the pilgrimage. But he was also the first to leave it due to the work that he was doing in connection with the planned release of his new book. But he agreed to coach me via email. Below are some excerpts from his recommendations, which came in numbered form and could well be titled Athos for "Dummies", which, in my case, makes perfect sense.
"Dear Father Nikolai. I just arrived in Moscow and will try to answer point by point.
There will be summer heat in September. You will need warm clothes only if you plan on climbing the mountain. What you will definitely need is boots with thick soles for walking on rocky soil. You also need a flashlight and a knife to cut a walking stick with. Alternatively, you can buy a stick in Ouranoupoli. You will need it if you want to walk around Athos.

EUR 200 should be enough pocket money to take with you, but it depends on how many souvenirs and holy items you buy. The main thing is not to rush to buy everything at once. If you need something exclusive and inexpensive, consider buying it in the Greek monasteries. Souvenirs are sold in Daphne, Karyes and pretty much in all monasteries. If you are after painted icons (not cheap), try looking in Burazeri near Karyes.

Do not take food with you. The Mother of God will not leave you hungry on Mount Athos (personal experience). You can take nuts and such for amusement.

I have never been able to follow the planned route; do not even try. Once you are there, everything will happen not by your will. Although a lot depends on the length of your stay. It is best to start with sailing from Ouranoupoli to Daphne, and then immediately take a bus to Karyes where there will be minibuses waiting. I would go to Vatopedi, Iviron or the Great Lavra and continue from there on the following morning, either on foot, or on the same minibus (buy a map in Ouranoupoli and explore).  They will explain their schedule to you in the Vatopedi hotel (the arkhondarik). They will feed you and then there will be an evening service, after which the relics will be brought out for worship. In the middle of the night, the mallet will wake you up for the Liturgy, which will end in the morning. Then there will be a meal, and after that at the gate you have to get into one of the vehicles and continue your pilgrimage. Find Russian speaking monks. They will tell you which monasteries you can go to in the morning, otherwise you may run into difficulties understanding the Greeks. If there is an appropriate car, go to the Lavra; if not, try Iveron, Karakallou or Filotheou (they are all on the same side of the peninsula with Vatopedi).

You don't need vestments on a pilgrimage, but it's better to wear a cassock and a light vest. Wear a rhason in church. They show special respect for priests, in particular, when checking you in at a monastery hotel.

It will be great if you manage to climb the Mountain. This can be done once you are at the Lavra. If your route unfolds differently, you can dock at St Anne's skete pier, spend the night there and start your ascent early in the morning.

You will see how the Mother of God will take care of everything necessary.

The hiking times vary depending on your pace of walking. The shortest time is forty minutes, but on average it takes two or three hours (in a few cases we had to walk for as long as seven) to get to the nearest point.

"Pu inee" – where is it, "ecclesia" – the church, "spilio" – the cave, "lipson" – the relics, "parakalo" – please, "eulogite" – bless (pious greeting), "oh kyries" – may the Lord bless (pious reply).
Hugs, feel free to ask more questions. Love to family and all good people. Y.V."
So, the writer was out. I called my spiritual children who could afford to go on a distant pilgrimage. Finally, a team of four people was recruited, Igor, Valera, Georgievich and myself.
Igor is a reputable and serious person. At one time he was some kind of a deputy in his city. Valera is a character from a Russian fairy tale, lying on his stove and reading books. Sometimes he is distracted by family responsibilities around the house and helping his very energetic wife with her work. He "has chosen the better part", while his wife, who is truly a loving person, is ready to "pull the weight", which doesn't really seem to bother her. Valera is from Minsk.
Georgievich is a lawyer in Moscow. Intelligence, charm and nobility are his main qualities.
Remembering my tourist past, I took charge of the 'training camp'. We assigned responsibilities in our group, including navigator, commander, doctor, and chronicler. I "modestly" accepted the post of navigator and commander. Georgievich was appointed the group doctor. He approached his duties with all due responsibility and took lessons from all pharmacists in his neighbourhood. His dimensionless backpack held medicines for all occasions and then some.  We introduced one more position that we reserved for Valera. It could be best described as something between a bag-holder and a whipping boy-in-charge and fit him perfectly. Igor became our chronicler. Chronicler is a non-binding position; preliminary training is optional. But his household chores were towering over him, threatening not to let him go anywhere, and he had to be provided with a public assignment. 
The departure date was determined without difficulty. We chose the time following the Feast of the Exaltation of the Holy Cross. This time works great for a village priest since there are few people in church (because of the harvesting). We spent the days before departure surfing the Internet, making plans (and then back-up plans) and having phone conversations with one another.
Translated by The Catalogue of Good Deeds