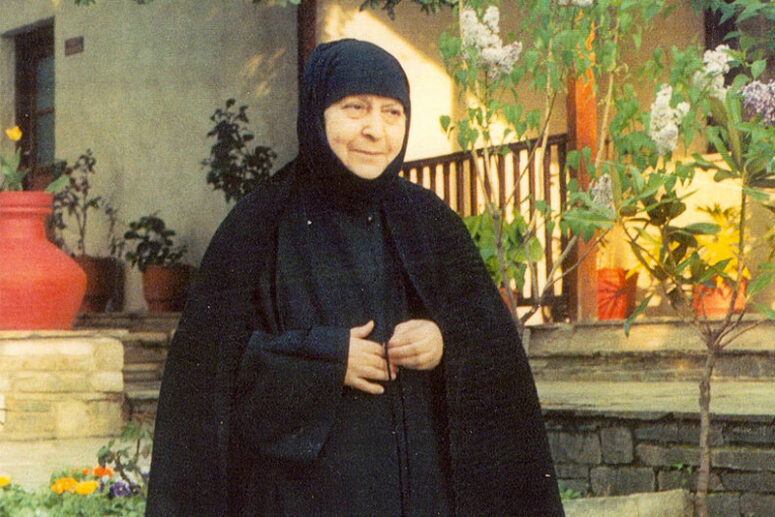 On June 4 we honor the repose day of blessed Gerondissa Macrina (in the world, Maria Vassopoulou), abbess of the Panagia Hodigitria Monastery near Volos, Greece, and spiritual daughter of Elder Joseph the Hesychast and Elder Ephraim of Philotheos (and Arizona) (Moraitissa). Eldress Macrina acquired numerous spiritual gifts and was worthy of very lofty spiritual states.
Chosen of God from her mother's womb
The blessed eldress experienced many sorrows—her parents' untimely death, mortal illnesses, hunger, the horrors of war, and hard physical labor.
She was chosen of God from her mother's womb. When Maria was only seven years old, during prayers with other children she heard an inner voice calling her to the angelic life of monasticism. At that same moment, the girl experienced a divine presence in her heart and began to weep with copious tears. She left her friends, ran home, and fell weeping before the holy icons.
On the same evening, after her father had returned home, Maria told him that she would like to become a nun. When her father asked whether she knew what it meant to become a nun, his little daughter didn't answer. Then he understood that this was a call from God. He smiled at Maria, and strengthening her holy desire said, "Be a good nun, my child!"
How Maria was healed from a mortal illness
From her earliest childhood, Maria always had great reverence for the Most Pure Theotokos. During the German occupation, the girl was diagnosed with pleurisy. Once she was sitting alone in a dark room, dying from hunger and praying to the Mother of God, peacefully waiting for her to take her from this life. At a certain moment the room was filled with light, and Maria saw a nun who came up to her and lovingly promised to heal her. In a moment the pain and feeling of hunger disappeared, and Maria felt as if she had just eaten a satisfying dinner. After this miraculous vision she was also healed of that serious case of pleurisy.
"I have never seen such pure thoughts in any other person."
The blessed eldress was closely acquainted with several Greek ascetics of piety, several of whom have recently been glorified as saints by the Church. When she first met the now canonized St. Paisios the Hagiorite and made a full prostration to the ground before him, the elder responded quickly by making a full prostration before her. He would not rise until the eldress rose first. St. Paisios reposed only two months after blessed Macrina's soul had passed to eternity. When he heard about the blessed nun's reposed, the saint said, "there will not be another one like her."
The blessed elder Iakovos (Tsalikis) of Euboa said to some people who lived near Abbess Macrina's monastery, "If I were you I would walk every day to the monastery to receive a blessing from Eldress Macrina before going to work." St. Porphyrios of Kapsokalyvia and Elder Ieronymos of blessed memory both also spoke very highly of Gerondissa Macrina.
Elder Ephraim of Arizona wrote of blessed Macrina: "She was an extraordinarily virtuous person and was distinguished by her humility, meekness, attentiveness, and ceaseless prayer. She had a wondrous purity of mind. I have never seen such pure thoughts in any other person."
Abbess Macrina's monastery became a "divine nursery".
Thanks to Abbess Macrina, the Panagia Hodigitria Monastery became a "divine nursery", out of which grew several new monasteries in the U.S. and Canada. Today in the Greek Archdiocese of North America there are already ten convents, and all of them trace their history to St. Joseph the Hesychast.
Five stories of the blessed eldress Macrina.
We would like to share with you, dear readers, several stories that blessed Macrina related to her spiritual children for their edification.
The first story, about the pious widow
One day a widow heard someone knocking at her door. When she opened it she saw a young, pregnant woman whom she had never seen before. The woman said to her, weeping, "You are my mother, you are my protector, you are my salvation!" Without any hesitation the widow let the woman into her home and over the next few months secretly took care of her. Every evening when it was dark outside, she took the woman out for a walk so that she would remain strong and healthy, but in such a way that no one else would see her. Not long before the woman gave birth, with her consent the widow found a pious couple who agreed to adopt the child.
Soon afterwards, the widow's son, who lived in America, contacted her and asked her to find him a good and pious girl to take in marriage. His mother asked him to come to Greece as soon as possible, because she had found him a wonderful girl whom he could marry. Before introducing him to the young woman, she told him all about how she had met the girl, and that she had given birth out of wedlock.
At first the son was disturbed, because he couldn't believe his mother would choose a bride for him who had already lost her purity. But she was able to convince him that this was God's will and that they would live happily together. So, the marriage took place in the widow's village, and then the son returned to the United States with his young wife.
During that year of 1919, a flu pandemic broke out in Europe resulting in 20 million deaths, and the pious widow became one of those victims. Since her son could not arrive in time for his mother's funeral, he decided to come when her body would be exhumed after three years for internment in the ossuary (according to the Greek tradition).
When three years later they were nearing the place of burial, the air was filled with a wondrous fragrance that everyone noticed. But that was not the entire miracle: God had covered the widow's bones with a filigree of pure gold. When her son's wife saw this she fell to the ground on her knees, broke into tears and said to all, "This is because she protected me!" When this became known, a multitude of people came from all over Greece to venerate the pious widow, and they became the witnesses of this event. This included many bishops and priests!
How many wounded souls Gerondissa Macrina "protected" with her unconditional love! And how many more does she continue to protect with her constant intercession and prayer for us before the heavenly throne of God!
The blessed eldress always taught her sisters and those who came to her for spiritual advice to give glory to God for all things: for the so-called good and the so-called bad. Here is a story she related regarding this:
In one of the villages near her monastery there lived a pious couple who had a ten-year-old son. Their next-door neighbor was an old woman with an intolerable personality. She was constantly berating everyone, angrily and unfairly scolding her neighbors, and when their son would return from school she would throw sticks and stones at him.
One day the father turned to God with fervent prayer and decided to ask Him how to deal with that old woman's bad temper. The Lord answered him, "She will live another thirty years!" And what was the man's response to this news? He unmurmuringly said, "Glory to God!" He shared God's answer with his wife and she likewise said, "Glory to God!" When the son came home from school and heard the news about God's answer to his father's prayer he also said, "Glory to God!"
The next day, total silence reigned in the old woman's house. She did not go outside to pour out her wrath upon her neighbors. The father went to see how she was doing and discovered that she had apparently died in her sleep. He began to pray to God in order to understand how this could happen, and the Lord said to him, "When you answered, 'Glory to God!' I shortened her life by ten years. When your wife gave the same reply I took away another ten years. And when your son said the same thing and also glorified Me, I took away the final ten years of her life."
The third story, about the need for struggle with the spirit of contradiction
There is another story that Eldress Macrina often retold about the prophet Moses. When Moses was with the Israelites in the desert, they were dying of thirst. God commanded the prophet Moses to strike his staff against the rock so that a spring of water would come out. The prophet doubted: "Is it possible for water to come out of a rock?"
During her pilgrimage to the Holy Land, the blessed Eldress Macrina went to find this place. She called it the "rock of contradiction.
Moses did not show immediate obedience to the Lord—he showed it late. Afterwards the Lord said to him, "Because you gainsaid Me you will never enter Canaan, the Promised Land."
The eldress said that we should war with the spirit of contradiction and try to always show obedience. That is why obedience is the first and foremost thing taught in a monastery.
This story was told by the eldress's spiritual daughter Alexandra Lagou, professor of medical history at the University of Medicine of Ioannina in Greece. One of blessed Macrina's favorite teachings was about God's great goodness—it was often found in her talks. She often spoke a great deal about patience. I remember how she taught me with her characteristic gentleness. "Is there any end to God's great goodness? No! So should human patience also be endless."
I remember, after 1992, when blessed Macrina went to America to see Gerondissa Taxiarchia of blessed memory. The flight over the ocean that lasted many hours produced such a strong impression on her that later she said to me, "What a miracle that is: You fly and fly, and beneath you is nothing but ocean! God's great goodness is endless like the ocean. So should human patience be endless, like the ocean."
Many times at the end of our talks I would incline my head on her knees so that she would bless me, and she would bless me and say, "Like an enormous ocean, like great rivers and valleys, may the Lord grant us so much patience." At the word "patience" she would use the plural. She would also say, "The grace of patience is the strongest grace," because patience is at the foundation of all virtues. We cannot perform a single virtue without patience.
The fifth story, about Maria's miraculous healing
Many of blessed Macrina's instructions point to the primary importance of prayer, especially the Jesus Prayer. The eldress often emphasized the acute need for us to have "spiritual assertiveness", in praying the Jesus prayer and in the reading of our daily prayer rule. Here is one of her favorite stories, which she would relate when talking about prayer.
One woman named Maria had a stroke, after which she remained totally paralyzed below the waist and to some degree on her upper right side. Eldress Macrina had taught her five years before her stroke to repeat the Jesus prayer and the prayer, Most Holy Theotokos, save us" as often as possible throughout the day, and when some essential need has arisen.
So now, confined to her bed and motionless, with her prayer rope in her left hand, Maria ceaselessly, with pain and boldness, called out, "Most Holy Theotokos, help me!" and "Most Holy Theotokos, save me, a sinner!"
After several days of this heartfelt prayer, one time the Most Holy Theotokos appeared to her during her prayers. She was radiant, bright as the sun, and followed by a multitude of Angels and Archangels; and Maria felt that the Mother of God literally covers and protects the whole world!
The Most Holy Theotokos said with her heavenly voice, "Maria, my child, what can I do for you?" This pious woman at first asked her to give her back her ability to turn from one side to the other, because she was in great pain. But then she started begging, "In fact, most of all I want to be saved. I thirst for salvation, and that's why I am calling out to You." And our most kind Protectress replied, "I will give you what you ask; that is what I came for, because you called to me day and night. I want all of you to call to Me! Call out to Me constantly, and I will hear you and come to you."
The entire room and the whole house were filled with radiance and a heavenly fragrance that came from the Mother of God. But in the words of the blessed Eldress Macrina, all of this woman's family members were witnesses to this living miracle. The heavenly fragrance remained in the house for many days, especially in the sick woman's room. Maria's face shone with the grace she had received. She not only began gradually to turn from one side to the other, but in just a few days she was completely healed and rose from her bed of pain.
At the end of this story, Gerondissa Macrina concluded that the Most Holy Theotokos wants for EVERYONE to call upon Her for help. The eldress said, "What did she say? 'I want you all to call upon Me. I want you to call me, and then I will hear you and come. I want you to call to Me, 'Help me, Most Holy Theotokos, Most Holy Theotokos save me, Most Holy Theotokos save my child,' and tell Me everything you want from the depths of your heart'."
The blessed eldress showed through this story that the Most Holy Theotokos WANTS for us to turn to Her and She promises us that She will help us by her presence!
Through the prayers of blessed Gerondissa Macrina, Most Holy Theotokos, save us!