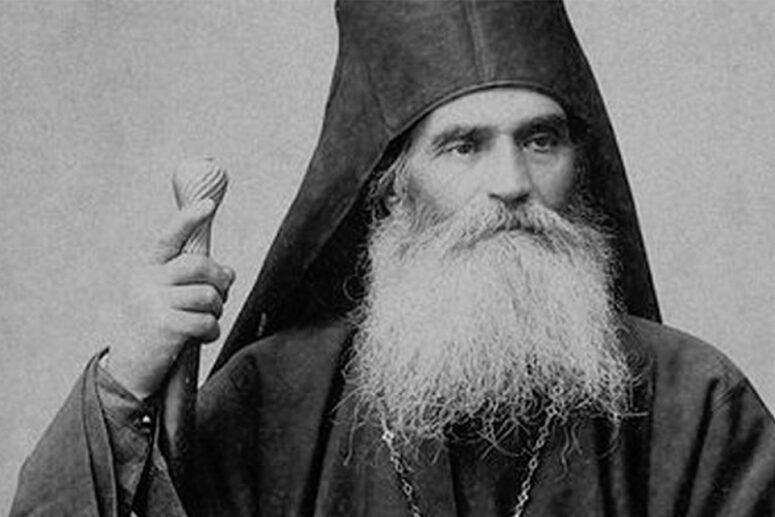 Elder Ephraim visited elder Athanasios regularly in his cell and confessed to him his intentions. The Hegumen once said to him: "You will be saved by your regular confessions". One day when Ephraim was confessing to the Hegumen, both heard some angry cries. When they walked out of the cell, they heard a monk protesting angrily with the Hegumen who had hung out his washing on a line above his floor. Drops of water from the washing were falling at the monk's door. The Hegumen did not respond. "Here's a penance for you, Monk Athanasios," he mumbled quietly as he cut the line on which he had hung out his clothes to remember not to use it again.
Elder Athanasios, the righteous Hegumen of the Gregoriou Monastery of Mount Athos, advised: "Perform the monastic rule today, lest you should have to perform it bed-ridden with an illness." In his younger years, Elder Athanasios performed two monastic rules per day instead of one.
He kept the second one "on reserve" for the time when he would no longer be capable of performing the rule because of old age.
One night, Hegumen Athanasios saw in his dream a departed hieromonk and asked him,
"How have you been, my child? How have you withstood the ordeals?"
"Elder," replied the monk. "As far as my monastic vows were concerned, our Lord Jesus Christ was merciful. But as a priest, I had great difficulty. Our Lord led me through the ordeals without any condescension.
Father Dionisios Sionidisis, a doctor from Thessalonica, visited Gregoriou Monastery as a student. He asked Hegumen Athanasios for his spiritual advice and instruction, as he was afraid that he might not see him next time. The Hegumen replied, "You are right, my child. You will not see me next time. However, we have just been at an all-night vigil, and we are both exhausted. Let me tell you one thing: always act in keeping with Christ's commandments. If you do, we will both go to heaven, and meet again. We will have plenty of time to talk over there. Here is my other advice: come to Mount Athos regularly."
When Father Dionisios visited Gregoriou Monastery a year later, the hegumen had already departed. Hegumen Athanasios died as a venerable saint. He had foreknowledge of the day of his death. He said to the fathers of the monastery, "I will depart in three days". Everyone visited him at his cell to ask him for forgiveness, and he asked each visitor to forgive him. Three days later, on 28 December 1953, he surrendered his sainted soul to the Lord during the singing of the Akathist to the Holy Theotokos. He was eighty years old. May his blessing and prayers be with us.
Translated by The Catalogue of Good Deeds
Source: https://zen.yandex.ru/media/orfograf/iz-jizni-afonskogo-starcaigumena-afanasiia-grigoriatskogo-608ba8d834055e2cb3fa9e88