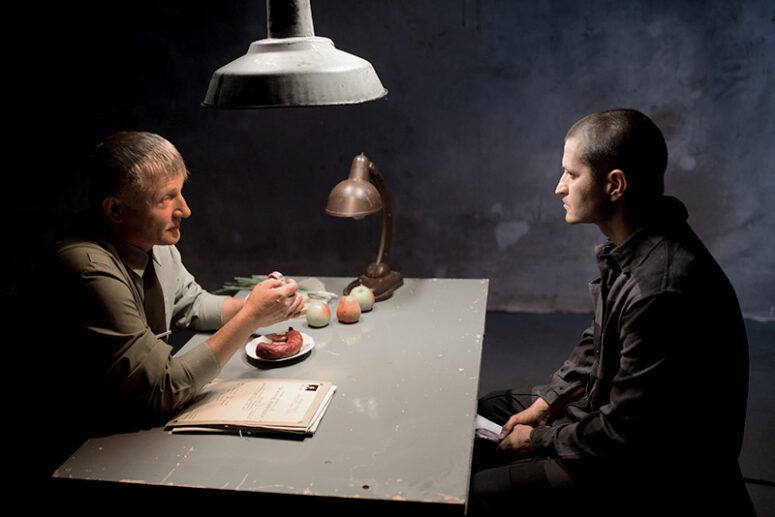 A man of advanced age is sitting in the KGB interrogation chamber. He is a believer in God. The KGB officers have been trying for hours to get him to cooperate, but he refuses. As a last attempt to change his mind, an officer says to him:
Tell me honestly – what benefit have you received from your God, in whom you believe so fanatically? You have a big family, and your children are walking about in rags. Your wife is always pregnant. But you are still adamant. Does it make sense? Do you know that you might never get out of here? Who is going to support your wife and children then? Sign this paper, and it will change your life. You will have a decent job, an income and everyone's respect. Your children will go to university.
The man replied, "Fine, I will sign your paper – on one condition."
What condition?
Do you have children?
Yes. My son is going to be twenty-two, but how is it relevant?
You let me torment your son to death, and you promise not to take revenge but to forgive me for it. You will tell me that you love me and promise to protect me and my family day and night and provide for all our needs. You will give me everlasting life and resurrect your son from the dead on the third day to make us believe it. If you do all that, I swear to you that I will do for you everything you ask. Moreover, I will address you publicly as my Lord, and I will give my life for you if needed.
The officer listened silently. Then he rose and said,
"I apologise for my request. It was inappropriate. You are free to go."
Translated by The Catalogue of Good Deeds
Source: https://azbyka.ru/days/2021-04-24