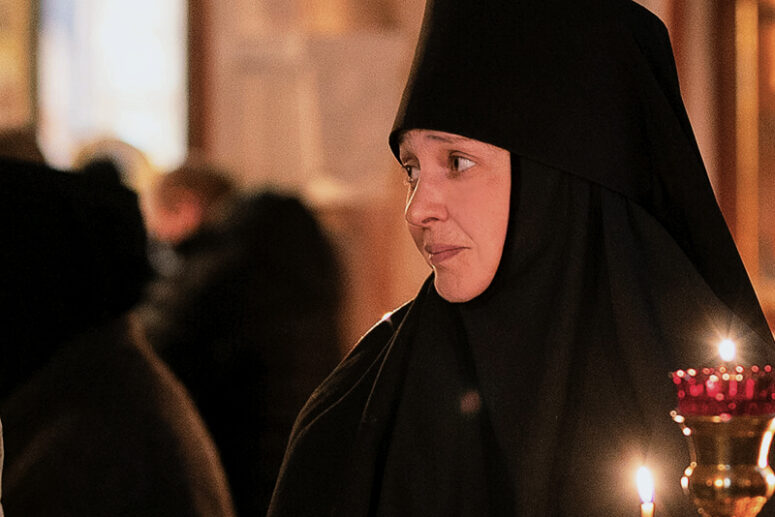 The Lord says, "make friends for yourselves by means of the wealth of unrighteousness, so that when it fails, they will receive you into the eternal dwellings" (Luke 16: 9). What do these words mean? They mean that "earthly, perishable, transient wealth, if made the right use of, can win us friends here on earth (the poor and needy, those requiring help and assistance) who can provide us with the eternal abode in heaven. It is so because such use of wealth is a virtue and will be followed by a reward in the kingdom of heaven" (Bishop Michael (Luzin). Interpretation of St Luke's Gospel, p. 474).St John Chrysostom says, "He who distributes wealth to the poor, uses it for the benefit of his soul" (The Sermon on Avarice). The same truth is confirmed by examples.
A young maid named Mononia once lived in Alexandria. Despite being a nun, she loved money, collected gold, and was very stingy. Although she was rich, she never gave anything to the strange, the poor, widows, or monasteries. Presbyter Macarius, living at that time in Alexandria, was a saint and a great supporter of the poor. Desiring to bring Mononia to reason, he once invented the following remedy for her. In his youth, he was engaged in finishing precious stones, and everyone knew about it. Once he came to Mononia and said, "I have been given two very expensive stones. I don't know if they were bought or stolen but they ask for them as little as five hundred in gold, although they are incomparably more expensive." Seized with avarice, Mononia fell at the feet of Macarius and began to beg him to buy these stones for her. The elder said, "Come and see for yourself." But Mononia felt embarrassed to become exposed and gave Macarius five hundred in gold. He distributed this money between the poor. After some time Mononia  wanted to ask Macarius about her money, but was ashamed to do it deliberately , because he enjoyed extraordinary respect from everyone.  She was waiting for a convenient opportunity to talk with the elder until one day she saw St Macarius in church and asked him if he had bought the stones. Macarius said "Yes" and invited her to look at them. Mononia happily agreed and followed the elder. He brought her to an orphanage for the poor arranged with her money and said, "Which stone would you like to see – the first or the second?" "As you please," she replied. Then Macarius took her to the part where the lame, blind and weak men lived. "Here," he said, pointing at them, "is the first stone." Then he brought her to the women's department, pointed to its inhabitants and said, "Here is the second stone. And here's the deal: if you like my business, then let it be so, and if you don't like it, then I will give your money back to you." The chrysophilist's heart was severely wounded, and although she did not say anything to the elder, Mononia was so saddened that, when she came home, she fell on her bed and became severely ill. Then the Lord Himself admonished her. A light-bearing man appeared to her and showed her places where sinners were tormented. Mononia was horrified. Then he said to her, "Do not be afraid, because Venerable Macarius has delivered you from all these torments buying for you the two precious stones that you recently saw." After this Mononia recovered and became exceptionally merciful to the poor.
So, as St Augustine of Hippo rightly says, "The mercy standing at the Gehenna's doors does not allow anyone to be cast into prison" (Conversation 39, question 50). We see the great mercy bestowed by God on a sinner using his wealth to help the poor against his own will. Think about how generously the Lord will reward those who voluntarily and out of love for Him share their wealth with their brothers in need! Truly, "He who supplies seed to the sower and bread for food will supply and multiply your seed for sowing and increase the harvest of your righteousness." (2 Cor. 9, 10). And here is what else (from the presence of the Lord) St Augustine says, "I have received the earth – I will repay the heavens; I have been offered temporary things – I will repay with the eternal; I have received bread, and I will give it, but also heavenly and eternal; I have received shelter and I will give back a home; I have been visited in prison or illness and I will repay by freedom and salvation." (Treatise on luxury and stinginess.) Let us not, therefore, "neglect doing good and sharing, for with such sacrifices God is pleased." (Heb. 13:16). Amen.
Translated by The Catalogue of Good Deeds
Source: Viktor Guriev. Synaxarium in Sermons for Each Day of the Year Holy Dormition Pochaev Lavra, 2007
https://azbyka.ru/otechnik/Viktor_Gurev/prolog-v-pouchenijah-na-kazhdyj-den-goda/268