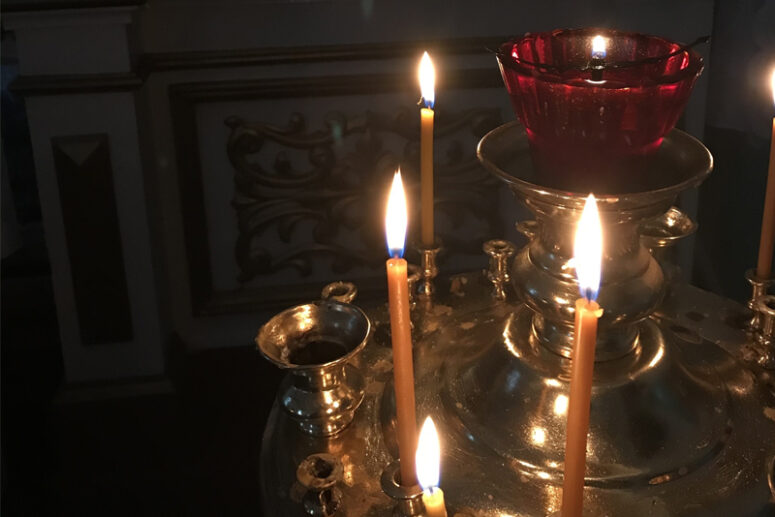 Attending services and taking children to Sunday school gives most church-goers the feeling of quite pulling their weight of shared responsibility.  There must be something about the "grandmas" cleaning candlesticks and other church workers that inspires confidence in their ability to cope with the multiple labours related to maintaining a temple. However, one close friend of mine, a big boss in a large company, is sure of the opposite.
Despite being very busy, she always helps the parish, doing any work that is assigned to her. She peels potatoes and washes rugs all the same. On New Year's Eve, an amazing story happened to her.
Everything began when she was asked to clean the candlesticks. She spent a half of that day doing this work, and when the temple was already closing she still had one left to clean. Without thinking twice, she proposed  to take it home, clean it there and return it in the morning. Everybody in the temple was surprised of her goodwill, but still they agreed.
The woman brought the candlestick home hoping to quickly clean it and put it away before her husband returned from work. Her husband was not a particularly religious person.
She took out an expensive cleaning agent, but as soon as she applied it, the gilding began to peel right off the candlestick in no time. The thought of having to explain everything in church tomorrow and the challenge of buying a new candlestick made the woman cry. At that moment, her husband returned from work to see the disfigured church utensil in the middle of his living room and his wife shedding floods of tears over it. To be honest, I am not sure what my reaction would be in such a situation. Most likely, I would ask my wife to do church business in church, perhaps adding a few words that might have made the matters worse. Fortunately, I wasn't there.
The man found out what was the matter, wiped his wife's tears and calmed her down. Fortunately, he was an engineer in a company, supplying various metals, and knew perfectly well what needed to be done.
He took the spoiled candlestick to his office and, with the help of the right reagents, restored the gilding, making it better than before.
Imagine the surprise of my friend when, once again coming to the service, she saw this candlestick, having been moved from its far corner to the ancient icon of St George the Great Martyr, especially revered in the church, the object of veneration for an incessant string of believers lining up in front of it from morning until evening. Her husband's baptismal name is… Yep, it's George!
Now they go to Sunday services together. And everything is good with them.
Translated by The Catalogue of Good Deeds
Source: http://orthodoxmoscow.ru/spasennyj-podsvechnik/