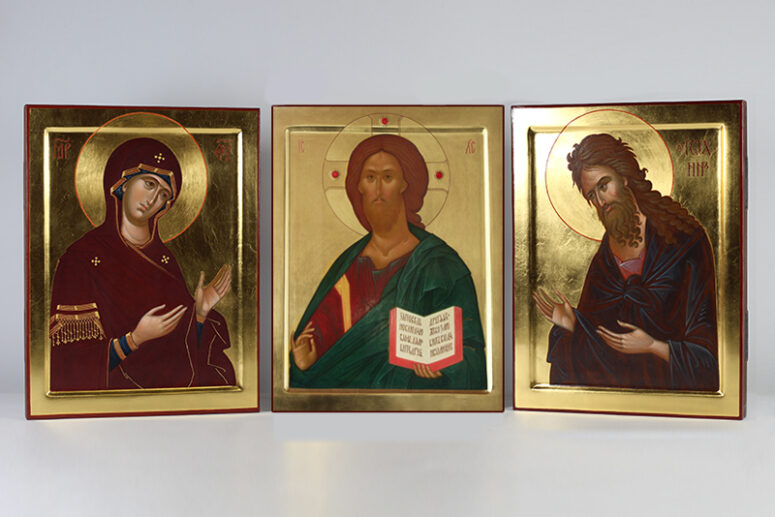 Deesis (δέησις) is a Greek word that translates as "prayer" or "supplication". It refers mainly to the traditional iconic representation of Christ flanked by the Virgin Mary saint John the Baptist and sometimes other figures, facing towards Christ with their hands raised in supplication.
History
The term was first used in Byzantine and referred initially to a votive icon. A votive icon is one that is ordered by the faithful in confirmation of an oath or as an expression of gratitude to God for answering their prayer. As follows from this definition, the icon also depicted the saints whom the faithful had petitioned for their intercession.
From the 11th century, Deesis has been seen as a distinct type of icon, as evidenced by the 11th century Byzantine historian Michael Attaleiates, author of Diataxis, a document that described the order of the liturgy at the time. According to Attaleiates, the Deesis icons were placed in the middle of a templon, a bar of wood or rock to which the icons of the altar were affixed.
In the post-iconoclastic period, the most simplified iconographic form of Deesis became the most common. As indicated previously, it contained representations of Christ, the Virgin Mary and John the Forerunner. The multifigured variant of Deesis appears in the 10th century. One of its best-known examples is the Limburg Strautotheke, depicting the Archangels Michael and Gabriel. The seven-figured Deesis in Novgorod's Saint Sophia Cathedral, dating back to the 12th century, has images of the Apostles Peter and Paul. The apostolic variant of the Deesis appears at about the same time. It showed the twelve Apostles of Christ facing towards Him. Initially, it was painted on walls, as at the Monastery of the Great Martyr Catherine on Mount Sinai. Gradually, it evolved to become a separate row of the Iconostasis.
Ecclesiastical meaning
The ecclesiastical meaning of the Deesis has been influenced in large part by the liturgical tradition of the Church. At its centre is our Saviour and King, to Whom we send our thanksgiving prayer for the Eucharist. For this reason, the Deesis never depicts the Saviour with a cross. He has already made His redeeming sacrifice, Judgement Day is ahead of us, and the entire Church in heaven and on earth is praying to Him for a good answer.
The message of the Deesis is also grounded in the prayer of the vespers litany, in which we ask the Theotokos, John the Forerunner and the saints for their intercession.
As an iconographic form, Deesis is filled with deep and multiple meanings. Its images and colours attune us to careful and concentrated prayer and reflections on eternal life. 
Translated by The Catalogue of Good Deeds
Source: https://pravlife.org/ru/content/deisus-kto-i-pochemu-molitsya-o-nas-hristu