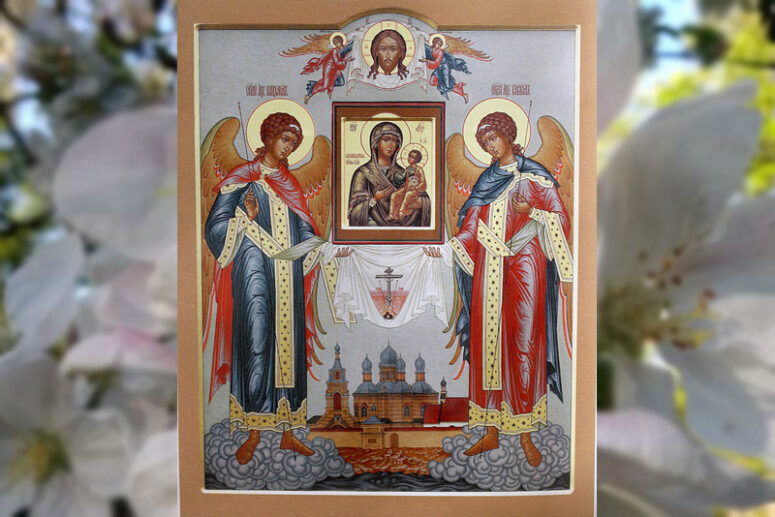 Feast Days: November 4; July 21
History of the Icon
Jakobstadt Icon of the Mother of God has been the only miraculous shrine in Latvia until the beginning of the 20th century.
The holy image was acquired during the Russian-Swedish war of 1654-1667. While crossing the Western Dvina, a soldier of the Swedish army Yakov Gudynsky pierced a wooden plank floating on the river with his spear. Having stepped ashore, he was horrified to find out that blood was flowing down the spear shaft coming from the plank as the face of the Mother of God with the Child in her arms appeared on the darkened wood. The Swedish soldier brought the icon to the nearby Orthodox church of St. George. The temple with a small monastic community, was located in Holmhof settlement (since 1670  the city of Jakobstadt; currently Jekabpils (Latvia)). After giving the image over to the monastery's brethren, the soldier converted to Orthodoxy. Soon he gave monastic vows and remained in the monastery for the rest of his life.
In 1675, the miraculous icon of the Mother of God was transferred to the new church of the Holy Spirit built with the donations of the Orthodox merchant Yakov Ratkevich.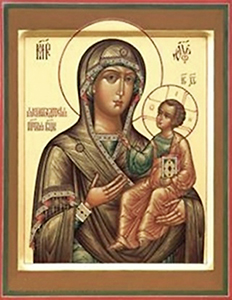 For more than three centuries, the Jakobstadt Icon remained the only wonder-working icon in Latvia. Numerous miracles have been witnessed happening through many pilgrims' prayers before the holy image. The icon saved Jakobstadt from fires more than once, e.g. in 1878, a procession carrying the icon around the monastery stopped the rapidly spreading fire.
From 1901 to 1914 the veneration of the miraculous Jakobstadt image of the Most Holy Theotokos was truly nationwide. The icon has been annually brought for worship from Jakobstadt to Riga, Mitava (Jelgava) and the Holy Transfiguration Hermitage.
During the First World War however, the miraculous icon was lost.
In 2008, with the blessing of His Holiness Patriarch Alexy II, Moscow icon painters created a new copy of the miraculous icon, based on the surviving descriptions. Before being transferred to Riga and Jekabpils, the new icon was kept in Moscow Kremlin's Church of the Veil, where it was consecrated on the feast of the Deposition of the venerable Robe of the Most Holy Theotokos in Blachernae.
On July 19, the Jakobstadt Icon was solemnly greeted in Riga, and on July 25, the shrine returned to the Holy Spirit Monastery, where it will remain permanently.
The iconography of the icon is unusual – the small size (close to the original) image of the Mother of God with the Eternal Child in her arms is supported by the upcoming archangels Michael and Gabriel, the Holy Spirit Monastery in its modern form is depicted in the background.
On July 31, 2008, with the blessing of His Holiness Patriarch Alexy II, the celebration of the Jakobstadt Icon of the Mother of God was included in the Orthodox Church calendar.
Translated by The Catalogue of Good Deeds
Source: https://azbyka.ru/days/ikona-jakobshtadtskaja