Selected by Dmitry Trofimov, Head of the Tsargrad Creative Workshops
   

Mosaic composition in Sant'Apollinare Nuovo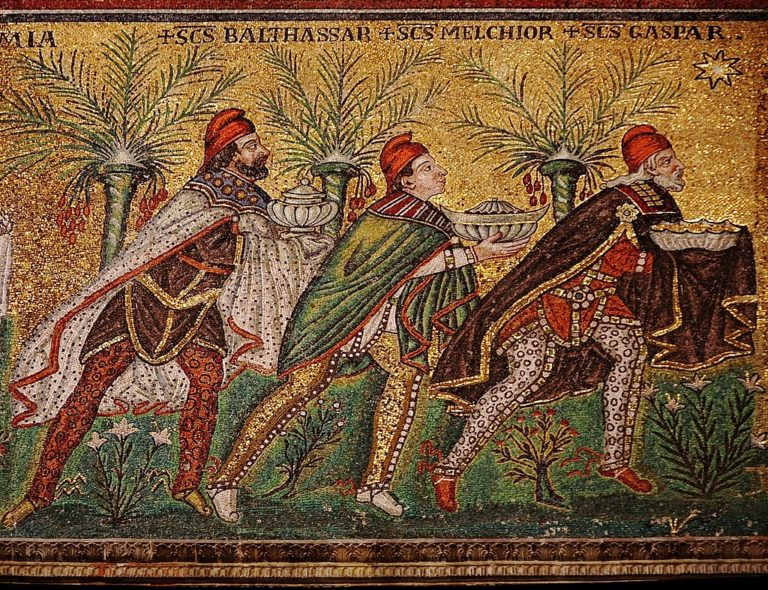 The mosaic composition in Sant'Apollinare Nuovo is interesting, first of all, because it continues the tradition of portraying Nativity as an event of universal magnitude, which is signified by the presence of the Magi with their gifts. This (the Adoration of the Magi) has been the main symbol of the universal scale during the first centuries of Christianity. This is a 6th century mosaic. The Magi are mentioned in the Gospel of Matthew without names, but here they are already signed (possibly later).
It is interesting that St Augustine acknowledges there being twelve Magi. By the 5th-6th centuries, their number decreases to three, by reference to the number of gifts. Photo: Wikipedia/Jbribeiro1 CC BY-SA 4.0
 

6th-7th century icon from the monastery of St. Catherine on the Sinai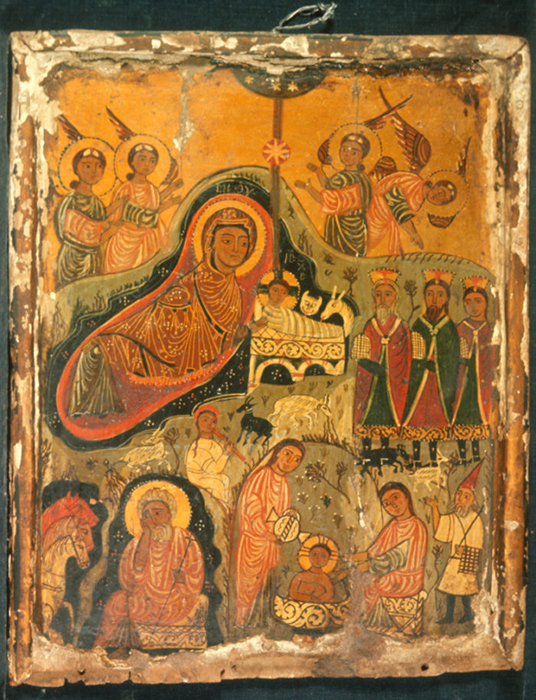 It is interesting that the entire imagery that will later appear on the Nativity icons is already formed here. We see the wise men and the angels worshipping Christ together with the shepherds and the women, depicted with inscriptions. The animals in the manger are not only depicted near Christ, but also give Him a kiss. Photo: orthodoxartsjournal.org
 

A 15th century icon from Pskov (currently kept in the State Tretyakov Gallery)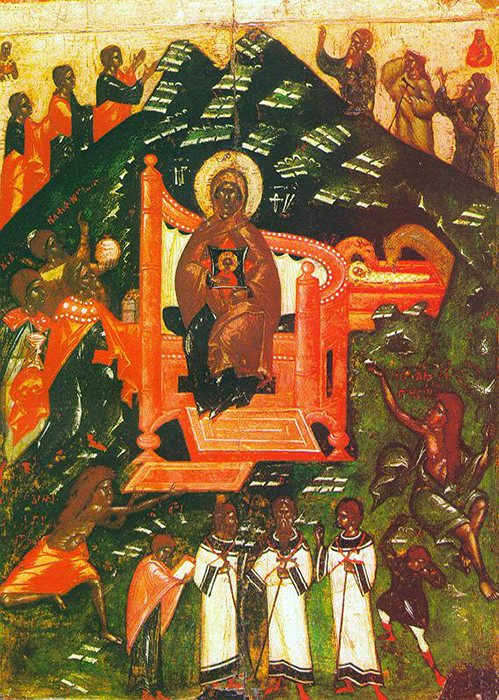 This is the Synaxis of the Most Holy Theotokos, the icon of the afterfeast of Nativity. Again, the Mother of God is depicted on the throne. We see the entire universe worshipping this event. The singing prophets David and Solomon are dressed in deacons' vestments. According to the holiday stichera by Cosmas of Maiuma, one of the two women here personifies the earth that offers the cave, while the other represents the wilderness, offering the manger. St Cosmas of Maiuma is represented with a book. In the upper part there are shepherds and angels without wings. This icon is an accurate quote of the stichera, containing both liturgical and folk (or pagan) symbolism, personifying the forces of nature.
 

Mural painting "The sons of the Chaldees saw…" by Dionisius the Wise; located in the Ferapontov monastery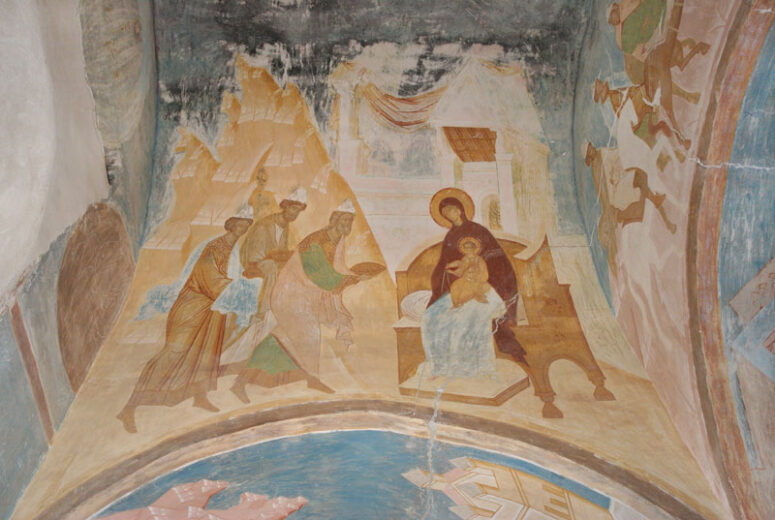 The Nativity theme is found not only in the twelve feasts, but also in icons and frescoes, illustrating the akathist to the Theotokos. This fresco illustrates the Ekos 5, which reads as follows: "The sons of the Chaldees saw in the hands of the Virgin Him Who with His hand made man…" Photo: booksite.ru
   

Andrei Rublev's icon from the Moscow Kremlin's Annunciation Cathedral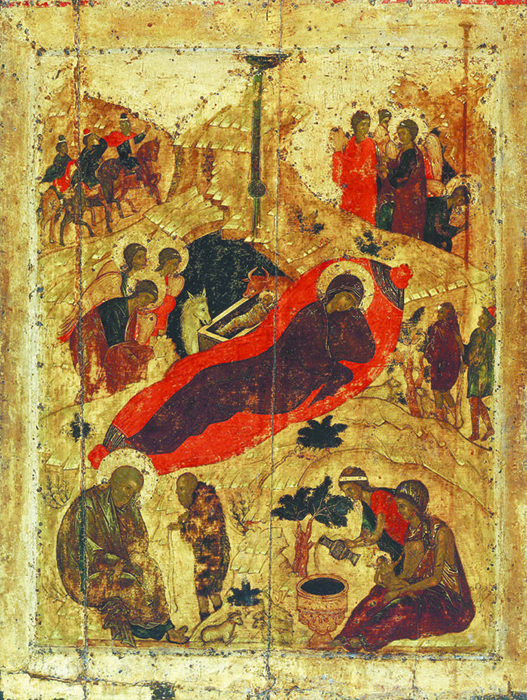 Although this icon resorts to well-established iconographic devices and imagery, to me it is the most refined of all in composition, rhythm, plasticity and color.
Here we see the gold of the sky in the background interfuse with the earth both in tone and in color. This fusion creates the feeling of the earth shining forth a heavenly golden glow during the sacred moment of the Nativity.
Photo: andrey-rublev.ru
Translated by The Catalogue of Good Deeds
Source: https://foma.ru/5-udivitelnyh-ikon-rozhdestva.html