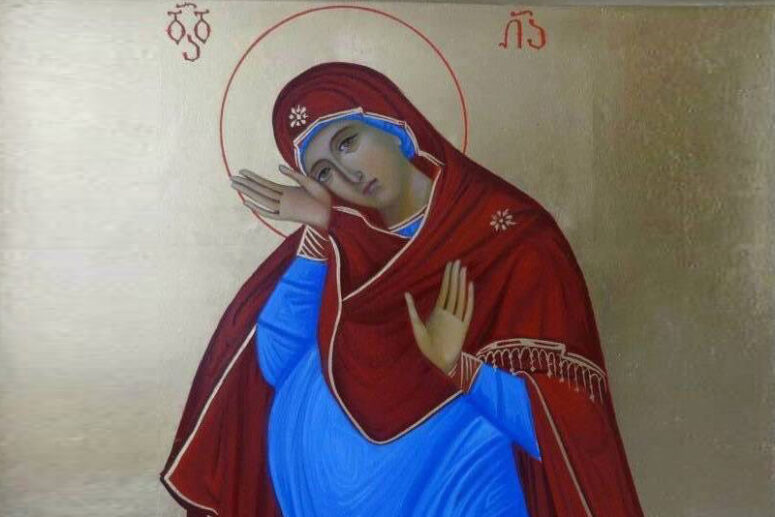 Few people know that, according to the teachings of some authoritative holy fathers, the body of Jesus Christ was formed in the womb of the Mother of God not gradually, but instantly.
 Saint Basil the Great described it as follows:
 "The Lord's body did not appear in accordance with the general natural law of the flesh. Indeed, the One Carried in the womb instantly attained the perfect state of flesh, without going through a gradual development in time. The [Gospel] words affirm this, for it is not "conceived," but "born" that it says.  So, this flesh, being formed from Holiness, was worthy of being united with the Divinity of the Only Begotten" [1].
 Following St. Basil and, apparently, relying on his words, St John of Damascus also wrote on this subject:
 "And then the hypostatic Wisdom and Power of God Most High, the Son of God, consubstantial with the Father, overshadowed Her, as it were, a Divine seed, and out of Her immaculate and purest blood he formed flesh for Himself, animated by a soul endowed with both reason and mind, the beginnings of our being; not in the way of being born through a seed, but in a creative way, through the Holy Spirit; not so that the appearance was created little by little through additions, but in such a way that it was finished in one moment " [2].
 A possible reason for such a concept could be the conviction of the early holy fathers that an unformed foetus is not a human being. St. Basil the Great wrote: 
 "It is nowhere to be seen that anyone calls his child a procreation; and that is for the obvious reason that "son" and "child" are proper names for animate beings while the word "procreation" is rarely applied to them. A miscarriage that has not yet received an image can also be called a procreation; but it is not worthy to be called a child" [3].
 For this reason, St. Basil, followed by St. John of Damascus and other holy fathers, could consider it unworthy for the Lord to incarnate in an unformed embryo, which has not yet become a human being and come up with the concept of the instantaneous formation of His body in the womb of the Mother of God.
---
1. St. Basil the Great. Homily on the Nativity of Christ. Chapter 4 (URL: https://azbyka.ru/otechnik/Vasilij_Velikij/gomilija-na-rozhdestvo-hristovo/)
2. Venerable John Damascene. An Exact Exposition of the Orthodox Faith. CHAPTER II (46) About the image of the conception of the Word and about His Divine incarnation. 
3. Refutation to the Defence Speech of the iniquitous Eunomius  (URL: azbyka.ru/otechnik/Vasilij_Velikij/oproverzhenie-na-zashhititelnuju-rech-zlochestivogo-evnomiia/2)