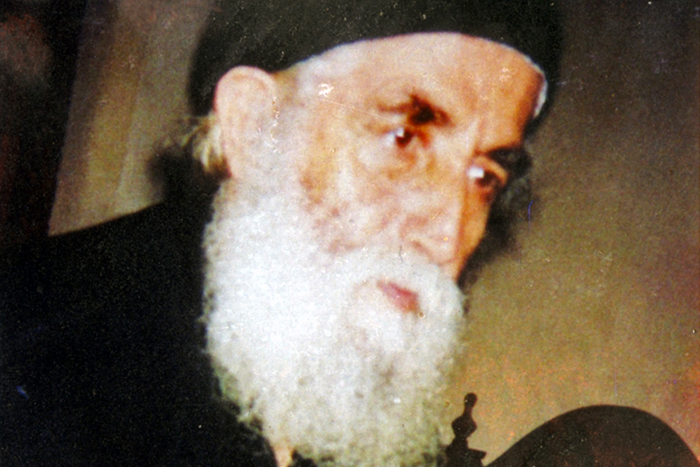 The path to Athos is open to men only. But in Greece there is a women's monastery where they live according to strict Athonite rules and serve without electricity, by candlelight. This monastery, in the village of Souroti, was founded by Elder Paisios the Athonite, whose books have been so popular in the past few years in America and Russia. A correspondent of "Neskuchnii Sad" headed to Souroti to meet with people who remember Elder Paisios.
The greatest miracle
Near the elder's grave, to the left of the altar of the Church of St. Arsenios the Cappadocian, there is always a crowd of people, especially on Sundays. The usual picture: Husband and wife, kneeling together, pray together for something in common. "Like John Chrysostom, being a monk, Elder Paisios knew about family life more than those married people who would come to him," says Vasilios Sarris, a former teacher at the Athonite school for boys. The elder was illuminated by Divine love. Once I went to him to complain about my father-in-law, that he was holding up my wedding and it could have caused me to commit a sin of the flesh! The elder listened to my anger, but did not succumb to intimidation, but on the contrary, pitied my father-in-law, suggesting that he had financial difficulties! It turned out he was right. A little while later, when he had settled his debts, we had a wonderful wedding."
"The greatest miracle that happened to me by the prayers of Elder Paisios was connected with my family," says Nicholas Mentesidis. "For six months before his death, I lamented to the elder that I wanted more children, but my wife, who was forty years old, had a heart condition. The elder comforted and reassured me. Upon returning, I found out that my wife was pregnant, but the doctors said she couldn't give birth: 'Have an abortion, otherwise either she or the baby will die.' I went to see the elder again and he said, 'Let's do this—you keep the child, and I will be praying. Your wife's heart will be strong, and your child's heart will be kind!' That is how it happened. Three months after the elder died, we had a boy. We named him Paisios."
People continue to visit the elder even after his death. Some ask about something, and some thank him for intercession before God. Lyudmila and Judith came to Greece from Arizona on an iconography tour. They were both learning to paint icons, although Judith was a Buddhist, but she got interested in Orthodoxy after she read the book Words of Elder Paisios. "I loved him so much, that we strayed from the group now to come here," Judith said, smiling widely. And Lyudmila commented, "She isn't baptized yet, but she is looking for her faith now—I think she will come to God through the elder's books and his prayers."
There is a nun on duty all day at the elder's grave. She cleans the cross, takes care of the candles, and gives pilgrims oil from the lampada and photos of the elder. In the evening, when the monastery closes, they cover the grave with a special tarpaulin tent, wrap the wooden cross, and carry the lampada and flowers that pilgrims bring to the elder to a shelter. "A priest from Cyprus came to see me two months ago," says Fr. Gregory, a spiritual child of Elder Paisios and spiritual father of the women's monastery of the Transfiguration. "He told about how his son was driving in a car really fast, when a truck came flying towards him with a driver who fell asleep from fatigue. A second before the collision, his son saw Elder Paisios in place of the truck driver. There was a terrible accident, but no one suffered at all. It turns out that before their son left, his matushka inconspicuously put a photo of the elder which she took from his grave in her son's car with a prayer."
Obedience
No obedience is stipulated for three-day pilgrims in the monastery—just pray to God, live, read, enjoy yourself. But the nuns themselves are engaged only with their ecclesial obediences. "The elder blessed us to pray more, and to work with iconography, pilgrims, books," says one of the older nuns. "We have an olive orchard where we gather olives to make oil for food and lampadas. We don't grow anything else—we have no cows, goats, or chickens. Nuns should pray—it's our business." The elder wrote, "Monks do not abandon the desert to go into the world to help some poor man there or to visit some sick man in the hospital and bring him oranges or some other consolation—that which the laity usually do—work which God looks for from them, but monks should pray for them."
Meanwhile, Christina, Barbara, and Evangelia begged for an obedience and happily went to wash dishes. "It's boring having nothing to do! Last time we packaged candles and incense for the store," they said, picking out the disposable cups after Sunday's invasion of tourists. "And sometimes they let us vacuum the guest rooms and put out the loukoumi." No one has counted how much loukoumi we go through in a day, but about a thousand people come on weekends, and each eats one or two pieces. Loukoumi is bought by the box in the monastery. The pilgrims bring coffee themselves, as a gift, but the sisters immediately make it to treat the visitors.
"The elder didn't take anything from anyone, and if he did take something, it was only to immediately give it away," says Nicholas Mentesidis. "When I wanted to bring something to the elder, I would call Souroti to find out what he needed and bring it as if it was from the monastery—otherwise he wouldn't take it."
To be near a saint
The jeweler Nicholas Mentesidis is making an image of Elder Paisios on silver plating in his studio—without a halo, as is right, but the elder's holiness for him, as for everyone else, is obvious. "We leave the issue of his canonization to the Church," the nuns say. "Probably some time should pass; maybe a few dozen years or a few generations. Elder Paisios was a great ascetic, and the Lord will undoubtedly glorify him in His time. Although no one prevents us from praying to him privately already."
"Once I asked the elder what we should ask God for," says Athanasios Rakovalis. "He answered me: 'Repentance; that we would see our damage and fight with all our might, because not all will be saved. We have entered this world not to live sweetly, but to pass an exam, at least with a C, because there will be no chance for a makeup test.' Then I began to think about the sinful condition in which I find myself, and I was very sorrowful that I grieve the Lord, and that I do nothing good. I told the elder about it. The elder hugged and kissed me: 'Christ came to earth to save sinners; the righteous have no need of it.'
Once I became very worried because there are so few Christians in the world, and among them so few commune, and even less than that number understand what Communion is. The elder said that people do not want to hear about Christ today, and turn away from Him. But soon there will be events which will change the situation, and people will want to learn about Christ more and more. Homes will be filled with icons, the streets with churches, and churches with believers. Everything that he said to me personally came to pass. For example, I was not yet married, and the elder told me how many children I would have. Therefore, I am 100% certain, and as for the rest of what he said—you'll see—it will happen.
It is very good to be near a saint! The elder was so humble that we would forget who it was before us. He had so much love that everyone felt he was closer than their own father. He was a very lively and open person. He spoke to us as equals, and we freely spoke about everything. Sometimes I really reflect upon how wonderful he was, and then I feel reverence and fear. I always felt the presence of God near him. Once we rode on the train together for three days—what joy I had from the closeness of our interaction! The elder propelled us into Heaven. We were spiritually transfigured by the grace of God, just having him near. It's like when you're next to a fireplace—you feel the warmth, although nothing is happening on your end."
Elder Paisios
Elder Paisios the Athonite, Arsenios Eznepidis in the world, was born in Pharasa, Cappadocia (Turkey) in 1924. There were ten other children in the family besides little Arsenios. Two weeks after Arsenios' birth, the Pharasa Greeks fled Turkey for Greece. Before leaving, St. Arsenios the Cappadocian (1841-1924), then a village parish priest, baptized the boy and gave the child his own name, prophetically saying, "I want to leave a monk after me."
Above all, young Arsenios so loved to read the lives of the saints, such that his older brother would even take the books and hide them from him. Arsenios' youth passed in the city of Konitsa, where he studied in school and learned the carpentry trade. But with the beginning of the civil war in Greece (1944-1948), he was drafted into the army. Having served, Arsenios left for Mt. Athos, and in 1954 he became a riassaphore monk with the name Averky. Two years later he was tonsured to the small schema with the name Paisios. From 1958 to 1962, he lived in Stomio Monastery near the village of Konitsa, after which he went to Mt. Sinai. He spent two years in the Skete of the Holy Martyrs Galakteon and Epistimia on Mt. Sinai, where his cell is preserved today, but then he returned to Mt. Athos due to a lung disease and settled into Iveron Skete.
His sickness developed so strongly in 1966 that they removed a large piece of Fr. Paisios' lungs. When the elder was lying in the hospital, he was approached by several women desiring the strict monastic life, with the request to help them found a monastery with an Athonite rule. The elder received the bishop's blessing to open a women's monastery, found a good place for building, and moved the first sisters into Souroti already in 1967. Fr. Paisios specially came from Mt. Athos and lived in the community for two months to help establish order in the monastery. "He delved into all aspects of life—beginning with the most simple, everyday things, up to the most serious and spiritual," writes Abbess Philothea in one of the first books about the elder, published in Souroti. "He was only forty-three years old, but Fr. Paisios already then possessed the true wisdom of an elder. The elder helped us by his prayers and by his letters which he sent from Athos to various sisters personally or to all of us together." Visiting "his sisters" twice a year, he took care of the monastery until his death on July 12, 1994. The elder died and was buried not on Mt. Athos, where he lived a large part of his life, but in the monastery he founded, in Souroti. "It was providential," the nuns believe. "If the elder had been buried on Athos, women would not be able to come to him!"