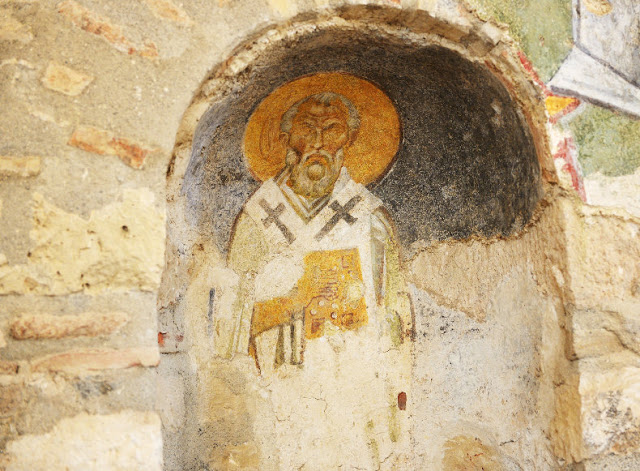 In the sixth century the historian Procopius, in his work The Buildings (Bk. 1, Ch. 6), tells us that Emperor Justinian constructed a church in honor of Saint Nicholas, which may be the first church ever dedicated to Saint Nicholas of Myra:
Further on he established a shrine to Saint Priscus and Saint Nicholas, an entirely new creation of his own, at a spot where the Byzantines love especially to tarry, some venerating and doing honor to these saints who have come to dwell among them, and others simply enjoying the charm of the precinct, since the Emperor forced back the wash of the sea and set the foundations far out into the water when he established this sanctuary.
We are informed this church was between the Church of the Theotokos in Blachernae and the land walls of Blachernae. It was burned down in 626 by the Avars and later rebuilt. The church was brought within the protective walls of the city when the outer wall was built in 627. A Tower of Saint Nicholas stood in the northwest corner between the Heracleian (627) and Leonine (813) walls, and there was a Holy Spring of Saint Nicholas there as well, both of which still exist today. The Church of Saint Nicholas no longer exists, nor do we know its exact location, only approximate.
It should be noted that this church originally was not dedicated to Saint Nicholas of Myra, but to Saint Nicholas the Martyr who together with Saint Priscus the Martyr is celebrated in the Orthodox Church on December 7th. We do not know at what point this church became associated with Saint Nicholas of Myra, but it seems the confusion or association was made due to the proximity of their feast days, since the more popular Saint Nicholas of Myra is celebrated on December 6th, while Saint Nicholas the Martyr was celebrated the following day.