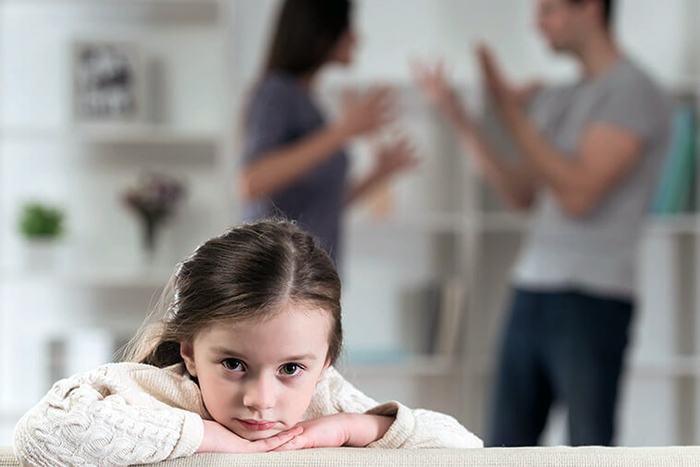 Today, children "starve" for lack of maternal love. They do not even learn the mother's native language, because the mother spends whole days at work and leaves her children under the supervision of strangers – often immigrant women. Children from an orphanage, where one of the tutors is a Christian woman who took a vow of celibacy and shows at least a little tenderness to them, are in a thousand times better position than those children whose parents leave them in the care of women who are paid money for it! Do you know what this leads to? If a child doesn't have one mother, it has a whole bunch of nannies!
A mother should never ruin a child's opinion of the father.
It should be said that the mother helps her children a lot: by her example, by her obedience and respect to her husband. If a mother has an opinion different from that of the father on a certain issue, she should never express that opinion in front of her children so that the evil one does not take advantage of it. A mother should never compromise the children's opinion of the father. Even if the father is to blame, she must justify him. For example, if the father does something wrong, the mother should tell the children: "Daddy is tired, he worked all night to finish an urgent task. He's doing his best for you."
Many parents argue in front of their children and thus teach them a bad lesson. The poor children are sad and grieving. Then parents try to satisfy all their whims to comfort them. The father, wishing to please the child, tries to tempt him or her: "Well, honey, what can I buy for you?" The mother, for her part, fulfills her child's whims, and eventually the children grow into whimsical morons. Later, if the parents are unable to give them what they want, the children threaten the parents that they will take their lives.
Love must be "slowed down" by reasoning.
True love is selfless. It has no selfish bias and is characterized by prudence. Prudence requires a lot of female love, so that a woman does not waste her love. When necessary, the mother must be strict with her child. If she easily agrees with the child and accepts everything he or she does, it is not good for the child. <…>
So I see that a lot of parents think they love their children, but they actually spoil them. For example, a mother kisses her child with excessive love and tells him something along the lines, "There is no child as good as mine in the whole world". Thus, she cultivates his pride and unhealthy self-confidence. Then such a child does not listen to his parents, being sure that he knows everything himself…
Kids copy their parents.
When spouses respect each other and children respect their parents, life in the family goes smoothly, like clockwork.
If only you could see one girl I met in Australia! How noble she was! We arrived in Canberra. Having received the last two visitors who wanted to see me, I was about to leave. I saw a car stop and a couple coming out of it with their little girl. "Geronda, we caught you after all," they said. "Yes," I said, "we were about to leave." – "Geronda," says the man, "Don't receive me, it's all right. Let the wife take your time for a while so she doesn't get upset. She is a fragile person, you know." His wife and I stepped aside so that she could tell me what she wanted to say. The girl ran after her. "Sit down," I told the girl, "Mama will be here soon." "Do you have a mother?" she asked me. "No," I answered. I saw tears in her eyes. "Do you want me to give you my mum?" she asked. Then I asked her, too, "Do you have a grandfather?" "No," she says. "Do you want to have a grandfather?" "I do, I do," she says, "Are you moving in with us, or do you want us to move in with you? Whatever you want!" How noble is that! A little child offering up her mother! Look: she copied it from her parents. Her father was very noble. I hugged that man, kissed him, and congratulated him on having such a good daughter. How many blessings I gave him! People like those make even the hardest of hearts feel good! Imagine what God feels about them.
Source: Words. Volume IV. Family Life
Translated by The Catalogue of Good Deeds